Leafs Talk: Is Luke Schenn Leafs Best Trade Bait or Still a Franchise Player?
November 3, 2011
Bruce Bennett/Getty Images
Well, we're 12 games into the season, the Leafs are 8-3-1 without James Reimer for eight of those games and yet this sportswriter still has reason to doubt this team.
Playing bad teams, playing hurt and beat up teams and, lastly, playing teams that still lack some chemistry have attributed to the Leafs' great start.
However, a so-called "Optimist" Reim could see the light in the Leafs' fast start, because it has mostly been without the starting goalie playing 80 percent of the games, our first-line center only being around for four games and a few injuries to the likes of Tyler Bozak and Colby Armstrong. Yet the team is still in the top spot in the Northeast Division today.
The thing leaving me with a sour taste in my mouth is that the Leafs have struggled mightily on the penalty kill yet again, with a league-worst 69.4 percent efficiency. In fact, 15 of the Leafs' 38 goals against have come on the penalty kill, that's nearly 40 percent of their goals against coming on the penalty kill, the worst in the NHL.
The Leafs have brought in an entirely new, quicker bottom six in hopes of improving that atrocious penalty kill, yet the results are even worse.
In the end, the Leafs have brought in new coaches and new forwards, but the main thing that remains is Ron Wilson, and a defence that is not doing their job on the kill.
When the Leafs are on the kill, three things are quite glaring and noticeable.
Second-chance goals always seem to be there for the opposing team.
John Michael Liles and Jake Gardiner, albeit both having outstanding years, should not be on the penalty kill, or at least getting minimal time out there on the kill.
A real lack of Luke Schenn being out there and showing us his league-leading shot blocking and hitting skills. He was the only player to finish with more than 250 hits and 150 blocked shots last season.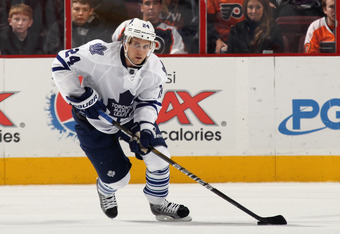 Bruce Bennett/Getty Images
To breakdown the three points individually, the second-chance goals are a direct result of not being mean, tough and belligerent in front of the goalie. The defence is allowing too many rebounds out and onto the sticks of the opposition.
This comes as a result of not tying players up and/or their sticks. Teams will give up their second-chance goals on the penalty kill, that's a given, but when this happens repeatedly, this should raise some red flags.
For example, last night the Leafs had a decent kill for 1:50 of the penalty, yet Dainius Zubrus was able to score with 10 seconds left in the infraction. 
Zubrus scored mainly because the Leafs allowed Adam Henrique to penetrate the offensive zone nearly untouched from behind his own goal, and everyone, from Mikhail Grabovski, Nikolai Kulemin and Dion Phaneuf, down to Carl Gunnarson, never tied up a stick, or did anything to either of the forwards.
Jonas Gustavsson, who has been hung out to dry by his teammates most nights, makes spectacular saves, yet the teammates he has don't help him out by clearing the rebound, or at least tying players up so he can cover the rebound.
As a result, Zubrus was able to cruise in, relatively untouched, and pot a cheap tap-in past Gustavsson.
Next, we come to two of the best puck movers on the team, Liles and Gardiner. Liles is very small and quick, but I don't think he has the strength to battle with bigger forwards in front of the net. Many times I've seen Liles on the ice for a second-chance goal in which he's just standing there watching the play happen.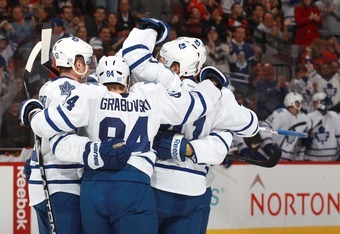 Jana Chytilova/Freestyle Photo/Getty Images
The same goes for Gardiner, who is much bigger at 6'2" and 195 pounds, but he is a rookie, and he doesn't have the upper-body strength, nor the experience in the NHL to fully kill penalties properly.
Why are they out there? In short, the Leafs and Ron Wilson have lost all confidence in Luke Schenn's abilities to play big minutes this season and handle the opposition's best players.
As a result, Luke Schenn has seen a massive decrease in ice time, and he's lost his spot in the team's top four, replaced by none other than Mike Komisarek.
Schenn recently signed a five-year extension with the club that will pay him an average of $3.6 million a season. According to Wilson, he believes Schenn is playing differently right now because he thinks he's got show the Leafs fans and management that he deserves that contract.
Anyways, so far Schenn has really soured many in Leafs Nation with his poor play, lack of confidence with the puck and poor foot speed. Evidence of that was the David Clarkson goal last night in which the puck bounced right to Schenn, who proceeded to whiff on it and allow Clarkson to skate right by him for a double-deke-to-the-backhand goal on Gustavsson.
What makes matters worse for me is that the first guy back to try and catch Clarkson was not Schenn, it was Matthew Lombardi, who was covering for a pinching Gardiner at the time.
Lombardi was about 25 feet behind Schenn and managed to at least get a stick on him. Lombardi is a much faster skater, but as I've said before, the first person back is usually the player who makes the mistake, which Schenn was not.
After a fight with Clarkson, Schenn returned and started to play a bit more like the Schenn we all remembered from a season ago. Hitting, blocking shots, not screwing up as much, that's the Luke Schenn we remember.
However, with the Leafs' depth on the back end, could the Leafs be better served sealing Schenn for a top-notch goal scorer or a first-line center? Is Schenn trade bait? What do you figure would be enough for the Leafs to pull the trigger on a deal?
Instead of me putting my thoughts down for you to read, I want to hear from all of you. Feel free to post your opinions of Schenn and this article in the comments section below.
Thanks for reading.