Michigan vs. Iowa: Last Minute Spread Info, Line, BCS Impact and Predictions
November 3, 2011
Leon Halip/Getty Images
The Michigan Wolverines will look to keep their hopes of playing in the Big Ten Championship game alive when they travel to Iowa City to take on the Iowa Hawkeyes.
First-year head coach Brady Hoke has the Wolverines playing inspired football this season. They are ranked 15th in the country, and the defense, which has been a major problem for this team in recent years, is ranked sixth in points allowed per game (14.6).
The Hawkeyes are having another disappointing season. They have five wins and will go to a bowl game with one more victory, but they have been so inconsistent on both sides of the ball. Their inability to win on the road (0-3 this season) is a concern, as their last two games of the year are away from Iowa City.
Where: Kinnick Stadium in Iowa City, Iowa
When: Saturday, Nov. 5 at 12:00 p.m. EST
Watch: ESPN; ESPN3.com
Spread: Michigan (-4)
Michigan has more talent and should be favored, but Iowa is a different team when playing at home. Of course, the competition that the Hawkeyes have played does not exactly scream at you.
I expect Iowa to play inspired in front of a raucous home crowd, but ultimately Michigan will do enough to cover the four-point spread.
Over/Under: 58
That is a lot of points considering the strength of Michigan's defense and the inconsistent nature of Iowa's offense.
Michigan quarterback Denard Robinson has the talent to put up six or seven touchdowns on his own, but I don't see that happening in this game.
Iowa wants to be a grinding offense that works by controlling the ball and running out the clock, so don't expect them to score a lot of points.
Take the under and don't look back.
Michigan Injury Report
Probable: OL Taylor Lewan (Ankle), S Jordan Kovacs (Knee)
Questionable: LB Brandon Herron (Leg)
Doubtful: OL Ricky Barnum (Ankle)
Out: WR Darryl Stonum (Suspension)
Iowa Injury Report
Probable: WR Keenan Davis (Ankle), LB Anthony Hitchens (Knee), DL Thomas Nardo (Knee), RB Mika'il McCall (Ankle)
Questionable: OL Nolan MacMillan (Hernia)
Out: LB Shane DiBona (Achilles)
BCS/Top 25 Poll Implications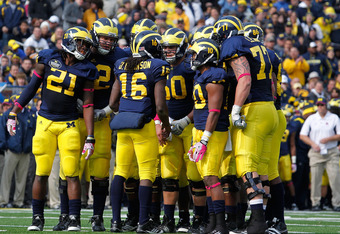 Gregory Shamus/Getty Images
Michigan's chances in the Legends division of the Big Ten increased exponentially last week when Nebraska defeated Michigan State.
Those three teams are tied with a 3-1 record, though Michigan State still holds the advantage over the Wolverines thanks to their head-to-head victory. The Wolverines will have to win out in order to play in the conference title game on December 3.
Iowa would have had a chance in the Legends division if not for last week's one-point loss at Minnesota. The door is not completely closed on this team, because three of their final four games are against the teams ahead of them—home against Michigan and Michigan State, and at Nebraska.
Keys To Michigan Victory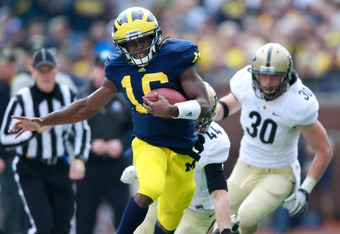 Gregory Shamus/Getty Images
Quarterback Denard Robinson is one of the most explosive players in the country. He is capable of carrying an offense by himself, and he will need a big game against a solid Iowa defense.
Senior wide receiver Junior Hemingway has been the big play threat on the outside, averaging over 21 yards per catch. He has to help Robinson in the passing game to at least make sure the Hawkeyes defense respects the pass.
Speaking of defense, the Wolverines actually have one. They have had hiccups against Notre Dame and Michigan State, but overall they have been lights out. They will have to contain Iowa's passing game and make it so they have to score quickly.
Keys To Iowa Victory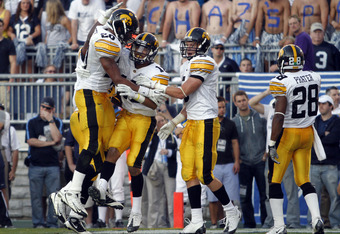 Justin K. Aller/Getty Images
Iowa's offense has to get big plays and quick scores in this game. The previous three home games that this team has played, they have scored at least 41 points. Granted, that was against Indiana, Northwestern and Louisiana-Monroe, but it is still an encouraging sign.
The defense has to step up its performance. Not only did they give up 22 points to a Minnesota team that ranks 112th in the country in points scored, but have allowed at least 24 points in three of their last four home games.
Robinson can't break through the defensive front seven, and has to be forced into throwing the ball.
Quarterback James Vandenburg has to be more than just a game manager against a quick-strike Michigan offense. He has to throw for at least 300 yards and three touchdowns.
Prediction
Iowa's home success this season will end, and Michigan's conference title hopes will live for at least another week.
Wolverines 34, Hawkeyes 17