WWE News: WWE Superstar Debuting on Tonight's Friday Night Smackdown (SPOILERS)
November 4, 2011
A new superstar will make his WWE debut on tonight's episode of Friday Night Smackdown, and he'll join Rey Mysterio and Sin Cara as the masked men in the company. 
From PWInsider's Smackdown spoilers (via SEScoops.com):
Sin Cara vs. the debuting Epico from WWE developmental. Hunico interferes and they double team Cara. They nailed a double team move but messed it up and did it again. That'll be edited.
All botched jokes aside, let's take a look at the man under Epico's mask. He is none other than Orlando Colon, the cousin of former WWE star Carlito and current Raw star Primo.
Colon debuted in the Florida Championship Wrestling in March 2010 under his real name before eventually changing his ring name to Tito Colon. Immediately upon his FCW debut, he began teaming up with Hunico, and the two formed a tag team known as Los Aviadores (The Aviators), with Colon working under the name Dos Equis.
Hunico and Dos Equis would win the Florida Tag Team Championship after defeating The Usos, and Dos Equis was renamed again as Dynamico before finally becoming Epico.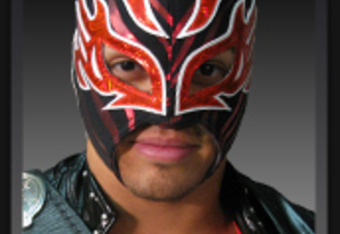 Colon would eventually go back to working as Tito Colon in FCW and worked some dark matches as the tag team partner of Primo earlier this year, but the decision was made to bring him to the WWE's main roster as the masked Epico.
I like it.
Though the Sin Cara/Hunico feud has pretty much fallen flat, I like the idea of the WWE using more masked luchadores because they do have a certain appeal, especially to the WWE's Hispanic fanbase.
I'm excited to see where this storyline involving Sin Cara, Hunico and Epico goes, but I'd be thrilled if we see a full-time reunion of the Los Aviadores in the WWE.
A run at the WWE Tag Team Championship, anyone?