Frank Haith Victorious in Inaugural Home Game at Mizzou Arena
November 3, 2011
GAME RECAP:
Head coach Frank Haith improved to 2-0 as head coach of the Missouri Tigers with an 87-48 victory over the Truman State Bulldogs in his Mizzou Arena debut. While both of Haith's victories have come in exhibition games against significantly lesser opponents, the pace at which he ran his offense was similar to that of his predecessor Mike Anderson (More on this later).
After the game, Haith noted how impressed he was with senior Marcus Denmon, who led all scorers with 23 points.
"Marcus is a terrific player," Haith said. "He's a great shooter. I've been around the ACC and some really good guards and he's right there with them."
With Haith's plan to run more half court style plays, this team's success will hinge largely upon his ability to continue producing large quantities of points each game.
"Obviously, Marcus is a big part of what we do," junior Michael Dixon said. "We are going to need him to be pretty well every night. That's a lot to bestow upon someone, but I feel like he has the mental toughness and makeup to be able to do that."
Joining Denmon with double figures in scoring were Dixon, Ricardo Ratliffe and Matt Pressey. Steve Moore finished with nine points. As a team, Missouri shot a respectable 55.6 percent from the field and 54.5 percent from beyond the arc.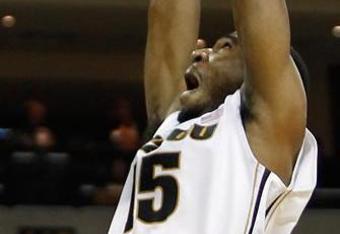 While Denmon and Dixon both had big nights offensively, that was somewhat expected from two players, who have basically become the face of this team. The biggest story of the night was the performance of red-shirt freshman Kadeem Green. The freshman, who missed all of last season with a torn Achilles tendon, was a force in the paint, pulling down eleven rebounds and slamming home two dunks of his own. Under Mike Anderson, the Tigers never really had a big man who could battle down low for rebounds. While Green may not be the prototypical big man, he will help Mizzou match-up in the paint against teams like Kansas and Kansas State.
"I thought he played really, really well and that was encouraging and we need that out of him tonight," Haith said. "Kadeem is a guy that if he's able to help us he can and it gives us another guy with some size."
Looking ahead for Missouri, they will close out the exhibition portion of their schedule on Monday against Central Missouri at 7 pm at Mizzou Arena. 
MY TAKE:
I covered the Mizzou coaching search beginning with the awkward departure of Mike Anderson through the formal introduction of Frank Haith, and I admit I was with a lot of other fans in being extremely underwhelmed at his hiring. However, in talking to him last spring, watching the team's performance in their two exhibition games and hearing what he had to say after last night's game, I am actually pretty excited for what he brings to the table.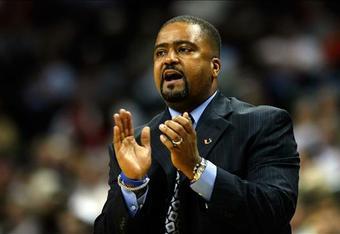 While his record at Miami may suggest otherwise, Haith is a smart coach. He understands that if he wants to be successful in year one, he cannot immediately institute his offensive game plan. It is going to take time.
The players on this roster are Anderson's guys. They were brought on board because they fit his frenetic system. When forced into a half court offense by the opposition, they struggled, so doing a complete overhaul of the offense is probably the worst thing their new head coach could do. Instead, what Haith is doing is slowly starting to incorporate half-court style plays into his game plan.
"We're comfortable playing that [fast-paced] kind of game, but as we move on to some of the other teams we play, we've got to be a run offense," Haith said after the game. "I've stressed that with these guys because I thought we're playing in transition all ballgame, but we really need to learn how to play half-court offense."
Haith understands why this team started to taper off after their Elite 8 run a few years ago. There was not much coaching going on from Anderson, especially in his final season. This became evident when the team struggled to win even one Big 12 road game and would inexplicably go on extended cold streaks in the middle of games.
"Like I said earlier, we're comfortable playing that kind of game, but as we move on to some of the other teams we play, we've got to be a run offense," Haith said after Wednesday night's game. "I've stressed that with these guys because I thought we we're playing in transition all ballgame, but we really need to learn how to play half-court offense."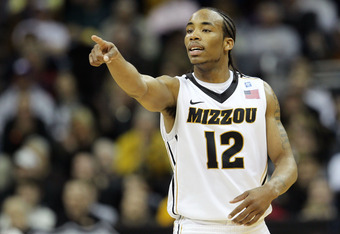 Jamie Squire/Getty Images
While Haith appreciates that up-tempo pace, he knows that in order to make it successful, he must make his own modifications.
"Coach allows us the freedom offensively to play up and down," Denmon said Wednesday night. "We do different up-tempo things, but right now we are adapting to playing this style of play. Even though it is a fast-paced and up-tempo game, it is a little different."
In terms of how playing in more of a half-court offense will affect certain players, I am most concerned about guys like Dixon and Phil Pressey. Those are two smaller players who thrived in Anderson's system because of their agility and served as spark plugs for the team. While I think they have enough natural talent to succeed in a watered-down version of the "Fastest 40 Minutes," I think the transition over the course of this season could be a little rocky.
On the defensive end, I do not mind seeing the Tigers back off the full court press. It is not nearly as effective over the course of an entire 40 minutes against elite teams like Kansas, as it was against some of the lower tier Big 12 teams and the majority of MU's non-conference foes. However, I hope Haith was smart enough to review film from the past two seasons to get an idea of which opponents a full court press was effective against (Illinois is the first team that comes to mind for me).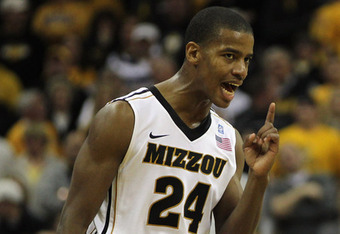 Moving on, I do not understand what is wrong with Kim English. He has continually regressed since having a breakout sophomore season (and by continually I mean he gradually got worse as the 2010-2011 season wore on) and he struggled against Truman State Wednesday night. The senior guard went 2-9 from the field and 1-7 from beyond the arc for a grand total of 5 points. While he did pull down 6 defensive rebounds, his role on this team is a point scorer.
Denmon cannot do it alone. He is going to rely on his fellow senior to step it up and have a bounce back season. Obviously, this is just one game, but taking into account not only the opponent, but also the amount of playing time he received (24 minutes), it has potential to be the continuation of a downward trend.
I really hope English can turn it around and I tried to find some positives from his performance against the Bulldogs, but there were not any. He tallied a couple of assists, but those two assists were offset by turnovers.
Haith needs to start working one-on-one with English to help him re-find the shot that made him absolutely lethal during his first two seasons at Mizzou.
If English continues to struggle early in the season, Haith may be forced to bench him in favor of a guy like Phil Pressey or even Ratliffe or Green if he believes having two big men will be more beneficial than keeping a struggling English among the starting five.