NHL: Is Jacques Martin Still the Right Coach for the Montreal Canadiens?
November 3, 2011
Phillip MacCallum/Getty Images
Is Montreal Canadiens head coach Jacques Martin off the hot seat yet?
I know he isn't with many Habs fans, myself included. But, what troubles me is that three straight wins against normal powerhouses who were also struggling has somehow awarded him a total pass for this team's worst start in over 70 years.
The fact is, this is a coach who has never won anything.
He hasn't won awards or a Stanley Cup ring, just praise for his longevity and being savvy enough to ride hot goaltenders.
It's just not enough.
This is a coach who had his power play fixed by a young reporter who he took a swipe at for having the audacity to suggest his huge power forward might be more suitable than his pet journeyman when the Habs are enjoying the man advantage.
This is a coach that uses his overtaxed top center on the point on a power play and a $6-million sniper on a penalty kill.
This is a coach who finally has at his disposal a huge, tough, hard-hitting defender that his organization has been courting for over seven years and parks him in the press box.
This is a coach that plays not to lose instead of playing to win.
One of the hallmarks of a true contender is how it treats weaker opponents. Contenders routinely take advantage of a lesser team.
Instead, the Habs continue to play to the level of their competition.
During those early-season games when Montreal struggled to win, Tomas Plekanec was quoted as saying something's missing. Under Martin, this team has yet to find its killer instinct.
Instead, this team's identity basically sums up its coach's personality—play it safe, don't make mistakes, don't take risks and don't rock the boat.
It's hard to consider that a Cup-contending attitude.
Not helping matters was former defensive coach Perry Pearn. While there's little doubt that dismissing Pearn so abruptly was poor form and likely a warning shot across Martin's bow, there was some justification for his dismissal as well.
When I caught a preseason game in Halifax, one of my first observations was the sloppy line changes. It kept happening early on in the season as well.
At one point, Pearn watched PK Subban jump onto the ice with four defenders already on and THEN screamed at him instead of yelling at his blueliner prior to tempting fate—reactive instead of proactive coaching.
And, Pearn was in charge of the power play and penalty kill units that have played such a key role in the team's fortunes.
Last season, Montreal's special teams also got off to rocky starts, but since the Habs were winning anyway, it got somewhat overlooked. Eventually, with some assistance and profanity from Kirk Muller, the special teams started clicking.
I have to wonder if the departure of Muller had other repercussions as well.
He was long suspected to be the primary communicator between the coaching staff and the players, and there seemed to be precious little communicating going on up until recently.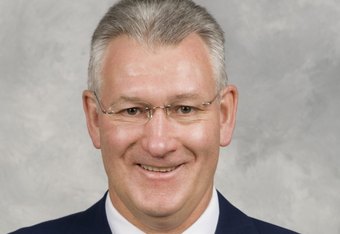 Getty Images/Getty Images
While Pearn's departure may have been somewhat unjust and a bit badly done, the results are telling.
The players are rediscovering some unity, the coaches are adjusting in-game instead of merely watching passively with their arms crossed, and the whole wait-and-see attitude has given way to some much needed urgency.
I'm still undecided on the two new coaches behind the bench. Randy Cunneyworth and Randy Ladouceur did very well at the helm of the Hamilton Bulldogs last year.
But Cunneyworth—who took over for Muller this year—has only recently started tapping players on the back and whispering in their ears. Meanwhile, Ladouceur has tightened up the struggling defense, and special teams are suddenly clicking.
Is it enough?
While it's still early, the fact is I don't believe so.
The Habs are still a middle-of-the-pack team that plays an outdated style of hockey which requires near perfection to succeed during the regular season and total perfection to succeed during the postseason.
A good dose of killer instinct might help.
Since Martin has had two seasons to instill some and has yet to do so, I guess that torch passes to his two new sidekicks. But, I won't hold my breath.