Marvin Hagler Shows His Marvellous Side: Boxing for Laureus' Fight for Change
November 3, 2011
Marvelous Marvin Hagler, world middleweight champion from 1980 to 1987, showed the softer side of his larger-than-life persona in London this week.
He joined a host of Olympic and World Champions—all of them members of the prestigious Laureus Sport for Good Foundation—who were gathered for the first summit of its kind—How to Stop Juvenile Crime and Violence by the Use of Sport.
Hagler was one of many famous Laureus Academy members who joined leaders of sports-based projects from around the world to visit a converted school that is fast becoming one of the most renowned hubs of community-based sports in London.
The run-down 1960s exterior of the Lilian Baylis Centre hides a hotchpotch of spaces—from a gloomy five-a-side soccer hall to a basketball court dominated by a wall-filling image of Michael Jordan and his own inspirational words: "Obstacles don't have to stop you. If you run into a wall, don't turn around and give up. Figure out how to climb it, go through it or work around it."
These words now preside over one of the most successful Laureus-sponsored urban projects, the Midnight Basketball League.
But tucked into another corner of the complex was the boisterous event that had Hagler at its centre. For the boxing gym is where one more of the community's crime prevention programmes is played out: Fight for Peace.
Hagler, surrounded by punch bags, quickly donned the gloves and invited members of the Fight for Peace club to do a bit of sparring.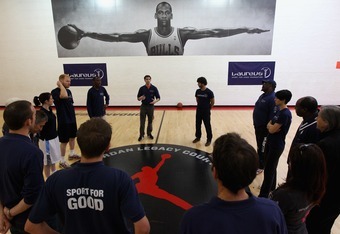 One of his more unlikely volunteers came in the shape of the petite Nadia Comaneci, perhaps of the most admired of Olympic gymnasts and a founder member of the Laureus Academy. But while she was an energetic participant in the basketball and football activities, she didn't last long with Hagler. No problem: There were plenty of other volunteers keen to say they had faced the winner of 62 professional fights across the punch bag.
Perhaps Hagler's most enthusiastic opponent was Rebecca Donnelly, who manages the Fight for Change project at the gym. If she was star-stuck herself, she reckoned that the kids involved in the boxing programme "would go absolutely wild, they really would" at meeting Hagler.
Donnelly got into boxing as a 15-year-old. "I wanted to go out, get into raves, and my dad said, no, not unless you learn to protect yourself. So my dad got me started: first with martial arts, then I went on to boxing and progressed from there."
And now she's helping other kids to do the same.
"We run engagement programmes from this gym, get young people into boxing, then progressing them on to education, apprenticeships and employment. To start with, it's a way for them not to lose face. It's seen as hard…that's the stereotype…but then you break that down and it opens up a whole new network for them."
And Hagler's impression of the feisty Donnelly's punching? "You're pretty good!"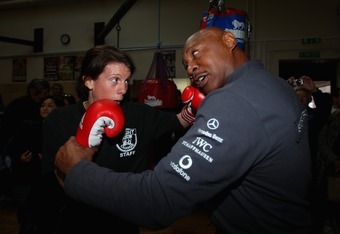 It didn't stop with boxing for the New Jersey-born 59-year-old, though. He was a constantly-beaming presence from the team-building exercises to the photo-call in, appropriately, the gym's boxing ring.
And if one star name was not enough to get the grassroots project leaders cheering, there were plenty more, besides Comaneci, who did:
Michael Johnson, iconic 200 and 400 metre Olympian;
Sean Fitzpatrick, recording-breaking All-Blacks rugby union captain;
Dawn Fraser and Mark Spitz, both multi-Olympic-gold swimming champions;
Ilie Nastase, tennis Grand Slam winner;
Franz Klammer, downhill skiing champion.
Comaneci explained how this unique Laureus Academy came about.
"Daley Thomson, he called me with an idea about a wonderful thing, getting together a couple of legendary athletes to do projects with kids using sport as the tool. So I said, let's do it.
"Usually when people have good ideas, it starts but then there is not too much follow-up—but look at what came out of this, 10 or 11 years later?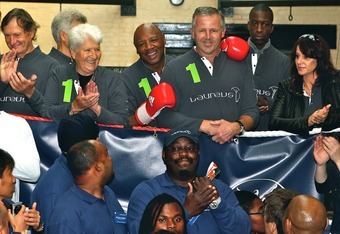 "We thought about a list of other people who could help, and the idea was for someone who was kind of a legend in their sport, internationally recognised, different countries, different sports, and to be retired because you have to have time. Everyone of us came with ideas and we voted, and that's how we got started."
Since then, Laureus has raised over €40 million for projects that have helped improve the lives of more than 1.5 million young people. It also boasts as its patron one of the most universally-admired individuals in the world, Nelson Mandela.
At the inaugural Laureus World Sports Awards in 2000, Mandela said: "Sport has the power to change the world. It has the power to inspire. It has the power to unite people in a way that little else does. Sport can awaken hope where there was previously only despair." This became the philosophy of Laureus and the driving force behind its work.
Two-time Olympic champion Edwin Moses, Chairman of the Academy, said of this week's events:
"At Laureus-supported projects around the world, sport is helping young people to turn away from violence and crime. It is about time we took notice of the power of sport."
In a small gym, in a small school that was saved from demolition only a few years ago, they are leading by example in the most inspiring of ways.
Now check out the great projects helping young people around the world...
Unless otherwise noted, all quotes were obtained first-hand by the author or from official interview materials.