Champions League Schizophrenia: Malady or Myth?
November 3, 2011
I am not known to be the world's best multitasker. First-person shooter games are beyond me, as I lack the dexterity in my digits to walk, jump and crawl around while at the same time aim and shoot at aliens and terrorists… or alien terrorists.
You can ask my college roommates about my Halo credentials, where I'm pretty sure my PR was 10 kills on Valhalla. Depressing, isn't it?
The act of trying to simultaneously eat food and watch TV leaves me feeling confused and helpless. Walking and talking… forget about it.  I went to the hospital the last time I attempted to rub my stomach and pat the top of my head at the same time. You never heal from that.
But such challenges are the demands placed upon the European clubs currently competing in UEFA's 2011 Champions League tournament.  Along with the highest-quality soccer one can find on this planet, the Champions League also yields unparalleled results in the art of multitasking. 
Take Manchester United producing a less-than-enthusiastic 1-1 result against Liverpool in mid-October, then having to look forward to immediately (the next day) flying across mainland Europe to play a match against Otelul Galati in the ominous shadows of the Transylvanian mountains. 
Or look at Internazionale playing Bologna on a Sunday in mid-September, only to find themselves at the edge of the European continent in Russia fewer than 24 hours later to prepare for a match against CSKA.
Champions League involves a balancing act fit for few, as usually the elite teams are the only sides with the experience and maturity to handle these demands, while also producing winning results. The high level of difficulty in regards to success within the Champions League is tied into the logistical challenges of travel and rest in short spaces of time, but even more so, it transcends these issues and becomes completely a matter of mentality. For even when any Champions League fixture is played at home, following a home game in any team's respective domestic league, there is still a tangible electricity of nerves and explosiveness to the game.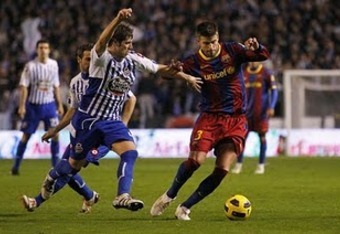 The skill level and dedication of each club featured within Champions League make the glaring and cherished advantage of playing in front of your home fans and in your home stadium almost obsolete. Obviously you have a bundle of sides with uncommonly hostile home environments, but for the majority, skill and determination can trump such an advantage. So even with all the domestic momentum and expenses in your corner, no result in the Liga de Campeones is guaranteed for any side.
There is no better example of the fractions that separate the teams from one another in this league than the tie that AC Milan salvaged not too long ago at the expense of Barcelona, at the Nou Camp. Yes, the Camp Nou. The Spanish Thunderdome of European football. The Italians walked out of those grounds, which have fostered the decayed corpses of far too many of Europe's best sides, with a 2-2 draw, scoring in the 1st and 90th minutes of play. 
Not even Stephen Gaghan could write a soccer script like that.  Every side approaches the execution of their game plan with an "assassin-like" level of focus; every side plays a group stage match as if it will be the last time they will ever breathe again. This intensified level of competition brings out the best of some clubs, big and small—and conversely, the worst in some clubs, big and small. 
It is most intriguing to note, though, the way this Champions League rhythm affects the mentality of certain clubs.  Some chug it like a blueberry Four Loko and play out of their minds. Others, similarly to attempting to solve a Rubik's cube after getting pepper-sprayed, never seem to figure it out. 
Something within the identities of certain teams responds to this invisible electricity, an electricity that creeps into every stadium and pitch, transforming any ground into an agent of footballing history. Like Hogwarts and the wizardry/witchcraft of Harry Potter, Champions League football is less an institution, but more of an invisible universe that lays just beyond the average person's perception of what these games appear to look or feel like. It is something both special and continuously unseen, as every season adds new chapters to both the dusted history books of Europe's old guard and the paperback pages of Europe's fresher starlets.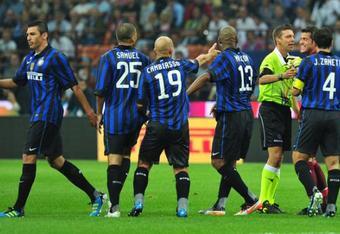 This sensation has a tendency to lead to split personalities within clubs. The highs and endorphins are so unique and superior in regards to Champions League that certain squads engage in retroactive schizophrenia, developing conflicting domestic identities and European identities. 
Inter Milan finds itself at the top of Group B, but in the bottom six of the Serie A table, a place where they haven't found themselves in nearly 20 years. Schalke 04 displayed an uncanny knack for success in last year's tournament, reaching the semifinals against Manchester United, but suffered one of their most dismal domestic seasons in recent memory.  Even Manchester City, a team that is experiencing great success at the top of the Premiership, is third in Group A, in need of 3 points to keep their Champions League hopes alive. 
Arsenal is one of the best examples of this Dr. Jekyll-Mr. Hyde juxtaposition as of late, enjoying most of their recent and noteworthy success in Europe's Big Dance, with notable wins including against Barcelona in the 2010 competition. Rangers and Celtic are the exact opposite, experiencing no obstacles in the path to domestic success, as no other team has been the Scottish Premiership champion since the birth of the league in 1998—but on the Champions League stage, despite their skill, both teams have progressed minimally. 
This condition of schizophrenia is not entirely detrimental, as it allows teams the opportunity to reinvent themselves as far as their identity and capability go, as both their season and campaign progress.  But the reasons for this development of multiple personalities lay encrypted in an invisible UEFA Champions League code. 
What within the competition brings the best out of some teams, at the expense of their domestic campaigns? Or, inverting the situation, what is it within Champions League that brings the worst out of some teams, to the benefit of their domestic campaign? 
We many never know… but it doesn't mean we can't try to understand or see it.  So, like a Muggle searching for Platform 9 3/4 at Kings Cross Station in London, I will continue to search for the nuances and reasons that contribute to these trends of Champions League schizophrenia. One day I hope to find not a cure, but just some insight as to how and why the League's participants undergo these radical fluctuations of identity and habit.  
If you need me, I will be in the Chamber of Secrets...