Arsenal vs. Chelsea: Welcome to the EPL Costume Party
November 3, 2011
Clive Rose/Getty Images
On a day filled with results so typical of an early-season Saturday in the Premiership, the Arsenal and Chelsea throwdown at Stamford Bridge sent a quiet and appropriately Halloween-themed message to the rest of the world: in England's top flight, nothing is what it appears to be. 
It seems as though many of the Premiership's heavyweights are donning cheap costumes on a weekly basis—masks to cover poor defending, capes to conceal sloppy organization, velvet pants to hide legs of inexperience and fake moustaches to disguise words of doubt, as affirmations of team identity. 
From City's embarrassment of United, to United's man-handling of Arsenal, to this weekend's surprise result at Stamford Bridge, the early stages of the league season have been a round robin of each expected title contender enjoying a moment of utter disaster and failure, burning glaring holes in the championship armor each of these teams attempts to wear.
Even Andre Villas-Boas, with his radiating bravado of originality and self-assuredness, looked confused and out of place with his tactics and approach on Saturday—reminiscent of a grown-ass man in a d'Artagnan costume at a high school Halloween party, chain-eating mini Snicker bars with shifty eyes in a dark corner, rather than attempting to conversate with any of the promiscuously-dressed females dancing next to the iPod station. 
John Terry came to the party dressed as a version of his old, Mourinho-era self, only to blow his cover in an attempt to receive a back pass under absolutely no pressure, that went horrifically wrong.  In a fit of embarrassment, he drove under the influence and left the party early.
Though he was on the right side of the result Saturday, Per Mertesacker decided to don no costume at all and show up as his scarecrow-like self, a decision that comprehensively terrorized anyone who laid eyes on this game.  He should've bought and worn the "I am a semi-qualified and experienced footballer with fast feet" costume that they are selling at Party City for $5.99, just to show that he is trying to make an effort.  Cheap bastard.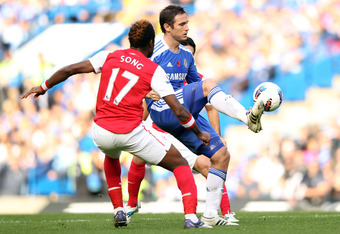 Ian Walton/Getty Images
 But more than anyone, or any group, that pretended to be something it wasn't on Saturday, it was Chelsea's backline that crashed the Halloween party the hardest.  Ashley Cole came dressed as Bruno Mars, to the delight of all the female spectators and Arsenal's front six as well. I think Bosingwa was a variation of Dracula, paying too much attention to the fake...oh wait, nevermind, unibrow he bought to tie his costume together.  It would have benefited his club greatly if he had decided to wear some fangs as well, just to bring an added bite to the defense that they missed so painfully.
A high line, poor communication and lack of assertiveness saw a Chelsea team that was expected to pose significant problems to the Manchester juggernauts at the top of the table, drop points, at home, to an Arsenal side that many had thrown to wolves and written off as helpless children.
The glib French cackles of Arsene Wenger floated through the London air and into the cracked windows of countless Chelsea fans on Saturday night, adding an ominous and appropriately frightening element to this Blues loss.  As AVB tossed and turned on the soft Egyptian linens which cover the bed in his lavish townhouse, the haunting words of the Frenchman crept their way into his mind, "I told you so…I told you so…I told you so…"
The most intriguing element of these unexpected results and performances from sides that have built their reputations the past couple seasons on being some of the most organized and disciplined clubs in the world, is whether these shortcomings are a result of their own lack of focus within, or just a failure to cope with opposition that are adjusting their game plans and simply out-playing and out-willing them to three points. 
It was nice to see Arsenal on the reverse side of the charade, though, after that circus United put on at their expense.  This result was an affirmation that the boys from North London still have a lot to play for, and in addition, are capable of doing it the progressively forward and offensive-minded Arsenal way.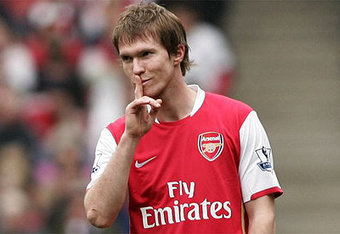 To give candy to all the kids and be completely fair, the game could've gone either direction, had some bounces been thrown Chelsea's way at the beginning of the match.  The Gunners showed some unexpected resolve and weathered the October storm, letting adherence to their game plan speak for them.
Mr. Wenger was the Dumbledore costume to AVB's musketeer get up, showing calmness and confidence in an approach and execution that backed up his expectations for this group of young Gunners. This faithfulness in the French maestro's tactics from the peanut gallery proved to work out for club, momentarily putting off the bloodthirsty witch hunt for Arsene that was moving along quite rapidly prior to this result. 
The Frenchman has bought himself a little bit more time before the mob comes looking to burn him at the stake once again. But after eight wins in their last nine matches, the Duttlenheim Dumbledore's magic and continuous rubbing of that crystal ball seems to be materializing into something nice.  Only time will tell as to where this zombie virus of poor results is originating from; the top teams' inability to prepare for such moments, or the challenger's willingness to prove themselves—at any cost.
At this rate, I expect to see some kind of Halloween act like this every weekend into the winter and springtime.  Where a team attempting to encapsulate and embody the stature and looks of a championship side, is not only knocked by its opposition, but knocked so hard that this costume and façade of "the Champion" is simultaneously thrown to the pitch and shattered.  Maybe the Citizens are next to join the party.  Kun Aguero could do a flawless Eddie Munster, as Carlitos and Silva could pull off the Wolfman and Fievel, respectively.