2011 Breeders' Cup Results: 12 Things We Learned at Churchill Downs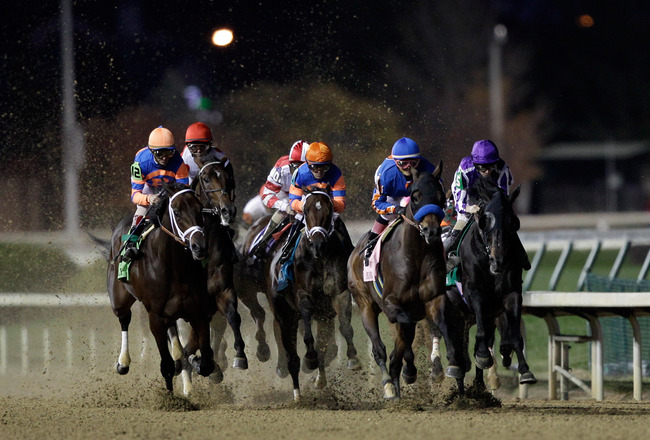 Rob Carr/Getty Images
Every year at the Breeders' Cup we witness the best in thoroughbred racing go a it for the right to be known as the best in their division.
Dreams and hopes can easily be washed away pretty quickly, as a lot of times Lady Luck intervenes in the grand scheme of the race dynamics.
We think we know everything about the Breeders' Cup, but every year, we either learn something new or validate something that we already knew.
So let's take a look at some things we learned from this year's Breeders' Cup World Championships.
European Horses Just Don't Like the Dirt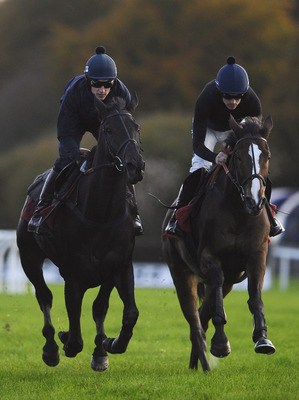 European horses are great, but they don't handle dirt the same way
Alan Crowhurst/Getty Images
European horses rule on the biggest stage on turf surfaces.
But it gets demonstrated that they just don't handle the true dirt surface well. For the past two years at Churchill Downs, we've seen them try it out and come out empty.
Of course the same can be said for the best dirt horses going to Europe and running on turf. But the Breeders' Cup is about coming to America and running on the surfaces here.
Next year the Breeders' Cup is in Santa Anita which sports a new—and fast—all-natural dirt main track.
Seems like they will bring the big guns for the turf races.
Europeans Dominated the Turf Again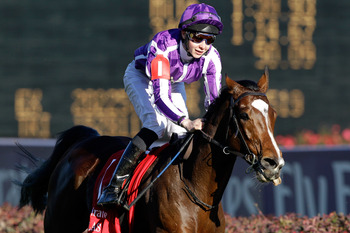 St Nicholas Abbey (IRE) won the Turf
Matthew Stockman/Getty Images
Europe demonstrated once again they have the best turf horses.
St. Nicholas Abbey ran fifth in the Qatar Prix de l'Arc de Triomphe. There were four other horses—including So You Think—that were better than him that day.
He just dominated the field that included Sea Moon, Sarafina and Midday.
All America could mustard on the race was a very game Brilliant Speed who finished third and had the lead into the stretch.
Cape Blanco, was not one of the best horse in Europe, came here and dominated before getting injured.
American turf runners still have their homework to do.
It's All About the Trip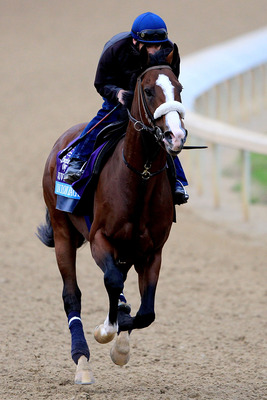 Union Rags ran 78 feet more than the winner
Matthew Stockman/Getty Images
You might have heard the saying in horse racing "It's about having the perfect trip."
And you might have also heard that "The best horse doesn't always win."
Both are completely true, and were used plenty in the Breeders' Cup. But the most glaring example was the one by Juvenile favorite Union Rags.
Starting from post 10, Javier Castellano didn't have much choice other than to take what was given to him in the race. And that was to take both turns, at least four-wide.
He ran this wide the whole race. And at the stretch his horse started shifting and veering—a clear sign of tiredness.
When the TV crew read the stats on how much the horses had traveled, Union Rags covered 78 feet more than the winner Hansen. That's a difference of nine lengths.
Kudos to Hansen for his win, but in this race it was definitely all about the trip.
There Is Star Treatment in Horse Racing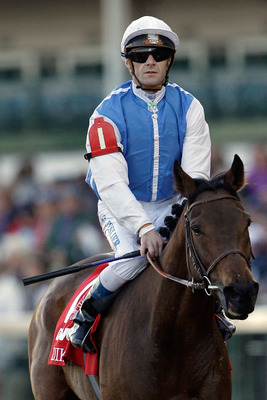 If this wouldn't have been the Breeders' Cup, Goldikova would have been DQ'd.
Rob Carr/Getty Images
Star treatment from the referees. You see it in other sports.
In basketball when the star gets some phantom calls or don't get the fouls called on him.
In baseball you see the star pitchers getting that expanded strike zone. Or the star slugger getting a compact one.
In boxing judges just seem to make the challenger earn their titles. You are getting the picture here.
Today it was the stewards with a horse gunning for an unprecedented fourth Mile trophy—Goldikova.
When entering the stretch, jockey Oliver Peslier, steered the champion mare to the outside, so that she could make the clear on time. And she did.
The issue was that she impeded a couple of horses and that caused a chain reaction. She later in the stretch also impeded Gio Ponti, who was making his move in the middle of the pack.
We all love Goldikova and we wanted to see history made. But what if she would have won the race? All the TV commentators agreed that she should have been disqualified.
Had this race not been a Breeders' Cup race, or a stakes race, Goldikova would have been disqualified.
Tall Jockeys Can Win Too
18-year-old Joseph O'Brien is 5'11".
Alan Crowhurst/Getty Images
To all the aspiring jockeys, who are 5'10" or more, there is a future in horse racing for you.
All you have to do is take a look at Joseph O'Brien, the son of the great European trainer Aiden O'Brien.
He is not only 5'11", but he weighs 126 lbs. And best of all he is just 18 years old. He has been racing for little over a year now.
He was the jockey of Breeders' Cup Turf winner St. Nicholas Abbey, becoming the youngest jockey to ever win a Breeders' Cup race.
Aiden and Joseph O'Brien became the first father-son, trainer-jockey combination to win one in 28 years of the competition.
Too bad he is still growing, which will make it near to impossible to keep his weight. He could have been a remarkable jockey.
It's Not Always About the Money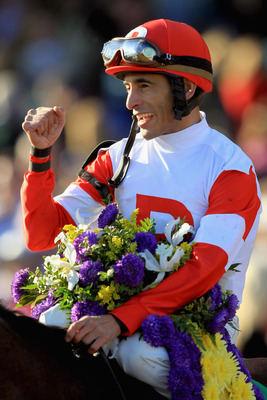 Ken Ramsey held on to Stephanie's Kitten and it paid-off
Matthew Stockman/Getty Images
For some owners it's not always abut the money. As an example, let's take a look at Stephanie's Kitten.
Ramsey and his wife, Sarah, have a tradition of naming offspring by their top turf sire Kitten's Joy, after family members. Their 14-year-old granddaughter Stephanie was the honoree here.
Shortly after Stephanie's Kitten finished third in the G3 Natalma, Ken Ramsey was offered $700,000 for the filly by celebrity chef Bobby Flay.
Flay's wife Stephanie March wanted her for the Breeder's Cup. And more often than not, Ramsay would have accepted such a deal.
But he declined, and told Flay:
"How do you think I'd feel up in the stands watching you and your Stephanie leading her in (the winner's circle), me up there with my granddaughter named Stephanie at the Breeders' Cup? I'd feel terrible."
Good thing he didn't take the deal. Stephanie's Kitten won the Juvenile Turf.
You Can Always Count on the Big Time Riders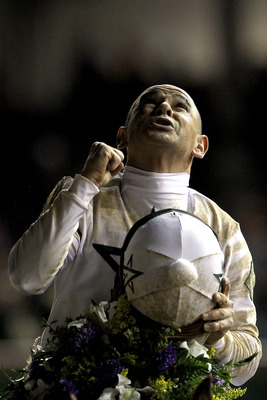 Mike Smith tied Jerry Bailey for most BC Wins at 15
Matthew Stockman/Getty Images
I like the popular saying: "When the going gets tough, the tough get going."
And in the Breeders' Cup the pressure is at an all time high. All eyes are on the jockeys, and they must perform at their best under the toughest pressure.
And this year three big time riders won six of the 15 races. Corey Nakatani, John Velazquez and Mike Smith won two each.
Nakatani won the Juvenile Fillies with My Miss Aurelia and Turf Sprint with Regally Ready. Both were favorites, but had some questions going into the race. Nakatani answered all of them.
Johnny V won the Shoemaker Award for the Most Outstanding Jockey in the Cup races. He won the Juvenile Turf with Stephanie's Kitten and the Filly and Mare Turf with Perfect Shirl. He also finished second four times and third once.
Both of Johnny V's wins were great tactical rides from him, where he positioned the horse in the best spot to win.
Smith won the Sprint with Amazombie and the big one, the Classic with Drosselmeyer. He gave two great rides to win them, especially a perfectly timed ride with Drosselmeyer in the Classic. He learned from his close call last year.
With his two wins, Smith tied Jerry Bailey for the most wins by a jockey in Breeders' Cup history.
2011 Three-Year-Old Campaign Will Be a Good One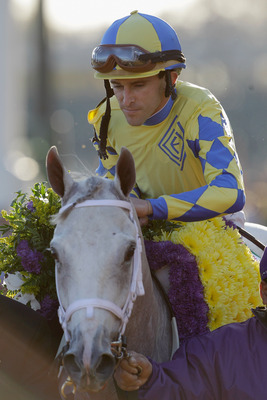 Hansen will be one tough customer next year
Rob Carr/Getty Images
The Derby Trail will start soon, but we already have plenty to talk about it after this year's Breeders' Cup.
Hansen, Union Rags and Creative Cause lead the talks and early bets for the Derby.
The trio promises all kinds of thrills and they are based in different tracks. That fact makes it almost certain that if they stay healthy and make a good age change, the next time we'll see them might be on the Derby.
So far only Street Sense has been the only Juvenile winner to win the Derby, which makes it interesting to see how Union Rags and Creative Cause comeback next year.
Animal Kingdom Was the Best Three-Year-Old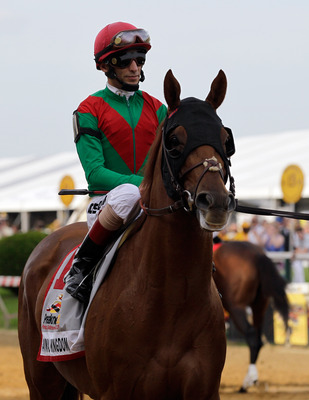 Animal Kingdom would have been a great contender this fall.
Rob Carr/Getty Images
After watching the three-year-old colts run at the Breeders' Cup, it only flatters what Animal Kingdom did the short time he ran this year.
The other two Triple Crown races winners, Shackleford and Ruler On Ice were the standouts, as they finished second and third in the Dirt Mile and Classic respectively.
Animal Kingdom dominated up to the Derby and then ran into bad trips in the Preakness and Belmont, before getting his season-ending injury.
We can only speculate about "what if" he had been running through the fall. But what little we saw from him, and compare it to what the others achieved, definitely convinces me that he was the best three-year-old this year.
Races Are Not Won on Talent Alone
Uncle Mo is brilliant, but he is not a machine.
Matthew Stockman/Getty Images
History has had its share of superbly talented horses, but none of them have been machines that you just turn on and run as expected.
And such is the case with the very talented Uncle Mo.
He was arguably the most brilliant and talented horse in the Classic field, but he was just not prepared to run such a hard race with so little preparation.
His followers bought into the confidence his connections were displaying about him completing this miracle comeback.
But after suffering from a life-threatening liver disease in the summer which kept him from running in the Kentucky Derby, he attempted to win the Classic on only two races.
None of them were over a mile.
Add to this the questions regarding him getting the distance, and it was a recipe for disaster.
Mo has a great talent, but he is not a machine and should have been given a shot in a race he was really prepared for. Horses don't win on talent alone.
Game on Dude Emerges as the Older Division Leader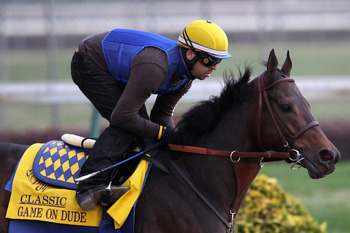 Game On Dude is the early 2012 older horse division ivleader
Rob Carr/Getty Images
After his second place finish in the Classic and his previous two G1 wins, Game On Dude could win older horse honors.
He will also carry that momentum into 2012 and be the early leader of the older horses division.
With the retirement of many of the top older horses, only the top three-year-old colts that return next year—including Animal Kingdom—and Flat Out should be the other top contenders.
The division has lost some star power and has plenty of questions to be answered.
But the only one that looks to keep answering the call every time out is Game On Dude. Should he keep his condition for next year, he will be the top older horse early in the year and maybe make a home presentation at the Classic next year.
Expect the Unexpected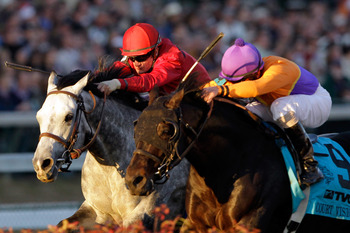 Court Vision produced the second biggest payoff in BC history
Rob Carr/Getty Images
In its simplest form, Murphy's Law states: Anything that can go wrong, will go wrong.
In the Breeders' Cup, if the race looks like a long shot can win it, it will.
Goldikova was a heavy favorite looking to make history. One comment was that she had lost a step and she might not be the same. Translation: A long shot can win this race.
In came Court Vision at 60-1, the second biggest payoff ($131.60) in Breeders' Cup history.
But he wasn't the only surprise to win. On Saturday only one favorite won, the rest of the favorites failed to deliver.
We had plenty of other surprises: Afleet Again ($85.20); Drosselmeyer ($31.60); Wrote ($25.20); Amazombie ($17.80); Hansen ($16.20); Caleb's Posse and St. Nicholas Abbey ($15.60).
The nine races today provided an average payoff to win of $38.44.
Expect the unexpected.
Keep Reading