Denver Broncos: Why John Fox Should Be Held Accountable
November 2, 2011
Bart Young/Getty Images
"Tim Tebow is the worst quarterback in the league!"
"Tim Tebow should be benched!"
We've heard it all this week. The anti-Tebow venom is at a fever pitch right now. Hey, Tebow was terrible on Sunday. The offense was ineffective. The defense was inadequate, too.
Yet, no one is saying a word about Broncos head coach John Fox. No one is questioning his job security. In fact, most just want to know when he's going to drop the hammer on Tebow.
But why is he getting a pass in all of this? It's his team. When will he have to answer for this mess? It surely isn't just one player that's hurting the Broncos.
On Sunday against the Detroit Lions, Tebow went 18 for 39 with 172 yards, one touchdown, one interception, and a 56.8 quarterback rating. Tim Tebow isn't the only quarterback to struggle in this offense.
On Sept. 25th against the Tennessee Titans, seven-year veteran Kyle Orton went 24 for 39 with 173 yards, two touchdowns, and two interceptions. His quarterback rating?  A dreadful 67.6.
Maybe the problem isn't just the quarterbacks.
Maybe this offense isn't putting its quarterbacks in situations where they can be successful. The offensive line is struggling. The running game is non-existent.
Where are the quick passes? Where are the screens to slow down the pass rush? Why aren't we seeing any improvement? This offense has actually gotten worse.
There doesn't seem to be a plan. This offense definitely has no identity. What are they even trying to do?
John Fox is a defensive coach, but Broncos are giving up 28.6 points per game. That's good enough to rank them 31st out of 32 teams.
So when do we begin seeing this defense come around?
The Broncos gave up 113 yards rushing to the Lions on Sunday. The Lions are ranked 27th in the league in rushing, averaging only 95 yards per game.
So when exactly do we begin to see this defense show some life? They have three interceptions on the year. They have just five recovered fumbles.
When do we see improvement?
There doesn't seem to be a game plan. There are no adjustments. The Denver Broncos look completely unprepared. There is no improvement. The team is struggling in all phases of the game.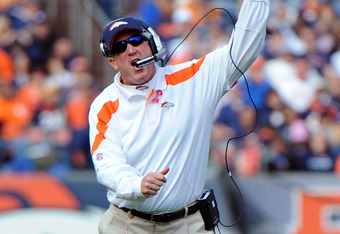 Bart Young/Getty Images
I understand that this team doesn't have much talent and I'm OK with the team struggling. I just want them to start showing signs of improvement.
These things aren't Tim Tebow's job. These things are the job of John Fox.
And right now he isn't doing it.