2012 MLB Offseason: Most Egregious Gold Glove Winners
November 2, 2011
Rob Carr/Getty Images
The Gold Gloves always get a ton of analysis and it is no different this year at Bleacher Report. All of us are going to put our own spin on it. Many of you may have read some of my team fielding analyses. They certainly generated a lot of comments. My methodology is a bit different than some others. I firmly believe in using as many different sources as possible to arrive at the truth.
Some of you have seen UZR thrown around by some other analysts here. I like UZR some, but I much prefer Fielding Bible data. To even things out I also include fielding runs above average from Baseball Perspective and Rfield from Baseball Reference. The voters did a lot better job than in previous seasons. We will look at every position except pitcher.
Catcher
The voters got it right with their pick of Matt Wieters. Wieters had a combined 41.2 runs between the four metrics, with all four rating him as the best catcher in the American League. Yadier Molina is a different story entirely. Baseball Reference had him as good with six runs, but the other three all rated him below average. In total, he sported a negative 5.9 runs. Both Miguel Montero and Chris Iannetta were far superior this season.
Egregious Offender(s): Yadier Molina
First Base
This position represents a position where the voters seemingly did their homework. Adrian Gonzalez and Joey Votto ranked one and two in total runs according to the four metrics. Some question why Mark Teixeira didn't win. He was a positive impact fielder this year, but he was really nowhere close to Adrian Gonzalez.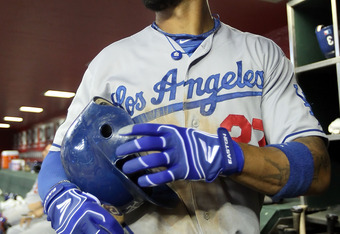 Christian Petersen/Getty Images
Egregious Offender(s): No one
Second Base
The coaches were almost three for three in the American League. Ian Kinsler came out a bit ahead of Dustin Pedroia, but the little guy was a very close second. I would hardly call that egregious this day and age. Brandon Phillips, however, finished sixth among the 16 second basemen in the National League in composite runs. He finished with a very solid 12.8 combined runs, but Omar Infante was second in all of baseball with 43.9. Furthermore, Chase Utley and Danny Espinosa were also considerably better as well.
Egregious Offender(s): Brandon Phillips
Third Base
The American League coaches were on the ball this year. Adrian Beltre won the award and was the best according to composite runs. Placido Polanco had more composite runs than any third baseman in baseball, so he was a solid pick as well.
Egregious Offender(s): No one
Shortstop
It is hard to call two positive impact shortstops as egregious, but the problem comes in how many players finished in front of them. Erick Aybar had a perfectly respectable 9.3 composite runs. The trouble is that there were eight shortstops that finished in front of him. When more than half the league is better, it is egregious for you to win. Brendan Ryan led the AL with 49.6 runs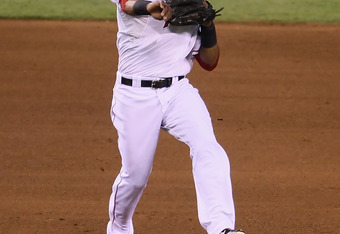 Jeff Gross/Getty Images
Troy Tulowitzki is always a good bet to be the best in the NL, but he wasn't this season. Four shortstops finished in front of him, including Clint Barmes, his ex-teammate. Barmes paced the National League with 42.1 runs. Tulowitzki had 29.3. Again, that is a very good sum, but it shouldn't have been good enough.
Egregious Offenders: Erick Aybar, Troy Tulowitzki
Left Field
Part of me feels sorry for Alex Gordon. He had an excellent season in left field and deserves praise. Unfortunately, he registers as an egregious offender because the most valuable fielder in all of baseball did not get the award. Brett Gardner had 100.2 defensive runs. That is 40 more runs than any player at any other position. It is ridiculous for him not to get an award.
Gerardo Parra was a solid section in left field and probably deserving of the award. Carlos Lee somehow had more composite runs, but I think everyone's head would explode if he were awarded a Gold Glove.
Egregious Offender(s): Alex Gordon
Center Field
It is hard for me to criticize Jacoby Ellsbury, even though either Austin Jackson or Peter Bourjos would have been the better choice. Austin Jackson actually led the American League center fielders in composite runs with 42.8, but Ellsbury was close behind with 36.3. That's hardly egregious,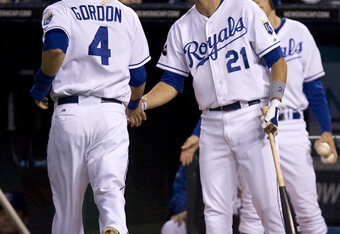 Ed Zurga/Getty Images
On the other hand, the National League coaches must have been watching a different game when they selected Matt Kemp. He is routinely the worst defensive center fielder in the National League. This season he finished a surprising 11th in composite runs. His -4.9 runs make him the first fielder this year to have negative runs and win. Congrats coaches. Cameron Maybin would have been the better choice with 32.3 runs.
Egregious Offender(s): Matt Kemp
Right Field
This debate will rage on for weeks I am sure, but Nick Markakis is not a good right fielder and hasn't been for several season. Yes, he has a lot of assists, but that means that people like to test his arm. Alfonso Soriano once had nearly 30 assists in left field. Does anyone really believe he has a cannon for an arm?
I've actually seen some people say, well he had -5 UZR but he still has that arm. Okay, let's say he is great. He had 14 assists. Would the typical right fielder have eight? Ten? So are those four, five or six throws supposed to outweigh the 20 or 30 balls he doesn't get to? David DeJesus would have been a much more logical selection.
Andre Ethier is a lot like Matt Kemp, but at least he was a positive impact fielder this year. However, you had two exceptional right fielders in the National League in Mike Stanton and Jason Heyward. Ethier has never been good, so I file him in the same category as Kemp.
Egregious Offender(s): Nick Markakis, Andre Ethier