Week 10 College Football Predictions: Alabama and Teams That Will Stun Opponents
November 2, 2011
Al Messerschmidt/Getty Images
The Alabama Crimson Tide are going to roll to victory over the LSU Tigers this weekend in Tuscaloosa, Ala.
LSU enters the game as the No. 1 team in the country, but they are in for a rude awakening when they enter Bryant-Denny Stadium.
The top two teams in the country collide in what will be the biggest game of the season. Both teams have elite defenses, but the Crimson Tide are slightly better and boast home-field advantage in this epic matchup.
Alabama's rush attack and passing offense has been slightly better than LSU's up to this point in the season. The Crimson Tide are averaging more than 40 more yards per game on the ground and 45 more through the air.
That might be a surprise to some, but this offense has been superb at times this season. They are averaging just under 40 points per game, good for 12th best in the country.
First-year starting QB A.J. McCarron has done a terrific job of managing games this season. He has thrown just three interceptions and had 10 touchdowns.
That's all the Crimson Tide need him to do to be successful, and he will do just that against LSU's pass defense, which was exposed in their only game against an elite pass defense. They conceded over 400 yards passing to Geno Smith in the team's matchup with West Virginia.
McCarron isn't Smith, but he will do enough to carry Alabama to victory in this game.

Oklahoma State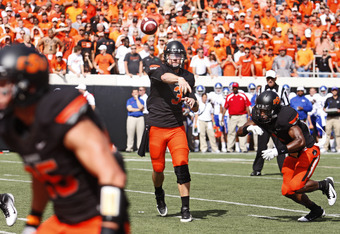 Brett Deering/Getty Images
If Kansas State thought last week was rock bottom, wait until they run into the Oklahoma State Cowboys this week.
OSU is the No. 3 team in the country right now, but will move into the No. 2 spot behind Alabama once the Crimson Tide dismantles LSU this weekend.
Kansas State simply doesn't have the offense to keep up with the Cowboys.
The Wildcats are currently scoring 18 fewer points per game than OSU. They don't have much of a passing attack, and rely way too much on the run to be successful against Oklahoma State.
They only throw for 130 yards per game, which just won't cut it. They are also very shaky on defense, as evident by Oklahoma's second-half explosion. They concede over 24 points per game, and have yet to face an offense as explosive as OSU.
Brandon Weeden and Justin Blackmon are going to have a field day at home, as the Cowboys move to No. 2 in the BCS standings.

Arkansas Razorbacks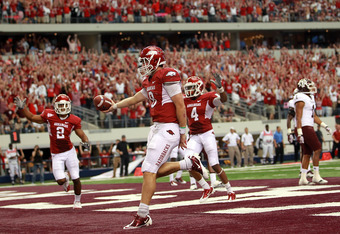 Ronald Martinez/Getty Images
This shouldn't be much of a surprise, but the South Carolina Gamecocks likely believe they still have what it takes to win the SEC East.
They are sadly mistaken.
They face an Arkansas team this week who will be fired up after nearly losing on the road last week. The Razorbacks return home, where they will dismantle a struggling South Carolina team.
South Carolina has really struggled offensively, especially without Marcus Lattimore. They haven't topped 14 points in their last two games, and that likely won't change anytime soon.
Arkansas is led by QB Tyler Wilson, who has destroyed the competition this season. The Razorbacks boast the No. 9-ranked passing attack in the country, and will look to improve on that rating in this game.
They are going to throw the ball a ton, and will look to run South Carolina out of Razorback Stadium.
It's crazy to see South Carolina clinging to a one-loss record, but No. 9 South Carolina won't be able to come out on top after a road game against the Hogs.