Washington Nationals: Biggest Addition Could Be Jamey Carroll
November 2, 2011
Kent Horner/Getty Images
When Nationals' manager Davey Johnson's title was changed from interim to permanent on Monday, it was a ho-hum moment. The team had to follow MLB procedures—touch all the bases as it were—before his hiring could be officially announced.
So, no surprise there. But what he told the press about the Nationals' chances for the upcoming season, well, that was a jaw-dropper.
Said the 68-year-old manager, via ESPN.com, "I think we definitely can contend. And I would be sorely disappointed if we didn't do just that. The talent's there."
I couldn't agree more. But the difference between contending and winning is a chasm deep enough to hold a generation's worth of lost hope. A team can contend with 85 wins, but the Nationals will need at least 90 victories to break through into the playoffs next year.
We've been hearing for a couple of months now that the Nationals are a starting pitcher and a center fielder away from true contention. That's true, but that's also the minimum required to join their postseason brethren.
Rumors have abounded for some time that starter C.J. Wilson of the Texas Rangers could be the Nationals' No. 1 target in the upcoming free agent free-for-all that starts on Thursday. The 30-year-old lefty has averaged 16 wins over the last two seasons, along with a 3.14 ERA, after never having started a game in his major league career.
A starting rotation of Stephen Strasburg (1-1, 1.50), Jordan Zimmermann (8-11, 3.18), John Lannan (10-13, 3.70), Chien-Ming Wang (4-3, 4.04) and Wilson—if healthy as a group—would easily supplant the Atlanta Braves as the second-best rotation in the division.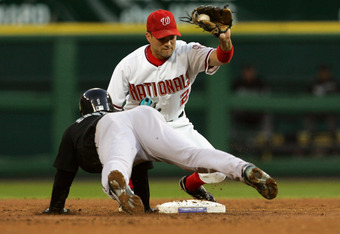 Jamie Squire/Getty Images
And, while the free agent market for center fielders is rather thin, the Nationals' answer at the position might have just dropped into their lap.
Grady Sizemore, who started his career in the organization, had his option declined by the Cleveland Indians earlier this week after three unproductive seasons due to injury. These types of high risk/high reward possibilities seem to intrigue General Manager Mike Rizzo (think Chien-Ming Wang).
Prior to his string of injuries that began in 2009, Sizemore averaged .281/.372/.496 with 28 home runs, 83 RBI and 30 stolen bases for the Indians. The former Gold Glover and Silver Slugger—if healthy—could neatly fill the hole in center for a year until phenom Bryce Harper is able to join the outfield.
So, do the additions of Wilson and Sizemore transform the Nationals into a playoff participant? Well, almost.
Ian Desmond and Danny Espinosa could one day become an All-Star double-play tandem, the likes of which haven't been seen since the days of Sweet Lou Whittaker and Alan Trammel in Detroit back in the 1980's.
But, they are both young, both prone to mistakes and the chance is just too great of both struggling next season as they did in 2011.
Contenders need stability up the middle. So, follow me here.
There is no question that Danny Espinosa has the highest upside of the two. There was some grumblings around the league that he wasn't at least a semi-finalist for a Gold Glove this year. That's how good his defense is.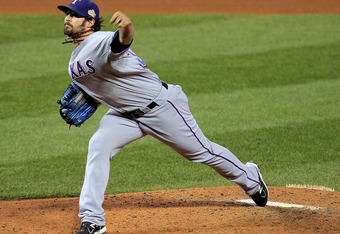 Doug Pensinger/Getty Images
Offensively, National League pitchers found the holes in his swing in July after an outstanding first-half, but by September he was back on track.
Over the last month of the season Espinosa rebounded to hit .274/.371/.429. Based on his rookie season, he should be counted on to field flawlessly and hit .265-23-70 or so with 20 steals over the next decade, perhaps even better.
But he's been a shortstop his entire career. And though Ian Desmond could one day become a solid defensive shortstop, Espinosa already is. There is little doubt that he'll win several Gold Gloves before his career is through.
If up-the-middle defense, as the wise old sages of baseball say, wins championships, then the Nationals' best chance to will be with Espinosa at short and Stephen Lombardozzi at second base. Lombardozzi has a career minor league average of .298/.369/.411 and though he hit just .194 during his September call-up, he batted .357/.357/.429 over his last couple of weeks.
And he won the 2011 Minor League Gold Glove Award for all second basemen playing in all the minor leagues—one award that covers ten leagues and close to 100 teams.
That's pretty good.
But Lombardozzi is just 22 and likely needs another year of minor league experience. If the Nationals' playoff window is opening next year, they need to find a placeholder at second until Lombardozzi matures.
And there is one available as a free agent. His name is Jamey Carroll.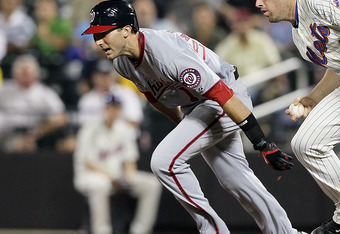 Jim McIsaac/Getty Images
Most Nationals' fans remember Carroll. After hitting .279/.350/.370 for the Montreal Expos, he batted .251 for the Nationals in their first year in Washington back in 2005. Since then, Carroll has played for the Rockies, Indians and Dodgers, averaging .281/.360/.352 over the last six years.
Playing for the Dodgers in 2010-2011, he filled in at both second and short, averaged 140 games per season and hit .290/.368/.344.
His defense—while never flashy—is strong.
Carroll is one of those clubhouse guys that every team loves to have. He was one of Frank Robinson's favorite players while with the Nationals.
The problem Carroll faces as a free agent is that he'll be 38 years old next season. I seriously doubt that any team will give him a multi-year deal and make him a starter.
But, if the Nationals were to trade Ian Desmond, either alone for a couple of prospects or as a package—say with John Lannan—for another quality starter, and Espinosa slid back over to short, Jamey Carroll would make an ideal stopgap second baseman until either Stephen Lombardozzi is ready in 2012, or perhaps 2011's top draft pick, Anthony Rendon, makes the move to second and is ready to play every day.
Jamey Carroll would bring as much to the Washington Nationals as would C.J. Wilson and Grady Sizemore. He is a quality human being and a very good second baseman. No, he's not flashy and yes, he's nearing retirement, but the Nationals have a lot of young talent and not many veterans to guide them.
If 2012 is going to be the year the Nationals finally make their move, they'll need a player like Jamey Carroll to provide a steadying influence during the difficult times.
Wilson, Sizemore and Carroll: that is a recipe for success.