Chicago Bulls: Will Andrés Nocioni Remain in the NBA in 2011-12?
November 2, 2011
Drew Hallowell/Getty Images
After signing as a free-agent with the Chicago Bulls after an impressive summer with the Argentine basketball team back in 2004, Andrés Nocioni finds himself possibly being out of the NBA in 2011-12. The physical defender who became a fan favorite and saw his career rise while with the Chicago Bulls faces an unknown future.
In his first year with the Bulls, Nocioni averaged 8.4 points and 4.8 rebounds while appearing in 81 games (including 38 starts). Nocioni was slowly becoming an important part of the Bulls' foundation and even signed a five-year contract extension in 2007 that was totaled at $38M.
After signing the contract, Nocioni struggled during the first part of the 2008-09 NBA season causing questions to arise about why the team signed him to an extension. Nocioni averaged 10.4 points and 4.2 rebounds in 53 games before being traded to the Sacramento Kings in February of 2009 along with Drew Gooden, Cedric Simmons and Michael Ruffin (who was involved in another trade to Portland) in exchange for John Salmons and Brad Miller.
The Sacramento Kings, at the time, had one of the worst records in the Western Conference and right away Nocioni said that he wanted to be part of a team that played hard every night, and did not accept losing. He started 16 of the remaining 23 games of the regular season in Sacramento averaging 13.7 points and 6.0 rebounds per game.
During the 2009-10 NBA season, Nocioni was once again out of the regular rotation due to the arrival of younger players like Tyreke Evans and Omri Casspi who were given the majority of the playing time in Sacramento. Eventually, Nocioni was unhappy sitting on the bench and asked to be traded elsewhere where he could contribute.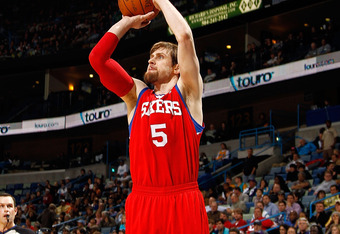 Chris Graythen/Getty Images
Nocioni was traded along with Spencer Hawes after the end of the 2009-10 NBA season to the Philadelphia 76ers in exchange for center Samuel Dalembert, who was entering the final year of his contract at the end of the 2010-11 NBA season.
In Philadelphia, Nocioni was joining a crowded backcourt but would get a fresh opportunity jump start his NBA career that took off when with the Chicago Bulls. The once-known hard-nosed, tough defender averaged a mere 6.1 points and 3.1 rebounds in 54 appearances in 2010-11.
Nocioni was soon relegated to the bench and was out of the regular rotation partly due to minor injuries and also playing behind Andre Iguodala and rookie Evan Turner (who at times was in-and-out of the lineup).
With one more year remaining on that five-year contract signed back in 2007 with Chicago, Nocioni's NBA career appears to be at a crossroads. Will he stay with the team in hopes of being traded closer to the 2012 trade deadline? Or will the team buy out the final year of his contract, making him a free-agent, and allowing him to sing where he pleases?
It is hard to say at this time due to the current lockout, but it would not surprise me to see Nocioni in the NBA in 2011-12, or being released and playing basketball overseas.