Pittsburgh Pirates 2012 Preview: Starting Lineup Projections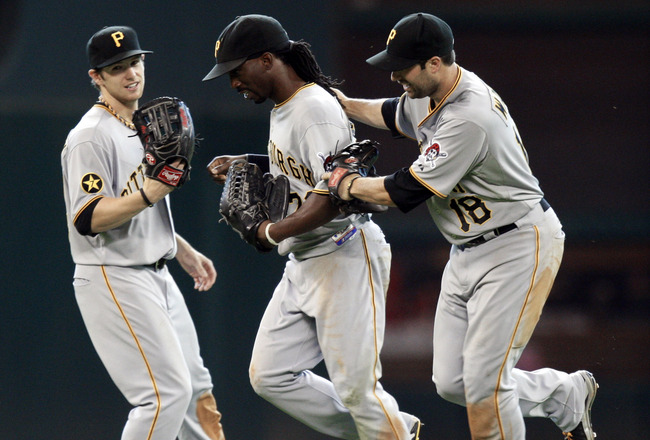 Bob Levey/Getty Images
The Pittsburgh Pirates had a relatively successful (for them) 2011 campaign finishing 72-90. The world saw flashes of what could be in the first 100 games of last year, but lost interest when the Pirates reverted to old form.
Looking to break their streak of 19 consecutive losing seasons, here's the opening day lineup that will help propel the Buccos to their first winning season since Sid Bream touched home plate.
Alex Presley, LF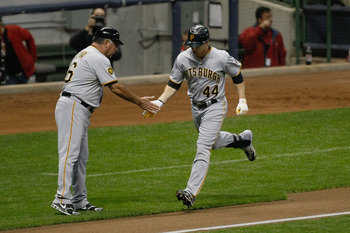 Scott Boehm/Getty Images
Left field used to be Jose Tabata's stomping ground, but last year saw the emergence of Alex Presley, who hit .298 with four homers and 20 RBI in 52 games last season. Presley is a career .291 hitter in the minor league, so we could possibly see his average up near the .300 mark batting leadoff for the Bucs in 2012.
He provided a spark in the lineup before a hand injury forced him to miss some time, but whenever he was in the starting lineup, you knew it would be a great game to watch. Expect more of the same from Alex Presley in 2012.
Prediction
.294 avg, 11 HRs, 44 RBI, 26 stolen bases
Jose Tabata, RF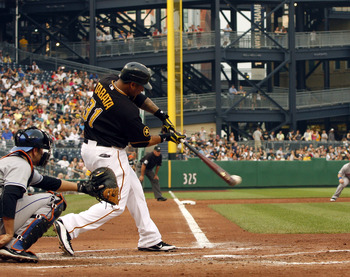 Justin K. Aller/Getty Images
Jose Tabata missed 71 games last year due to a multitude of injuries. After an offseason to rest and repair his body, expect a healthy Tabata to bat behind Presley. The speed that Tabata adds to the top of the order will be a much needed boost to an offense that ranked 27th in runs scored last season.
Jose batted .299 in his rookie campaign two years ago and was off to a scorching start last season before injuries derailed his season. My prediction is that Tabata will bat near the .280 mark in 2012.
Prediction
.278 avg, 14 HRs, 59 RBI, 26 stolen bases
Andrew McCutchen, CF
Christian Petersen/Getty Images
The hands-down superstar on this team, McCutchen will look to bounce back from a frustrating 2011 season, at least by his standards. You won't find many young outfielders upset about having a 23 HR, 89 RBI season.
Where Cutch will look to improve is with the .259 batting average that was so uncharacteristic of the speedster. Expect the power numbers to stay, but #22 will bring that average back to where it's supposed to be in 2012.
Prediction
.308 avg, 22 HRs, 97 RBI, 32 stolen bases
Neil Walker, 2B
Justin K. Aller/Getty Images
Neil Walker broke out last year as a solid bat that can hold down the middle of the lineup. The Pittsburgh Kid hit .273 with 12 HR and 83 RBI in 2011. He was a Gold Glove finalist, which shows that he can pretty much do it all.
Walker has earned the right to bat cleanup, and with speedy contact hitters on the bases in front of him, I expect a big year from the hometown hero. He provides you with a little bit of pop, but not much. What Neil will bring is a great attitude and clutch hits. It's what he did in 2011, and it's what he'll do for many years to come.
Prediction
.286 avg, 17 HRs, 107 RBI
Derek Lee, 1B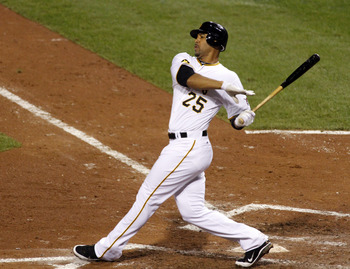 Justin K. Aller/Getty Images
Derek Lee was acquired at the trade deadline after the Lyle Overbay experiment failed in Pittsburgh. DLee was by far the hottest player on the team after his acquisition, hitting .337 with seven HR and 18 RBI during his 28-game stint with the Bucs. Now, extrapolate that over the 130 games or so that he (we hope) will play next year, and you've got some serious production from the first base position.
Garrett Jones will provide the starts when Lee needs rest. Jones will provide a left-handed bat off the bench, and he can also be used in the outfield when needed. Bench players like Jones and Josh Harrison will play a huge role in keeping up the pace if someone goes down.
Prediction
.283 avg, 17 HRs, 58 RBI
(DLee will be sharing time with Matt Hague by August 1st)
Pedro Alvarez, 3B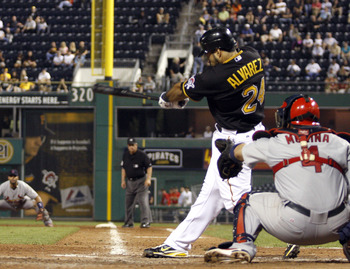 Justin K. Aller/Getty Images
The man that most Pirates fans wish to cast off into exile, Mr. Pedro Alvarez. He, not life, is what Forrest Gump was talking about. The box of chocolates that is Pedro Alvarez could send the ball flying into the Allegheny River or dribbling through the infield for a perfect 6-4-3 double play.
A leg injury hampered Pedro's ability to produce in the 2011 season, and I think he improves upon the abysmal .191 average he put up in 74 games. Expect the pop to come back to life in Pedro's bat, and hopefully the fans will welcome him back into their good graces.
Prediction
.264 avg, 28 HRs, 93 RBI
Chase D'Arnaud, SS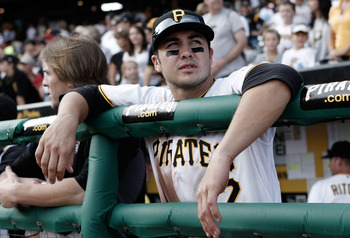 Jared Wickerham/Getty Images
Ronny Cedeno was a 2011 Gold Glove award finalist. That apparently wasn't enough for Neal Huntington to want him back. The Pirates are going to let Ronny test free agency rather than pick up his option for the 2012 season. That leaves us with the young, yet ever-so-mysterious shortstop that is Chase d'Arnaud. He's electrifying, yet terrifying; he's exciting, yet drives you crazy.
In 48 games as a rookie, d'Arnaud stole 12 bases and flashed some nifty leather at times. His bat wasn't the hottest, and he seemed a little overmatched, but that happens to rookies quite often. The alarming part you ask? In those 48 games, d'Arnaud committed an incredible nine errors. That equates to about 27 errors in a season. I think you'll see d'Arnaud settle down a little bit and not be so antsy when the ball comes his way.
Prediction
.256 avg, 4 HRs, 32 RBI, 26 stolen bases
Rod Barajas, C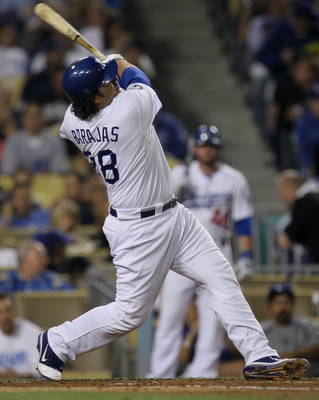 Stephen Dunn/Getty Images
Neal Huntington didn't want his 2011 catchers back. Ryan Doumit and Chris Snyder were both injury-plagued and quite frankly ineffective. The catcher position went from Snyder to Doumit, Doumit to Jaramillo, Jaramillo to Dusty Brown, Dusty Brown to Eric Fryer, Eric Fryer to Wyatt Torregas and finally Mike McKenry came over from Boston and took control.
While "The Fort" stepped in admirably, I'm forced to believe that he will start the season on the bench. To my disappointment, McKenry will probably get 1 game for every 3 that Barajas plays.
Now, Barajas is a speculation of who I think Neal Huntington may go after in free agency. Barajas is old. He's 35 to be exact. He's another one of the stop-gap, over-the-hill veterans that the Pirates are so notorious for signing.
A career .238 hitter with little pop, Barajas will provide a cheap option to save time until Tony Sanchez is ready. Two errors in 88 games with the Dodgers last year will prove to be the reason for signing Barajas, as he is strictly a defensive catcher who is cheap. I think I speak for most Pirates fans out there when I say, we want "The Fort!!"
Prediction
.241 avg, 17 HRs, 62 RBI
James McDonald, P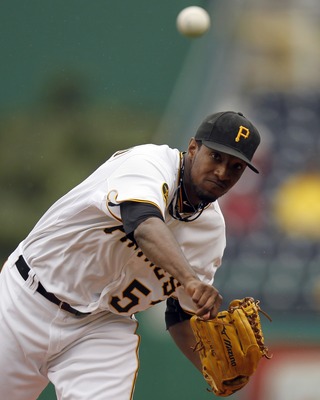 Justin K. Aller/Getty Images
The Pirates thrived off of their starting pitchers in the first 100 games of last season. James McDonald, however, was slow to warm up and quite frankly didn't have the best season. 9-9 with a 4.12 ERA in 2011 wasn't what everyone expected.
He did, however, show some flashes of brilliance by leading the Buccos in strikeouts with 142. I expect the 2010 version of J-Mac to show up Opening Day in 2012 and be the "Ace" of the Buccos staff. Team him with Charlie Morton, Kevin Correia, Jeff Karstens and Brad Lincoln and you've got yourself a decent rotation. Morton, McDonald and Karstens have shown they can dominate. Expect some pretty good numbers from James in 2012.
Prediction
14-7, 3.87 ERA, 186 strikeouts
Season Outlook
The world was in shock when the Pirates took over first place 95 games into 2011. Don't think those Buccos were a fluke. Tony LaRussa is gone, Prince Fielder will hopefully be out of the NL Central and the Cubs are the Cubs.
I truly believe that the Battling Buccos can go on to break the 19-season streak and finish the season with 85 wins. While they won't earn a playoff berth just yet, they will compete and have the City of Champions looking forward to another season in 2013.
Until next time, Raise the Jolly Roger!
Prediction
85-77, 3rd Place in NL Central
Keep Reading

Pittsburgh Pirates: Like this team?