Missouri Football: 5 Keys to Victory for Tigers Against Baylor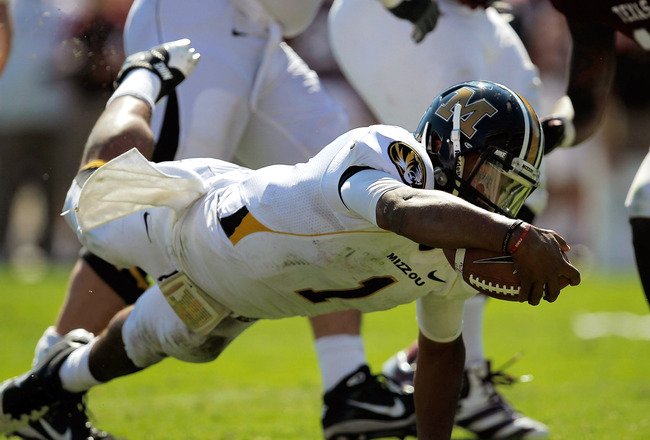 Sarah Glenn/Getty Images
The Missouri Tigers have new life after their exciting overtime victory at Texas A&M in Week 9. This week, they'll look to maintain that momentum when they visit the Baylor Bears this Saturday night.
Baylor has encountered some serious struggles of late, dropping three of their last four games—none of the three losses were close, either.
Now sitting at 4-3, the Bears will look to keep their heads afloat over .500. While on the other side, the Tigers look to move over .500 for the first time since Week 3.
What do the Tigers need to accomplish to come out victorious in Waco, Texas?
Here are five keys to a Tigers victory.
Key-in on Robert Griffin III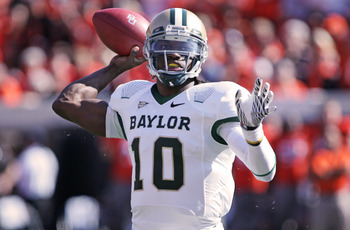 Brett Deering/Getty Images
Robert Griffin III is one of the most electrifying players in all of college football and is one of the greatest athletes to ever grace the Division I landscape. He has also been one of the most productive players, adding substance to his considerable style.
His ability to beat you with his arm or his feet make him one of—if not the most—difficult players to plan against in the lead-up to the weekend.
Whatever Oklahoma State did, though, Missouri should take note. And hit copy.
Despite throwing for 425 yards, Griffin only found the end-zone twice (once rushing), and only averaged a minuscule 1.7 yards on 16 rushing attempts.
On the season RGIII has accounted for 26 touchdowns and over 2,700 yards while authoritatively stamping his name on the Heisman Trophy map.
If Missouri wants to come out victorious on Saturday, the key to achieving their goal is taming Robert Griffin III.
Let Henry Josey Run Wild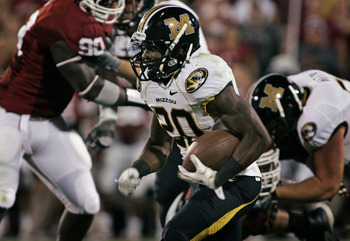 Brett Deering/Getty Images
Henry Josey has been the surprise for the Missouri Tigers so far this season. I mean, I always knew he was good, but I didn't think he'd be this good.
Josey is currently the nation's third-leading rusher, totaling 1,017 yards and seven touchdowns, while his 8.5 yards per carry is good for tops in the country.
A week ago, against Oklahoma State, Baylor was exploited on the ground. In total, they allowed 327 yards and surrendered five rushing touchdowns.
I like the Tigers chances of attacking the Baylor's defense with the Big 12's top rushing offense.
Limit Turnovers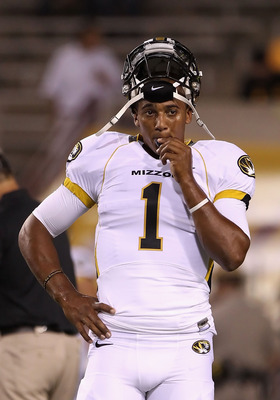 Christian Petersen/Getty Images
As noted in any game, turnovers can seriously put a team's chances of winning in jeopardy.
I think it's critical for the Tigers against Baylor because sustaining drives means keeping Robert Griffin III, who is capable of beating a team all by his lonesome, off the field.
A week ago against Texas A&M, the Tigers only turned the ball over once and they put themselves in position to win the game, while on the other hand, Oklahoma State turned the Tigers over four times and beat them by 21.
Make Mark in Special Teams Game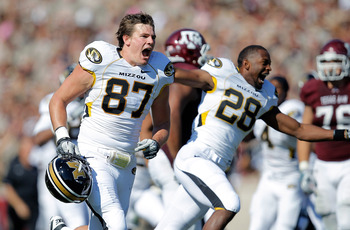 Sarah Glenn/Getty Images
Boy have the Tigers really struggled in the kicking game this season.
A facet of their game that was once as secure as any has looked absolutely abysmal this season.
In his first two seasons as Missouri kicker, Grant Ressel was a remarkable 43-for-46. However this year, he's a dour 9-for-16, including an inexcusable miss in the waning moments at Arizona State, a game the Tigers would end up losing 37-30.
It's likely the Ressel is going to miss his second straight game, leaving the kicking duties to punter Trey Barrow, who was 1-for-2 against Texas A&M. Unfortunately, his miss came as time expired. That kick would have won the game then and there.
When I say "make mark" in the kicking game, I'm clearly referring to a positive mark because frankly, I'm not sure we Tiger fans can handle anymore cardiac kicking blunders.
Let James Franklin Play His Game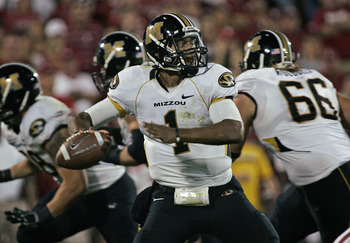 Brett Deering/Getty Images
I really like what James Franklin can do for this football team, and I don't think there are many people who wouldn't agree with his ability to effectively run an offense.
However, I sometimes get frustrated with him and his lax play in the pocket. He often becomes flat-footed when he wants to pass, and it's led to some of his tipped-ball interceptions.
Also, he is not Blaine Gabbert, so when he is forced to run little five-yard outs, I sometimes hold my breath.
Franklin is a phenomenal athlete who has really shown maturation over the course of the season so let's let him start commanding a game.
He's ready.
Keep Reading

Missouri Tigers Football: Like this team?