Atlanta Braves: How Will Derek Lowe Trade Affect Them in 2012?
November 2, 2011
Jonathan Daniel/Getty Images
The Atlanta Braves have traded Derek Lowe to the Cleveland Indians.
According to ESPN.com, this deal involves the Braves receiving left-handed relief pitcher Chris Jones, and moving Lowe to the Indians.
The Braves have agreed to pay two-thirds of Lowe's $15 million salary.
Considering, though, that Lowe would more than likely have had a diminished role in the Braves' 2012 rotation, this is an impressive deal for them.
From this trade, the Braves freed up $5 million. On the same day, the Braves declined their option on Nate McLouth, so the Braves will hold on to the money they chose to not spend on him, as well.
The money they have saved from these decisions could go toward a major trade this offseason.
The Braves could benefit from an upgrade in the outfield, and are in need of a shortstop for next season.
This new financial wiggle room could influence a trade for outfielder Matt Kemp, or shortstop Jimmy Rollins.
Another way this trade can improve the team is the absence of Lowe from the starting pitching rotation.
In 2011, he contributed 17 losses to the Braves, and posted an ERA of 5.05.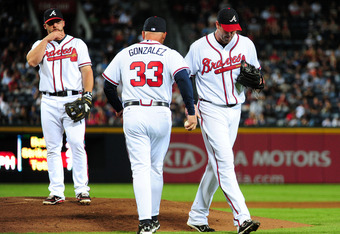 Scott Cunningham/Getty Images
During the next season, the Braves will have the same dominant pitching staff but will likely add a competent arm, probably in the form of Julio Teheran or Mike Minor.
One of these pitchers will have the chance to add wins to the Braves in 2012, something Lowe was not able to provide.
A final unexpected benefit is the addition of a high-potential reliever in the Braves' minor league system.
During his four years in the minor leagues, Jones posted a 22-15 record, with a 3.47 ERA. And last year he was 7-1 with a 3.36 ERA.
He can enhance the Braves' bullpen once he has traveled through the minor leagues.
In 2012, Derek Lowe has the ability to improve two major league teams.
Aside from achieving possible wins for the Indians, his removal from the Braves can improve their team as well.