LSU vs. Alabama: A Perfect Day of College Football on TV
November 1, 2011
Kevin C. Cox/Getty Images
After weeks of discussion and debate, the Nov. 5 matchup of No. 1 LSU and No. 2 Alabama is finally here. If you are like many fans, you have marked the whole day off. As a result, I have compiled a list of the top college football games on all day Saturday. 
You can now fire up the grill and invite your closest friends over for a day of exciting college football and fellowship.
12-3 p.m. Must-See-TV
Texas Tech (5-3) @ Texas (5-2) – 12 p.m. EST
Texas Tech has been the poster team for inconsistency this season. The Red Raiders defeated then-ranked No.3 Oklahoma Sooners 41-38 two weeks ago. How did Texas Tech respond the week after one of the football program's greatest victories? By being dismantled 41-7 by lowly Iowa State.
The Texas Longhorns have been impressive against inferior competition this season, but were defeated soundly by the only two ranked teams they faced in Oklahoma and Oklahoma State.
The battle to watch in this game is the Texas Tech passing game, which is fifth in the nation gaining 359.6 yards per game. The Texas defense, on the other hand, is only allowing 192.9 yards per game passing.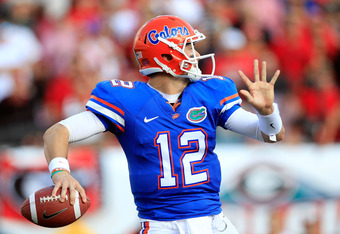 Sam Greenwood/Getty Images
Vanderbilt (4-4) @ Florida (4-4) – 12:21 p.m. EST
The Vanderbilt Commodores head into the Swamp this weekend to face the Florida Gators. Vanderbilt has endured back-to-back heartbreaks in their last two SEC games. The Commodores came within two plays of defeating both No. 18 UGA and No. 7 Arkansas.
Both of the gut-wrenching losses were at home. The Commodores have only played two away games this season and were blown out in both games. The Gators should win this game. However, with the strong secondary of the Commodores and John Brantley still banged up, this could be an upset.
If Vanderbilt were to upset the Gators, head coach Will Muschamp will officially be off of the honeymoon.
Michigan (7-1) @ Iowa (5-3) – 12 p.m. EST
Iowa is 5-0 this season at home and they are hoping to make it 6-0. The Hawkeyes will have a tough test against the No. 15 Michigan Wolverines. The Hawkeyes will need to improve their run defense if they want any shot at upsetting the Wolverines.
The Wolverines are currently eighth in the nation in rushing at 259.3 yards per game. At the same time, Iowa has been less than impressive, ranking 69th in the nation.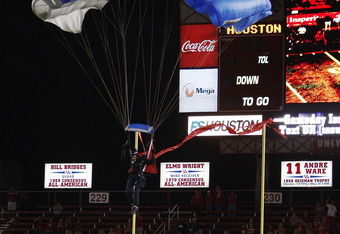 Bob Levey/Getty Images
The odds are stacked against them, but they are a much better team at home. The Hawkeyes are +17 points per game at home but -4.7 points per game on the road.
3-7 p.m. Must-See-TV
Army (3-5) @ Air Force (4-4) – 3:30 p.m. EST
This game does not make this week's list solely because it is a matchup of the No. 1 and No. 3 rushing offenses in the nation. While this is intriguing, this game would be must-see-TV even if the teams were both 0-12. Whenever our nation's service academies face off, it is worth the effort to watch.
This weekend we will watch multiple teams with players who are trying to make it to the NFL—while the service academy players will be off to fight for our freedom. Army and Air Force will fight for first downs Saturday but soon they will be fighting for our nation.
This game should be intense and exciting. God Bless our Troops and God Bless America!
Texas A&M (5-3) @ Oklahoma (7-1) – 3:30 p.m. EST
Texas A&M has been the nation's most perplexing team. They are loaded with talent and it shows in the first half. However, in several games they have blown substantial leads. Oklahoma, on the other hand, has had games where they looked the part of their preseason No. 1 ranking and have had times where they looked like a pretender.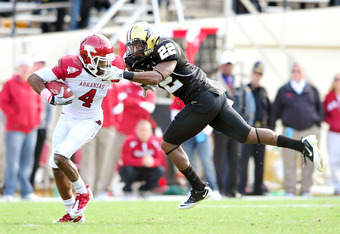 Grant Halverson/Getty Images
This game has the makings of a shootout. The Sooners are No. 2 in the nation in total offense and the Aggies are No.7.  Both teams are putting points on the board, with Oklahoma scoring 49.88 points per game and the Aggies scoring 39.25 points per game.
Purdue (4-4) @ Wisconsin (6-2) – 3 p.m. EST
It seems like just two weeks ago Wisconsin was being anointed as the team to end the SEC's BCS championship stronghold—wait it was. Since that time, the Badgers have dropped two straight games, taking themselves out of the championship mix.   
The Badgers still have plenty to play for. They are currently two games behind Penn State in the Big 10 Leaders division. However, if the Nittany Lions drop a game to either Nebraska or Ohio State, the Badgers could bypass Penn State to the inaugural Big 10 championship game.
Can Wisconsin end their losing streak?
7-10 p.m. Must-See-TV
LSU (8-0) @ Alabama (8-0) – 8 p.m. EST
There is no way I can do this game justice in two paragraphs. As a result, please read this article. However, it should be noted that this is the Super Bowl of the regular season's matchups.
LSU is the No. 1 team in the nation, but they must head to Tuscaloosa to face the No. 2 team in the nation that has won 24 of its last 25 games.
This is Les Miles versus Nick Saban. This is for the SEC West lead and the inside track to the BCS National Championship Game. To say the least, this is must-see-TV.
South Carolina (7-1) @ Arkansas (7-1)- 7:15 p.m. EST
This is more than just a battle between two Top 10 BCS schools. This game has major implications on the SEC championship game. As I wrote in this article, Arkansas was still a major player in the Western division.
This game, however, could knock South Carolina out of the driver's seat for the East. In all likelihood, if South Carolina loses this game, the Georgia Bulldogs will represent the East in Atlanta.
Arkansas is a five-point favorite to defeat the Gamecocks, but don't write off Steve Spurrier's bunch just yet. Despite the absence of star running back Marcus Lattimore and the departure of senior quarterback Stephen Garcia, the Gamecocks just keep winning. Not to mention the Razorbacks have not exactly been world beaters as of late.
Don't be surprised if the Old Ball Coach has a few tricks left up his sleeve. However, the defense will have to slow down Arkansas' high-powered passing game.
Kansas State (7-1) @ Oklahoma State (8-0) 8 p.m. EST
If you are anti-SEC, this is the game for you during this time slot. The Kansas State Wildcats are looking to bounce back from their first loss of the season. The Oklahoma State Cowboys are looking to the BCS national championship game.
The Wildcats like to take their time driving down the field for a touchdown. They are currently rushing for 209.9 yards per game. The Cowboys, on the other hand, like to score fast and often.  Oklahoma State is second in the nation in scoring at 49.9 points per game.
If the Wildcats do not come prepared, it could be another big day for the Cowboys' offense.
Nightcap 
Oregon (7-1) @ Washington (6-2) 10:30 p.m. EST
The Oregon Ducks will try to push their win streak to eight games this season. However, it might not be easy because the Washington Huskies are vastly underrated.
There should be no shortage of points for this game as the Ducks are scoring 47.5 points per game and the Huskies are scoring 35.6 points per game.
One of the intriguing story lines headed into the game is if Chip Kelly will continue to use two quarterbacks. Darron Thomas returned last week but was benched after being ineffective. He was replaced by freshman Bryan Bennet who has been playing like a veteran whenever called upon.
Is Oregon on its way back to a BCS bowl or were they the recipient of a weak schedule the past seven weeks? We will soon be closer to an answer.