Philadelphia Eagles: Michael Vick and Co. Will Stay Hot Against Chicago Bears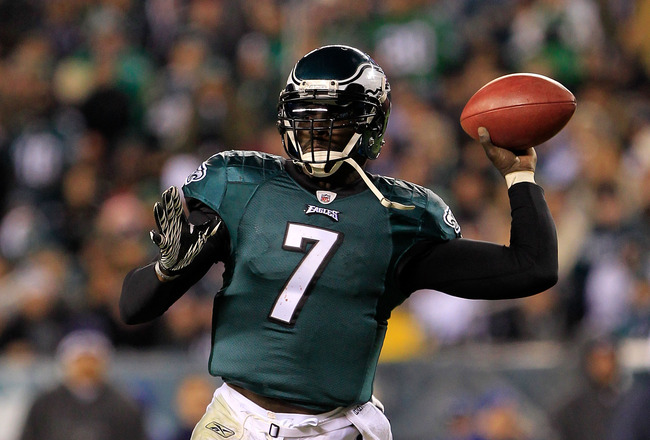 Chris Trotman/Getty Images
Michael Vick and the Philadelphia Eagles will continue their hot streak this week in a Monday Night Football matchup against the Chicago Bears.
This past Sunday night's 34-7 win over the Dallas Cowboys was by far the most dominant performance of the season for a Philadelphia Eagles team that was picked by many to represent the NFC in the Super Bowl this year.
The Eagles seem to have found their groove, and there may not be many teams in the league that can stop this group.
Everyone Is Healthy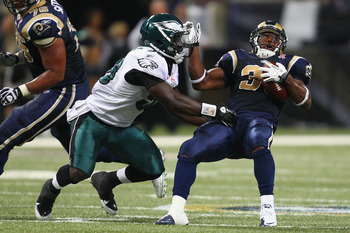 Dilip Vishwanat/Getty Images
Getting Pro Bowlers Jason Peters and Trent Cole back for Sunday's game against the Dallas Cowboys was monumental for the Philadelphia Eagles.
The value of these two players cannot be understated, and with both back, the offensive and defensive lines were as sharp as ever. Michael Vick has had his share of injuries early on this year, but he's fine now.
For the most part, the Eagles have no real costly injuries.
The Running Game Works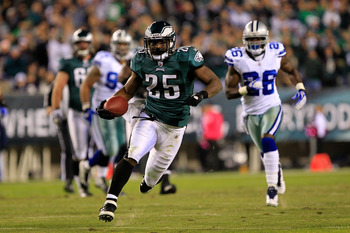 Chris Trotman/Getty Images
Andy Reid discovered Sunday night that good things happen when he runs the football. LeSean McCoy handled a career-high 30 carries, rushing for 185 yards and a pair of scores, dominating the NFL's No. 1 ranked run defense.
Reid has always been criticized for his reluctance to rely on the run throughout his career, a move made even more perplexing considering the running backs Reid has had—Brian Westbrook and now McCoy.
A balanced pass/run ratio worked for the Eagles against Dallas and this is a good quality for the Eagles if they want to go deep in the playoffs. It's also a good sign against a Chicago team that ranks 29th in the league in average yards per carry (5.2) allowed.
The Offensive Line Has Become a Strength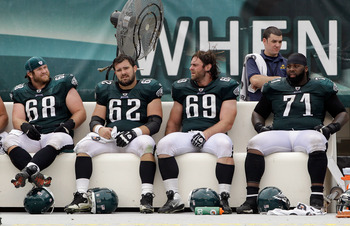 Rob Carr/Getty Images
For the first time this season, Howard Mudd's philosophy on the offensive line seems to have worked. Whether it was the bye week or the Eagles simply needed time to learn his schemes, the offensive line is creating holes better than ever before.
Jason Peters' return was huge, but Evan Mathis has had a Pro Bowl quality season as a guy who was signed and not even expected to start. Danny Watkins is finally performing, and Todd Herremans has contributed at numerous positions on the line.
There Are Playmakers Everywhere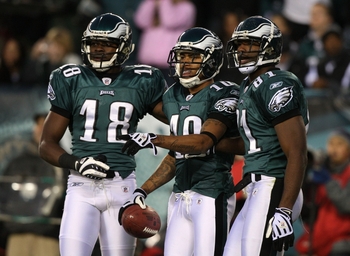 Jim McIsaac/Getty Images
Everyone knew Michael Vick and DeSean Jackson were capable of beating opponents, but LeSean McCoy has emerged as a Barry Sanders clone and Brent Celek has all of a sudden become a viable pass catching option at tight end.
Jeremy Maclin is a dangerous No. 2 receiver and Jason Avant is one of the league's premier No. 3 receivers. All in all, the Chicago Bears will have their hands full trying to cover these players.
The Cornerbacks Are Thriving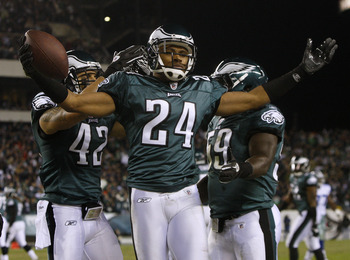 Rich Schultz/Getty Images
Nnamdi Asomugha got his first interception as a Philadelphia Eagle on Sunday night. Asante Samuel played his best game of the season. And Dominique Rodgers-Cromartie is as good of a third corner as a team can hope to have.
This is a lot for any team to overcome. If the Dallas Cowboys couldn't get a single pass thrown to Miles Austin or Dez Bryant in the first half, then the Chicago Bears likely won't get it done with Devin Hester, Johnny Knox and Dane Sanzenbacher.
The Eagles Are a Second-Half Team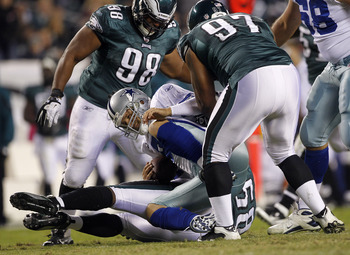 Rich Schultz/Getty Images
Much like the San Diego Chargers, the Philadelphia Eagles have frequently had slow starts under Andy Reid matched with strong finishes.
In 2003, the Eagles started 2-3 and finished 12-4. In 2006, the Eagles rebounded from a 5-6 mark to end 10-6. In 2008, the Eagles were stuck at 5-5-1 and finished 9-6-1.
This year, the Eagles started 1-4. What they will end up is still to be determined, but they are still in the thick of the playoff hunt.
This Team Is Clicking
Jeff Curry/Getty Images
Sunday's 34-7 win was arguably the best complete football game the Philadelphia Eagles have had under Andy Reid. The offense was fantastic, the defense was dominant. Michael Vick made excellent decisions, LeSean McCoy ran the ball effectively and the Eagles won the game in the trenches.
The Chicago Bears are a good team at 4-3. They're right in the mix for an NFC Wild-Card spot. They just won't be good enough to beat the Eagles come Monday night.
Keep Reading

Philadelphia Eagles: Like this team?