Kansas State vs. Oklahoma State: Can the Cowboys Corral BCS No. 2?
November 2, 2011
Erich Schlegel/Getty Images
Could Kansas State's resident program revivalist, expert Bill Snyder, continue his renaissance with a win over Mike Gundy's Oklahoma State Cowboys? Almost anything is possible.
The Bible says people can do all things through Christ who strengthens humanity. At least one researcher has named both the states of Kansas and Oklahoma as parts of the Bible Belt.
They'll be belting one another with something other than the good book on the gridiron this Saturday in Stillwater.
Leading the Big 12 beside still waters, the Cowboys come into this game with the No. 2 scoring offense in the FBS. They're also No. 4 in passing yards per game (373). Incredibly, the Cowboys each week are one 27-yard pass play away from averaging 400 yards per game.
Perhaps more eye-popping, the No. 1 passing team in the FBS is coached by a former Oklahoma Sooners assistant—Kevin Sumlin. His No. 13 Houston Cougars are just ahead of No. 14 Kansas State in the rankings.
The Cougars, though, are averaging 453 passing yards per game. And by posting 52.3 points per contest, Houston is also No. 1 in FBS scoring.
Their starting quarterback, senior Case Keenum from Abilene, Texas, has thrown 32 touchdown passes and only three interceptions this season. That's an unbelievable 10-to-one ration.
Meanwhile, Oklahoma State's starting senior quarterback and Edmond, Oklahoma native, Brandon Weeden, has thrown 22 touchdowns and seven interceptions. That's still an outstanding three-to-one green pasture ratio.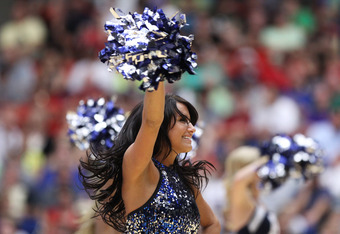 Christian Petersen/Getty Images
In contrast, Kansas State's starting quarterback, junior Collin Klein, has thrown eight scores and three interceptions. Obviously, Snyder put the Wildcats' passing game out to pasture. He prefers not to chunk it as much as the Cowboys do.
Who does, though? Not many teams in college football.
To illuminate, Klein is KSU's leading rusher. He's posted 762 yards on 177 carries. He's passed for 992 yards on 154 attempts. In short, like Snyder's typical passing game, Klein is one big rushing game away from having more yards on the ground than in the air.
That's rare in college football and sometimes in high school—even middle school for that matter. Never mind, though.  The Wildcats will need huge running games from Klein and tailback John Hubert.
Oklahoma State is coming off a 59-24 victory over Baylor in Stillwater. KSU will need to grind out the clock by controlling the ball on the ground. This will keep OSU's powerful passing game off the field for as long as possible.
Kansas State could have used this strategy to perfection last week in Manhattan against the Oklahoma Sooners. The score was 23-17 in favor of OU at halftime, but ended up 58-17.
Oklahoma State, on the other hand, is nipping on the heels of BCS No. 1 and No. 2—LSU and Alabama. The Cowboys want to make their case for representing the Big 12 in OSU's first BCS National Championship Game.
With a .9310 BCS average, whatever that means, Oklahoma State is .0281 percentage points behind Alabama and .0424 behind LSU. The Crimson Tide's average is .9591 and the Bayou Bengals' is .9734.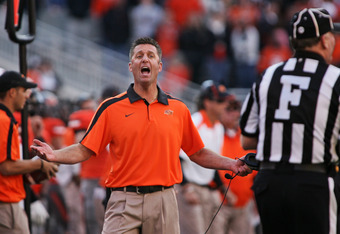 Brett Deering/Getty Images
The Wildcats come in with a .4600 average for what it's worth. The two teams before the Cowboys in this week's poll are sure to get a bump from the strength of schedule index. They'll battle in Tuscaloosa this Saturday.
Like all of Oklahoma State's combatants, KSU should focus on ball security above anything else. Giving the ball to the Cowboys is almost tantamount to giving up an automatic seven.
OSU strikes faster and more often than most teams. Plus, their defense is bendable but it often doesn't break. They're No. 1 in the nation in turnover margin.
Shockingly, Kansas State can tie OSU's Big 12 Conference record. After getting trounced by Oklahoma last week, however, the Cats would be percentage points out of first place. With a loss, the Cowboys would drop from first into third place and out of the BCS Top 10.
Like I always do about this time, I'll drop my prognostication for this game on you.
Prediction:
Kansas State will get lake-cruised by the Cowboys in Stillwater. I don't believe, however, OSU can win big enough to jump to No. 2 in the BCS. That is, unless they win by a score of 100-0 or thereabouts.
In any case, the final score will be somewhere near 55-27.
Contact Lake Cruise: Lakecruise@att.net