CC Sabathia Contract: Predicting 10 Other Obscene Contracts of the MLB Offseason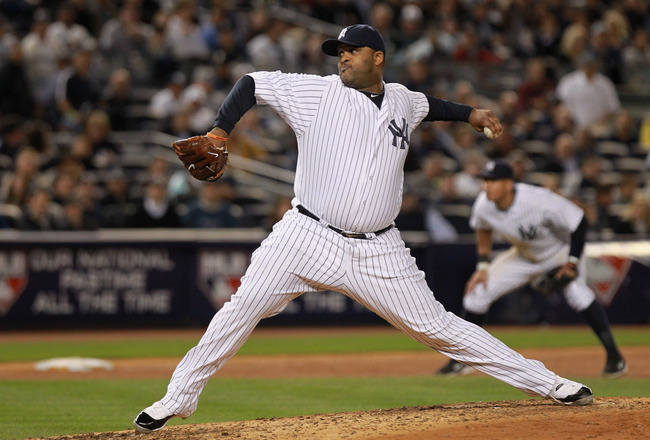 Nick Laham/Getty Images
CC Sabathia was the first player to sign a big deal during the 2011 MLB offseason. Other members of the 2012 free-agent class hope to be able to sign deals that come close in value to Sabathia's five-year, $122 million contract.
There will be a number of members of the 2012 MLB free-agent class that could potentially sign deals worth $100 million and even $200 million this winter. This winter, a number of superstars will sign mega-deals and we could see the richest contract, in terms of either total dollar value or annual value, signed this winter.
Featured here are some of the other players who could be in for a big payday this winter.
Albert Pujols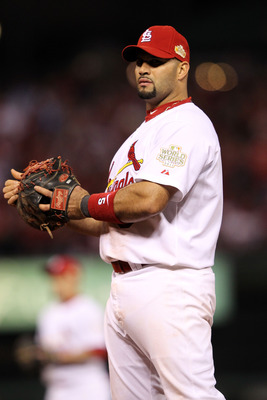 Jamie Squire/Getty Images
No free agent will be more discussed this winter than Albert Pujols. He is the best player in this year's free-agent class and teams will be willing to spend money to try to sign him.
It seems almost certain that Pujols will get the biggest deal of any free agent this winter. Pujols may sign an eight-, nine- or even 10-year deal that guarantees him almost $300 million throughout the life of the deal. While Pujols is a future Hall of Famer, that deal would just be insane.
Prince Fielder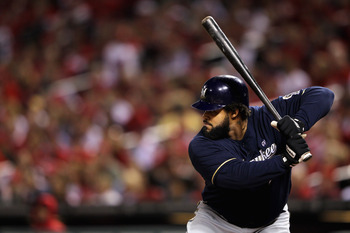 Jamie Squire/Getty Images
One of the more interesting things to see this winter is who between Albert Pujols and Prince Fielder signs a deal first. There is a distinct possibility that whoever signs first will establish the market for the other.
Regardless of this, Fielder could expect to see at least $150 million when he signs his next contract. He is the second-best player available and he will certainly be rewarded handsomely for his past accomplishments.
Yu Darvish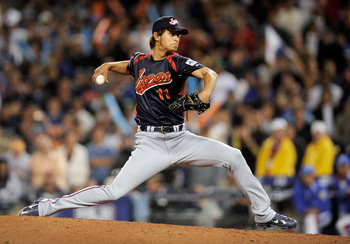 Kevork Djansezian/Getty Images
At the moment, Yu Darvish is not technically a free agent. However, there seems to be a good chance that his team, the Nippon Ham Fighters, will post him this winter. A bidding war will ensue as teams try to win the right to negotiate with Darvish.
Many Japanese pitchers have struggled in their transitions to the major leagues, but that will not stop a team from spending a lot of money on Darvish. The posting fee for Darvish alone could come close to $50 million. On top of that, the winning team will likely need to offer Darvish a deal worth around $70-75 million over five years to get him to sign.
That brings the total cost for Darvish to as much as $125 million over five years.
Jose Reyes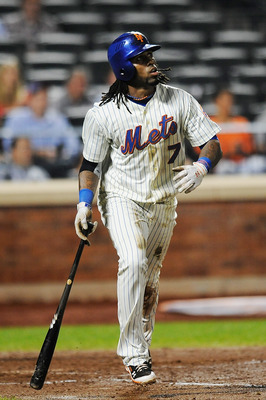 Patrick McDermott/Getty Images
As much as the New York Mets want to bring back Jose Reyes, his price may prove to be too high this winter. Reyes is looking for a deal of at least five years and close to $100 million. He may be able to get it this winter.
Teams will be getting one of the most exciting and best all-around players in the game in Reyes, but they are also taking a slight risk. He has had a number of injuries during his career and a lot of his value is tied to his legs. Even with the concerns, Reyes should get over $100 million this winter.
C.J. Wilson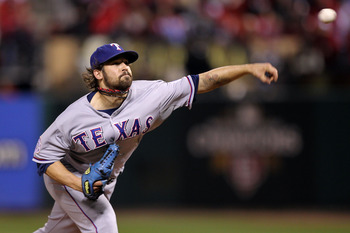 Ezra Shaw/Getty Images
When the regular season ended, it looked as if C.J. Wilson would have no problem getting a $100 million deal this winter. Then, the postseason came along and Wilson did nothing but struggle. He went 0-3 with a 6.08 ERA in five starts and may have cost himself millions of dollars.
Even with his postseason issues, Wilson is still the best starting pitcher available on the market since CC Sabathia re-signed with the New York Yankees. Every team looking for an ace will be going after Wilson and he will get a big deal this winter.
Aramis Ramirez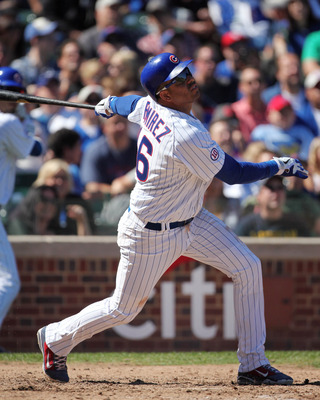 Tasos Katopodis/Getty Images
Aramis Ramirez declined his half of the $16 million mutual option that he had for the 2012 season. This means that Ramirez believes that he can get more money than this in free agency.
It is entirely possible, but it means that a team will be overpaying for Ramirez. He was one of the best offensive third basemen in the National League last season, but he is also 33 years old. Ramirez could get a four-year deal worth as much as $72 million this winter.
Edwin Jackson
Rob Carr/Getty Images
Given all of the issues that he has had over the past few years, it is amazing that Edwin Jackson is one of the top pitchers that is available on the MLB free-agent market this winter. He will likely get overpaid for his services this winter.
Jackson is a good pitcher, but he is nothing more than a No. 2 or No. 3 starter. However, there is a chance that Jackson gets ace money this winter because of the market. Jackson could make $12-15 million a year with his new contract.
David Ortiz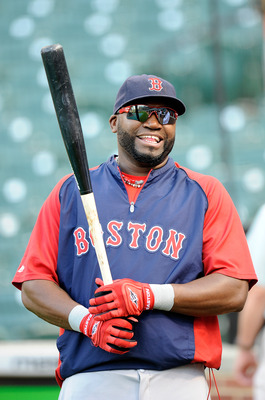 Greg Fiume/Getty Images
Just two years ago, people were asking if David Ortiz's career was on a decline. Ortiz has proven the doubters wrong and put together another good season at age 35.
The teams bidding on Ortiz this winter will be only American League franchises since he can only play DH. Ortiz could be looking at least $10-12 million a year over three years.
Jonathan Papelbon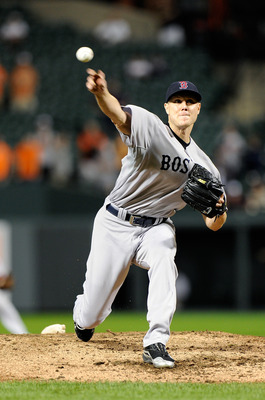 Greg Fiume/Getty Images
While his contract may not be anywhere close to as large as the other players on this list, Jonathan Papelbon is certainly deserving of a spot here. Closers are always in high demand and teams are willing to overpay for them.
It is very, very rare that a closer will get a deal worth $40 million. However, this is exactly what we could see with Papelbon. If he gets a four-year deal, it is possible that he will eclipse $50 million with his next contract.
Ryan Madson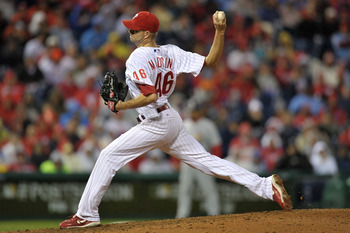 Drew Hallowell/Getty Images
There will be more than one big-name closer on the free-agent market this winter. Ryan Madson will also be a popular target for teams looking for a closer.
Given that Madson is a Scott Boras client, he will definitely be looking for a big deal. Based on his age and his success, Madson may be able to get a four-year deal with an average annual salary of between $8-10 million a year.
Keep Reading

New York Yankees: Like this team?