Bryan Bickell and Nick Leddy have been a big part of the Blackhawks' early success.
Jonathan Daniel/Getty Images
November 1, 2011
What does a team need to be successful?  It needs contributions of all kinds.  It needs timely goal scoring, players understanding their roles and players mentally strong and willing to go to battle. 
This scenario describes the current Chicago Blackhawks.  For them to continue to lead the NHL Central, they will need Viktor Stalberg to pop in two goals in three games.  You need Bryan Bickell to net a go-ahead goal late in the third.  You need Nick Leddy to have two solid performances following a tough night in Raleigh. 
You are seeing this now.  If it continues, the Hawks will be a tough team to beat in the West and perhaps a top dog in the NHL.  
After a disappointing loss to the Carolina Hurricanes, the Hawks responded with back-to-back wins. The Hawks took care of the Columbus Blue Jackets and won in overtime on Monday night against the Nashville Predators. 
Of course, you need the usual suspects.  Patrick Kane and Marian Hossa continue to dazzle opponents as arguably one of the best duos in the sport.  Duncan Keith has been back to his old self.  The defensive corps with Brent Seabrook, Niklas Hjalmarsson and Sean O'Donnell leading the charge has been consistent.  Corey Crawford is proving that last year was no fluke and continues his fine play. 
When you looked at the Hawks' roster in the beginning of the season the question marks were more or less around the supporting cast. Bryan Bickell, coming off a decent year, needed a role established.  He did that and is now a staple on the third line with Dave Bolland and Michael Frolik.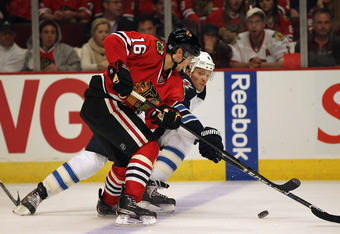 It's hard to be anything but pleased with Marcus Kruger's performance to date.
Jonathan Daniel/Getty Images
Many were concerned about how Nick Leddy would do. Despite a couple of hiccups, most notably in the Carolina game, he has been steady. It is clear that he is at the right level, and a value-add for the club. 
Marcus Kruger is another player that people were hopeful for, but he looked destined for Rockford in late September.  He has evolved into a significant contributor, and a solid two-way center on the fourth line.  
Viktor Stalberg needed a boost.  Perhaps he got an earful or a threat after the Carolina game.  Whatever it was, he has come to life. The scoring is great, but it is the little things he is doing to get the job done. He is staying in position defensively, he is moving the puck well through neutral ice and he is getting to the net. Because of this, he is creating scoring opportunities for himself and teammates. Hopefully, this will continue. 
Stars will be stars and the most important players need to keep at it. The role of the supporting cast has been instrumental in the success of this team early on. It is these players that have been the key cogs in winning the close games that the Hawks were dropping last season.
Now, the Hawks are a team that we expect to win every night, and it is a ton of fun to watch.  If the "plumbers," "role players," or whatever you want to call them can continue to do their job, the Hawks will roll.  
For a city and team that takes pride in blue-collar work ethic, this could be a fun season ahead. 
Thanks for reading.   
Like the new article format? Send us feedback!