Is Minnesota Gopher Ralph Sampson III Ready to Reach His Potential?
November 1, 2011
Andy Lyons/Getty Images
Last summer Ralph Sampson III expressed interest in possibly declaring himself for early entry into the June draft.
At the time, all I could think was that Sampson was make a tremendous mistake. Sampson wasn't ready to make the jump to the NBA.
Sampson has the size, at 6'11" and 245 pounds, to play in the NBA. Sampson also has enough of a deft shooting touch to play at the next level as evidenced last year by his free-throw shooting percentage of 74 percent and field goal shooting percentage of 48 percent.
Sampson however has never shown enough of the intangibles to demonstrate that he is ready to play at the next level.
Sampson seemed too content to blend in to the flow of the game instead of trying to dominate the action.
Ralph averaged two block shots a game last year but too often had mental lapses that led to either easy baskets or extended possessions for opponents.
Additionally, Sampson too often looked like he was winded and needed to substitute out of the game.
Last year against players at the NBA caliber talent level, Sampson was generally on the short end of the stick last year.
Harrison Barnes and Tyler Zeller of North Carolina forced Sampson to see most of the game for the vantage of the bench last year as both had Sampson backpedaling early and often.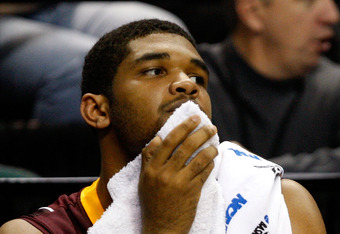 Streeter Lecka/Getty Images
Wisconsin's Jon Leuer, not the most physically gifted player drafted, was also able to force Sampson into fouling out the game.
Purdue's JaJuan Johnson faced little opposition from Sampson when his Boilermakers played Minnesota.
When Ohio State played Minnesota, Sampson also offered little resistance to the Buckeyes Jared Sullinger.
On the offensive end, Sampson never had a signature game against a quality ranked opponent. 
Unlike his teammate Trevor Mbakwe, Sampson never had more than 10 rebounds and 10 points against a ranked opponent.  Further, Ralph never scored more than 14 points against a ranked opponent last year.
Most telling, Sampson had more games in the Big Ten where he scored less than 10 points than he scored more than 10 points.
In fairness to Sampson, he was not always assigned the primary responsibility to defend the above players nor do many players score more than 15 points playing for Coach Tubby Smith. 
Nonetheless, when you looked at the talent on the floor during Gopher's game last season and sought to project what players could be a first-round draft pick in the NBA—Sampson's name rarely came up in the conversation.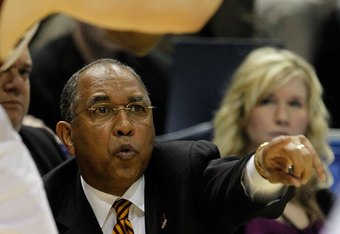 Jonathan Daniel/Getty Images
Sampson likely heard the same comment from NBA league officials when he sought advice as to where he would likely be drafted. 
Leave early Mr. Sampson and you will at best be drafted late in the second round and be slotted in the journeyman role.
Hopefully, Sampson was humbled by the experience and dedicated himself to improving his game.
Will Sampson start the season in the best shape of his life such that he wears his opponent out as opposed to being worn out by his foe?
Is Ralph ready to step up his defensive game and become a solid defensive player in the same mold of Mbakwe?
Can Sampson finally become the consistent offensive threat where fans of Gopher opponents concede that their squad can't stop him from getting at least 15 points each night?
Sampson has the tools to be a very good basketball player worthy of a late first round draft pick in the NBA.
Yes, Gopher fans have their fingers crossed this season hoping that Sampson will reach his potential and demonstrate that he is worthy of being drafted in the first round.
If Sampson reaches his potential, Minnesota will have one of the best, if not the best, front court in all of college basketball.