Pacman Jones: Loudmouth CB Will Play vs. Tennessee Titans No Matter What
November 1, 2011
Kevin C. Cox/Getty Images
Adam "Pacman" Jones had been away from the NFL for nearly a year before he finally returned to the field this past Sunday. Unfortunately, that was just for one rather glorious play.
Jones took a punt return back 63 yards but failed to beat Seattle's punter, Jon Ryan, who was able to force him out of bounds.
You can't ask for more during your first time handling a football in an NFL game in approximately a year, but Jones popped up holding his hamstring and soon went to the locker room.
This isn't going to stop Jones from being on the active roster for the Cincinnati Bengals' Week 9 showdown with Jones' former team, the Tennessee Titans.
The Titans drafted Jones with the sixth overall pick in the 2005 NFL draft, but off-the-field issues including starting a scuffle that led to a shooting at a Las Vegas strip club numbers among 13 other legal cases in which Jones has a connection in some way.
Tennessee was forced to trade Jones because of his less-than-stellar on-field play and off-field incidents. The Cowboys gave him a chance but he never panned out and was soon cut.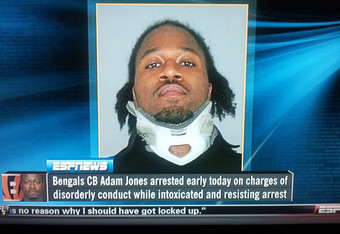 Now that he has caught on with the Bengals after career-saving neck surgery, Jones is ready to take on his former team for the first time.
When asked if he was expected to be welcomed back by the fans, Jones wasn't delusional.
"Hell no fans aren't going to give me a good ovation," Jones said. "They booed me when I was there, so you know they are going to boo me when I'm on the other team. But I don't care. That [expletive] don't bother me."
Johnson also told ESPN that this is the game that he won't miss no matter what.
"I'm not missing that one in Tennessee. I'll do whatever I have to do to be healthy," Jones said.
If Johnson is healthy and has a good game in his return to Nashville, it would be quite redeeming.