Los Angeles Kings: 10 Trick or Treats That Will Change the Season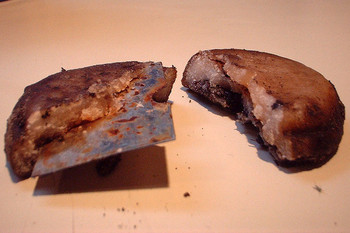 Trick: Bustin Penner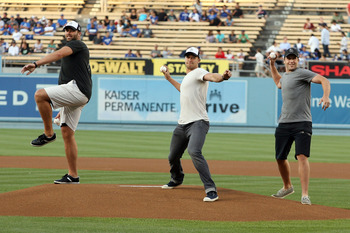 For a clean-up hitter, his pitching mechanics look pretty good
Jeff Golden/Getty Images
We now join our program, already in progress. Will you believe that I Googled the phrase "Bustin Penner" and nothing came up?
Treat: Kill Jack Kill Stops Killing the Kings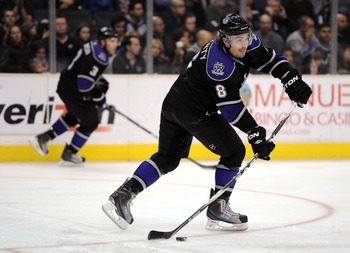 I'm jellus.
Harry How/Getty Images
Jack Johnson can put up points. He likes it here. He's JMFJ! But he hasn't been very good defensively, and what our eyes see, hockey's burgeoning sabermetrics movement supports (granted, this same Edmonton blogger was also a staunch Penner supporter).
Johnson is off to a nice start this year, and I wonder if Doughty/JMFJ is a homeless man's Yzerman/Fedorov. Like Fedorov seemed to take his game to another level when Stevie Y was out, Jack has stepped it up in Donuts' absences the last two seasons.
With great responsibility, comes great power?
Trick: "Hollywood" Richards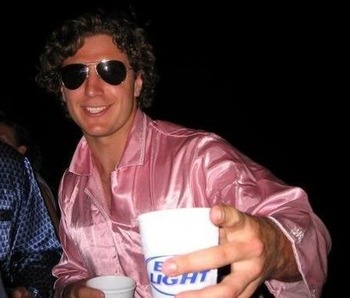 Treat: Anze Reaches the Stratosphere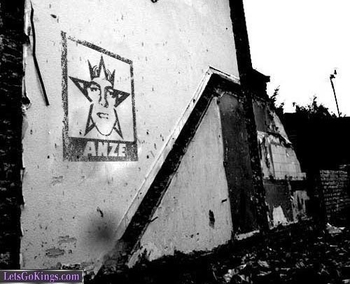 Anze has been on the cusp of the league's elite for a couple years—from starting off with 33 points in 22 games in 2009 to last year's stunning growth into LA's best two-way player. Perhaps he takes another step up this year. As a rookie, the comp I had for him was Mats Sundin, and I think he's already a better player.
Trick: Donuts Eats Too Much Candy This Halloween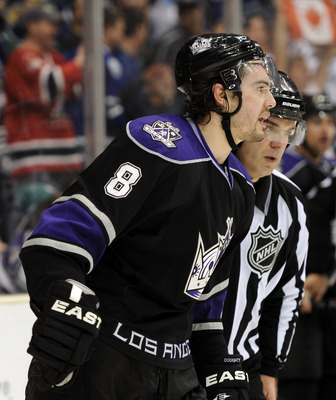 Harry How/Getty Images
Treat: Drew Earns His $7 Million
Bruce Bennett/Getty Images
Want to get paid more than Anze? Prove you're worth it.
Trick: Production-Prone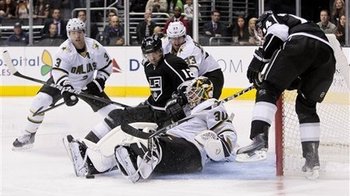 It's too early in the season for Justin Williams to get shot.
If we can get more than 70 games each out of Simon Gagne and Justin Williams this season, I'd be ecstatic. And if they're healthy to start the playoffs...I'd buy that for a dollar!
Treat: We Get a 3rd Line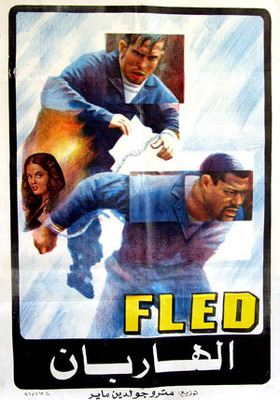 Terry Murray likes juggling lines, so a third line today might become a first line during a mid-December tilt in Phoenix with 15 minutes left and, God forbid, we're down one.
But he also likes cuffing players (a la Handzus-Simmonds, Kopitar-Williams) like a fantasy football maestro. So our third best center, Jarret Stoll, needs his Larry Fishburne.
Dean Lombardi tried addressing this when he signed Ethan Moreau and Trent Hunter, but both old dudes have played like old dudes so far. Does Dean deal one of his spare puck-moving defenders or Matt Greene for Morpheus?
Trick: Please. Not. Again.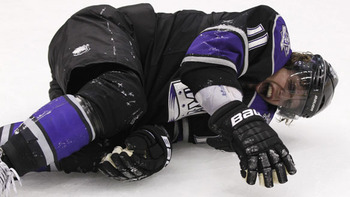 Williams dislocating his shoulder was to be expected.
This was just cruel.
Treat: Quick Is Quick in the Playoffs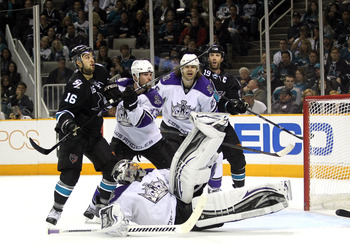 Ezra Shaw/Getty Images
Jonathan Quick has been mostly middling and occasionally spectacular in his playoff career, and he must put a run together for the Kings to advance. Potvin got hot in '01, Hrudey was the horse in '93 and that pretty much covers Kings goalie playoff history.
It's a blank book (and contract) for Quick to write.
Keep Reading

Los Angeles Kings: Like this team?