Florida Panthers: 10 Improvements Needed to Make the Playoffs in 2012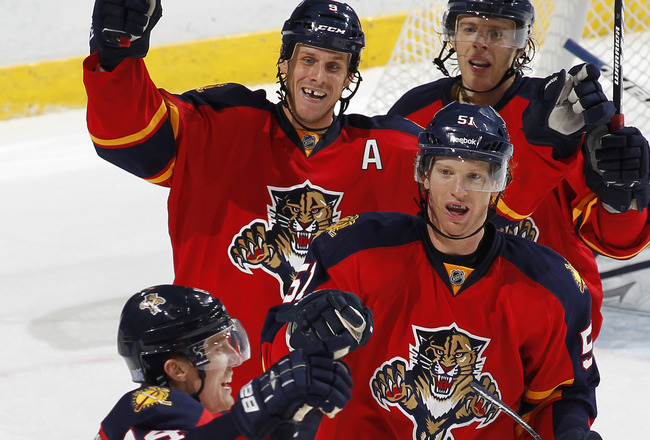 Joel Auerbach/Getty Images
The Florida Panthers are playoff contenders. Being in contention, however, does not make them an actual playoff team.
The Panthers went on a shopping spree this past summer, signing 11 new players in under a week. The Dale Tallon-led onslaught on the free agent market shows that Florida is dedicated to winning now.
At this early point in the season, it's too early to tell if this team is for real. Florida has missed the NHL Stanley Cup playoffs for a record 10 consecutive seasons. If this embarrassing streak is to be ended, there are 10 things that need to happen.
Make Special Teams a Priority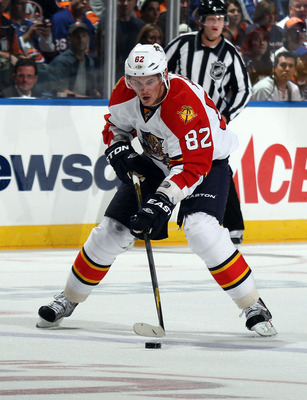 Bruce Bennett/Getty Images
Power Play
Florida is 11 for 48 on the power play thus far, well above the NHL average. That includes a victory over Tampa Bay in which Florida was five-for-nine.
Aside from that one game, the Panthers have been successful only six of 39 times, or 15.4 percent. This number needs to improve.
Penalty Kill
After successfully killing off the first 10 penalties of the season, the Cats have allowed eight goals in 22 opportunities by the opposition. This is a 63.6 percent success rate—not very good.
Gord Murphy has the recipe for a successful penalty kill unit. The Panthers have only to buy into it.
Consistent pressure on the man advantage and timely puck clearing by the PK unit will be key for Florida if they hope to make a dent in the Stanley Cup playoffs.
Keep Garrison and Campbell Together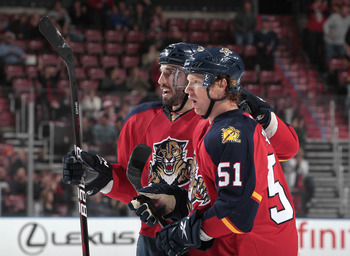 Joel Auerbach/Getty Images
These two lead the team in ice time, with Campbell is among the league leaders in the category.
Offense from the defense is always a bonus, and these two have shown a distinctive scoring edge.
Garrison has a slap shot like a cannon and will unleash it from the blue line on defenseless goalies with little to no provocation. He's already scored five goals this season, matching his 2010-11 total.
Campbell is second in the NHL with 11 assists. That's not the second best on the Panthers, or even the second best among defenseman, but the second best overall.
Campbell is destined for a 65-70 point season and Garrison is a lock for 20 goals, maybe more.
Keep Up the Intensity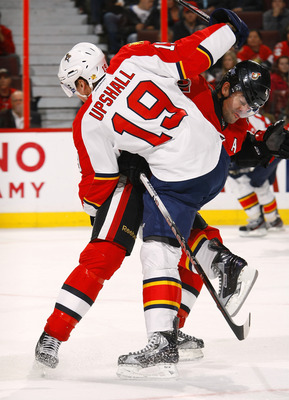 Phillip MacCallum/Getty Images
In the past, the Panthers have suffered from uninspired play. Mike Santorelli and new additions Scottie Upshall and Jack Skille have been skating every night like it's game seven of the Stanley Cup Finals.
The rest of the Panthers need to catch that same fire.
Only with continued aggression will the Cats be very successful for long. They need to "Let the Cats out of the Bag."
Get Something for Scott Clemmensen and Start Jacob Markstrom
Richard Wolowicz/Getty Images
Markstrom, or "the Alien" to the Florida faithful, has proved impossible for the opposition to solve.
Facing unrelenting pressure and an average of 13 shots per period, Markstrom has turned away 94.5 percent of opposing shots on goal.
The kid is only 21, but he looks completely unflappable between the pipes.
Jose Theodore is 35 years old and can bring Markstrom along, providing veteran leadership. Theodore is still a solid netminder who can start every third or fourth game for the Panthers.
Scott Clemmensen is a good enough backup that the Panthers should be able to get a high second-round selection from Columbus or another team that needs a good option at goaltender.
Watch Early and Late Goals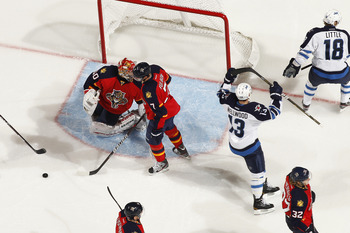 Joel Auerbach/Getty Images
So far this season, the Panthers have allowed four goals in the first five minutes of the first period. Maybe it takes getting scored on to wake this team up...but it would be better if they were awake before they took the ice.
In the last three minutes of games, the Panthers have allowed game-tying or go-ahead goals to the opposition four times, including a goal by Ottawa with 3.5 seconds left in the third that robbed Florida of at least one point.
Of all teams, Florida should know how important one point can be for one's playoff chances.
Come Back Strong on the Second Night of Back-to-Back Games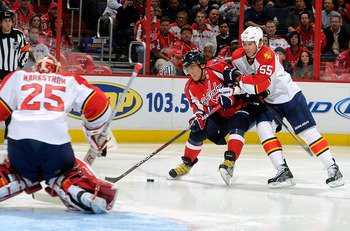 Greg Fiume/Getty Images
On October 18 the Washington Capitals drubbed the listless Panthers 3-0.
This was the first of 14 back-to-back games the Panthers have this season. That's 26 points in the balance.
Florida went 5-9-1 in the second of back-to-back games in 2010-2011.
If Florida can do enough to at least split these points and come out .500 in these games, instead of salvaging only six to eight points, it could make the difference between a seventh seed and early tee times.
Use the New Guys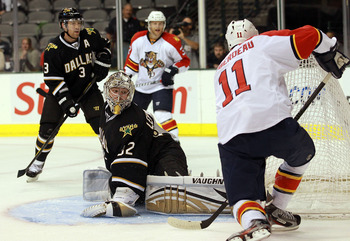 Ronald Martinez/Getty Images
Jonathan Huberdeau had a lot of scouts drooling over his skills before the Panthers selected him with the third overall pick in the 2011 draft.
His skill set is perfectly matched to the NHL game, and he showed his scoring chops by leading the Panthers with three goals this preseason.
Along with Huberdeau, Florida had six other draft picks in the first three rounds of the NHL Draft this past June.
The Panthers shouldn't call these guys up too early—but they can provide a late-season push for the playoffs with fresh legs and unbridled enthusiasm.
Keep the First Line Together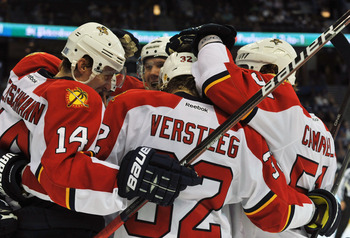 Al Messerschmidt/Getty Images
Florida's top line of Kris Versteeg, Tomas Fleischmann and Stephen Weiss has produced 14 goals and 17 assists in the teams first 11 games. That includes two shutouts.
That kind of production doesn't happen for everyone.
These three have something that we haven't seen very much of in the past—chemistry. Each player seems to know where the other two are at all times, especially in the offensive zone.
Whatever it is that made these new teammates click so well, Florida needs to make sure they keep doing it.
Five on Five Pressure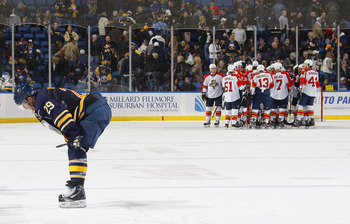 Dave Sandford/Getty Images
With 20 even-strength goals in 11 games, Florida is not exactly leading the league.
The Panthers are guilty of taking an occasional period off. They don't always skate with the fire and the passion that it will take to bring home the cup.
The key to Florida's continued success lies not only in its special teams, but also in making its normal unit special as well. From the drop of the puck to the final horn, the Panthers have to keep their heads in the game.
Use the Veteran Presence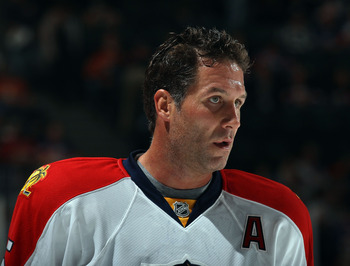 Bruce Bennett/Getty Images
The team needs to lean on its greybeards.
Old hand Mike Weaver, and new additions Ed Jovanovski, Marco Sturm, Matt Bradley and Brian Campbell are all over 30. They have played an average of 728 games each. Do you think they have a thing or two to teach these young guys?
In addition, there are now four guys on the roster who can boast a Stanley Cup Championship.
I'm sure the Panthers would like to add to that total.
Keep Reading

Florida Panthers: Like this team?