Toronto Blue Jays
Blue Jays Free Agents and Options Part 1: Encarnacion, Rauch and Bullpen
Edwin Encarnacion's $3.5 million 2012 option has been picked up by the Toronto Blue Jays.
J. Meric/Getty Images
November 1, 2011
This offseason is a critical time for the Toronto Blue Jays. With interest in games and attendance growing, its rivals in the AL East in flux and a team that is young but poised to break out, the 2012 season could be crucial for the Blue Jays franchise.
Alex Anthopoulos, the general manager of the team, has had his hands full the past two winter breaks.  His first offseason on the job, Anthopoulos was forced to trade his franchise pitcher in Roy Halladay.
The second winter he was in search of a new manager.  This time, his only focus will be the improvement of the major league club.
Decisions have already been made—the option on Edwin Encarnacion was picked up for $3.5 million and the second year on Jon Rauch's contract for $3.75 million was declined.  
Encarnacion was playing himself out of a job early in the season, but came on strong in the second half to make his option almost a given to be picked up.  
Rauch, on the other hand, struggled most of the year in a Blue Jays uniform.  He was one of three veteran relievers picked up last offseason who were supposed to form a late innings shut down crew.
Unfortunately it didn't work out that way.  There is still a chance that the Jays could offer Rauch arbitration or sign him for a reduced rate, but both seem unlikely.
With the late season trade of Octavio Dotel and Mark Rzepczynksi to the World Series winning St. Louis Cardinals, the declining of Rauch's option and the possible free agency of Frank Francisco and Shawn Camp, that leaves the Blue Jays once again rebuilding their bullpen.
That would leave Carlos Villanueva, Jesse Litsch, Casey Janssen and Joel Carreno as the base for the 2012 bullpen.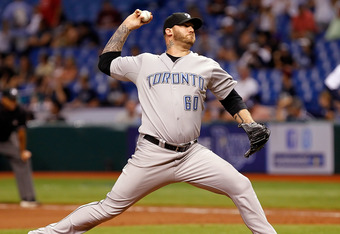 Jon Rauch's $3.75 million 2012 option has been declined by the Toronto Blue Jays.
J. Meric/Getty Images
It could be possible that Rauch, Francisco and Camp could all return. Jesse Carlson could also return to health, but that leaves them essentially in the same position as last year.  
With the repeated failures of the bullpen in 2011, it is likely that Anthopoulos will look to improve it in any way possible without breaking the bank.
One of the players that could be available is David Aardsma, who declined his player option with the Seattle Mariners to test free agency.  Aardsma saved 69 games for the Seattle Mariners in 2009 and 2010, but ended up having Tommy John surgery in July.  
Former Blue Jay Brandon League took over for him in 2011 and thrived in the role, so the Mariners could be out of the bidding for Aardsma.
Of course, with the surgery still so recent, he might not be ready for any of 2012. Though he could still be a value signing over a two-year period.
Other interesting options on the free agent market are Francisco Rodriguez, Ryan Madson, Jonathan Papelbon, and Heath Bell, all legitimate closers in their own right.  
Papelbon and Bell have a good chance of staying with the Red Sox and Padres respectively, while Rodriguez and Madson might demand the kind of contract that the Jays aren't willing to pay for a bullpen piece.
Jonathan Broxton, the former Los Angeles Dodgers closer is also a free agent. Though like Aardsma, he is coming off an injury which could drive his price down.  Unlike Aardsma however, he expects to be ready for spring training.
Broxton could be a possible target for the Blue Jays, a once dominant closer, who could regain his form on an incentive-laden contract.
Another affordable bullpen option for the Blue Jays could be Dan Wheeler. The veteran arm has lots of experience in the AL East after pitching for both the Tampa Bay Rays and the Boston Red Sox. The reliever could be looking for a one-year deal after a frustrating year with the Red Sox. 
Like the new article format? Send us feedback!