CC Sabathia Decides to Stay with New York Yankees, Won't Opt out of Deal
November 1, 2011
Leon Halip/Getty Images
Don't be alarmed—that expulsion of warm air you just heard and felt was that of the New York Yankees and their fans breathing a sigh of relief now that CC Sabathia is guaranteed to be in pinstripes for the 2012 MLB season.
And if you don't believe me, check out Sabathia's Twitter account: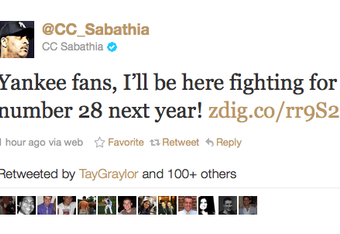 The big lefty had considered opting out of the four years and $92 million left on the seven-year, $161 million pact he signed with the Bronx Bombers back in December of 2008, though there was little doubt that Sabathia would remain in New York, where he won a World Series championship in his very first season outside the Central Division, even if he had.
Sabathia has since emerged as the unquestioned ace of a rather flimsy starting staff at Yankee Stadium, thereby making him that much more valuable to the franchise and that much more inclined to test the market as a result.
The Yankees, on the other hand, were not about to let their prized pitcher seek "boat loads" of money from the likes of the Texas Rangers, the Chicago Cubs and the Los Angeles Dodgers. To make sure that didn't happen, according to ESPN baseball insider Buster Olney, GM Brian Cashman inked Sabathia to a lucrative extension that will keep him in the Bronx until at least 2016, with an option for 2017: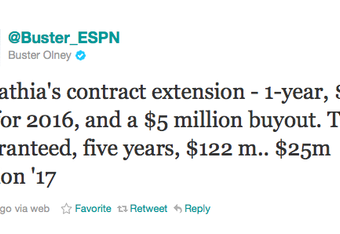 Now that the Pinstripers have cleared their first hurdle of the offseason, they must redouble their efforts to improve their existing squad via free agency. Starting pitching remains a serious concern in the Bronx, even with Sabathia back on the bump.
If anything, Sabathia's return puts even more onus on Cashman to ensure that he surrounds his hefty lefty with more than just Ivan Nova and a scrapheap of ex-aces. That means throwing big bucks after the likes of C.J. Wilson, Mark Buehrle, Hiroki Kuroda and Japanese import Yu Darvish in what's shaping up to be yet another paper-thin market for starting arms in free agency.
That way, Sabathia won't be the only one ready, willing and able to help Derek Jeter, Alex Rodriguez and the rest of New York's aging roster to bringing pennant No. 28 to the Big Apple.