Tennessee Volunteers Head Coach Derek Dooley Deserves a Raise
October 31, 2011
It's time for the Tennessee Volunteers to make history. This time, however, it will be to give an unprecedented raise to a head coach who has led his team to a 3-5 record.
You think I'm kidding? The joke's on you.
College football fans, especially Big Orange fans, are allowing themselves to be "prisoners of the moment," to take use a word from Skip Bayless' vocabulary. They are allowing their perceptions of the season and specifically about the head coach to be affected by the fruition of results that were already predicted to occur.
For example, when the Vols played host to the No. 1 ranked LSU Tigers, everyone knew the unapologetic ass whooping that was coming (sorry, Mama Dooley). However, as soon as the game was done, there was a week-long tirade of how terrible Tennessee was on the radio waves. Believe me, I heard it.
I'm not saying that I was pleased with the 31-7 beatdown that the Bayou Bengals delivered in Neyland Stadium, but that was what any rational college football fan expected to happen. Why react so strongly when your expectations were met?
Do you rejoice when the sun comes up every morning?
Exceeding Expectations vs. Meeting Expectations
Tennessee fans were spoiled with a previous coach in a different sport who made millions exceeding expectations. Bruce Pearl took a basketball team to the second round of the NCAA Tournament as a No. 2 seed that Buzz Peterson could only muster 14 wins with the year before. He earned the school's first and only No. 1 ranking just two weeks later.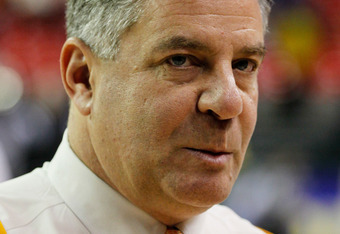 Kevin C. Cox/Getty Images
The only problem with consistently pleasing fans by exceeding their expectations is that there comes a point at which you're expected to be so good, that you simply cannot go above. Just meeting your lofty expectations will be plenty good enough.
Think about Pat Summitt's Lady Vols. Does winning the National Championship really "wow" you anymore? No, it's just another impressive notch in her belt. She did this by lifting the program and consistently meeting expectations that were always rising.
Coming back to football, think about which tactic Lane Kiffin used during his one year as Tennessee's head coach. By claiming that the Vols would be "singing Rocky Top all night long after [they] beat Florida," it's clear that Kiffin wanted to exceed any and all expectations.
Look where that got us.
Which Side is Dooley On?
Derek Dooley is clearly of the ilk that tries to build a program, meeting his and fans' expectations, rather than trying to blow them out of the water. This may sound boring to many, but consider the other coaches who have done the same thing: Nick Saban, Frank Beamer, Mike Gundy.
These coaches are just a few examples of men who try to raise the status of their programs, and meet high expectations, rather than exceed average ones.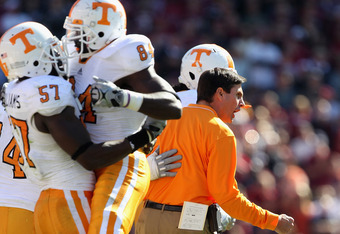 Streeter Lecka/Getty Images
Dooley saved a top-15 recruiting class in four weeks after Kiffin took off and even added an elusive 5-star in Da'Rick Rogers. He recruited another top-15 class after a 6-7 season. He is currently bringing his third consecutive top-15 recruiting class in the midst of a 3-5 season.
Dooley was the recruiting coordinator during LSU's title run in 2004 when Saban was at the helm. He was certainly offered a position on Saban's staff at Alabama, but chose to take a risk and accept his first, very difficult head coaching job.
Had he stayed with Saban, there is no doubt that he would be in the same league as Kirby Smart and Gus Malzahn as highly touted assistants bound to get a great head coaching gig. In other words, Tennessee got him on the cheap.
The 2011 Season
What can you say about the team this year that would've been avoided with any other coach? Put New England Patriots head coach Bill Belichick in the orange and white, and tell me what would've been different.
Could he have convinced Justin Hunter not to tear his ACL? Could he have told Prentiss Waggner and Marsalis Teague, the only remaining defensive backs who played for Tennessee last year, to bestow their experience on first-years Justin Coleman, Brian Randolph, Byron Moore and Izauea Lanier?
Maybe Tyler Bray's thumb wouldn't have come down on the helmet of that Georgia defender with Belichick as head coach. Maybe Brent Brewer wouldn't have been lost for the season on a non-contact injury with better coaching.
The point is that the 2011 season has been snake bitten for the Vols. There is no other way to put it. The losses of Justin Hunter and Tyler Bray meant no less than one touchdown per game, if not more, meaning better games against Florida, Georgia and South Carolina.
Dooley has some blame, to be sure. But most of the blame goes to random chance, who unfortunately cannot be fired.
In the meantime, let's help raise the expectations of our team and give Dooley a raise.