Georgia Football: Season Shaping Up to Be Mirror Image of 2007
October 31, 2011
Sam Greenwood/Getty Images
Despite LSU finishing the 2007 college football season as the SEC Champion and BCS National Champion, Georgia Bulldogs fans might tell you the 2007 season was one of the most magical in recent memory.
The Bulldogs finished the season with an 11-2 record and absolutely dismantled Hawaii 41-10 in the Sugar Bowl.
The Sugar Bowl victory was Mark Richt's second during his tenure as head coach. 2007 also featured the emergence of a certain sophomore quarterback and freshman tailback.
Matthew Stafford, a true sophomore, and Knowshon Moreno, a redshirt freshman, became the nation's most talked about offensive tandem.
Moreno, who entered the year buried in the Dawgs depth chart, finished 2007 with 1,336 yards and 14 touchdowns.
Stafford wasn't stellar, but he was good enough to be considered as one of the conference's best by the end of the year. He finished the season with 2,523 yards passing and 19 touchdown passes against 10 interceptions.
Sound familiar?
Aaron Murray, a sophomore, has emerged as one of the premier quarterbacks in the SEC.
Isaiah Crowell, a true freshman, has made quite an impact as well.
Like 2007, the combination of two emerging stars ignited what appeared to be an average team.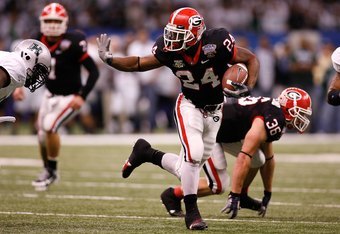 Chris Graythen/Getty Images
Georgia appeared to be heading toward another disaster this fall after losing its first two games to Boise State and South Carolina.
Combining an 0-2 start with miserable 8-5 and 6-7 campaigns in the two previous years, even the most supportive of Georgia fans started calling for the end of Richt's tenure in Athens.
All of that talk has completely dissolved now.
And, just like in 2007, Georgia turned the corner with a surprising victory in Jacksonville against their heated rival, Florida.
The Dawgs had completely lost the interest of the fans in 2007. A 16-12 loss to South Carolina in Athens (just like this year) and a 35-14 loss to Tennessee dropped Georgia out of the rankings.
A nail-biter in Nashville against Vanderbilt, despite a Georgia victory, gave fans reason to believe Florida would destroy the Dawgs in the World's Largest Outdoor Cocktail Party.
Again, sound familiar?
Georgia fans were shaking their heads two weekends ago when their two-loss Dawgs nearly gave away the game against the Commodores.
But, Saturday's victory over Florida has sparked a new attitude about Georgia's program.
The Bulldogs are in the midst of a six-game winning streak and are now tied with South Carolina on top of the SEC East division.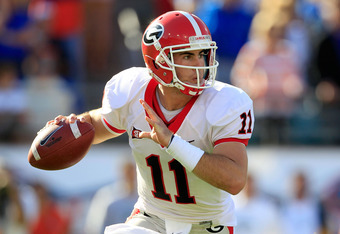 Sam Greenwood/Getty Images
Georgia needs to finish with one more SEC win than South Carolina if they are going to qualify for the SEC Championship game.
An SEC Championship would register as an epic accomplishment for Mark Richt this season, but even if the Bulldogs fail to win the SEC East, they could still finish as one of the most highly regarded teams in the entire country.
Fans forget that Georgia did not even win the SEC East in 2007. The enthusiasm came from the team's ability to run the table.
If Georgia finishes 10-2, and even 11-2 with a bowl victory, they could still miss the chance to play in the SEC title game.
But, the nation would definitely take notice of this team's accomplishments.
This team could possibly, just like in 2008, start as a top-five team in the preseason rankings for next year.
If you told Georgia fans after last season that they were two years removed from being considered one of the best teams in the country, they likely would have laughed in your face.
But, with each passing week, that is starting to seem more like a realistic possibility.
Georgia's defense is starting to turn heads as well. Some might not realize that this once lackluster unit is currently ranked seventh in the nation in total defense.
The Dawgs have also held two opponents, in Tenneessee and Florida, to negative rushing yards. And, they are leading the SEC in sacks.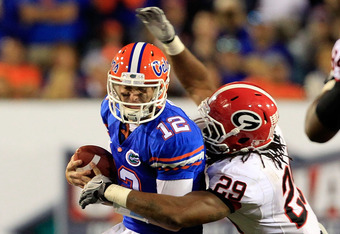 Sam Greenwood/Getty Images
This football team also has many emerging stars that will be around for a while.
Dawgs fans can definitely be excited about Jarvis Jones, who told UGA beat writers yesterday that he plans to stay at UGA for at least another season.
Fans should also expect Murray, Crowell, tight end Orson Charles and a slew of increasingly impressive receivers to return strong.
Receivers Michael Bennett, Malcolm Mitchell and Chris Conley are all freshmen or redshirt freshmen. All three receivers have made clutch catches for the Dawgs this season.
And fans might be forgetting about the other "Dream Team" members who have not even hit the field yet.
An apparently solidified defense, which transitioned during the past few years, and the production of Murray, Crowell and the rest of the offense could make for a very good team for years to come.
The only way we won't look back on this year, if it continues to go well, as a repeat of 2007 is if the team can continue to elevate the year after.
But, I'm not sure fans would argue against this team heading into 2012 with huge expectations.
Georgia football appears to be back.