Detroit Red Wings History: Best Roster Moves in the Ilitch Era, Part 1, Drafting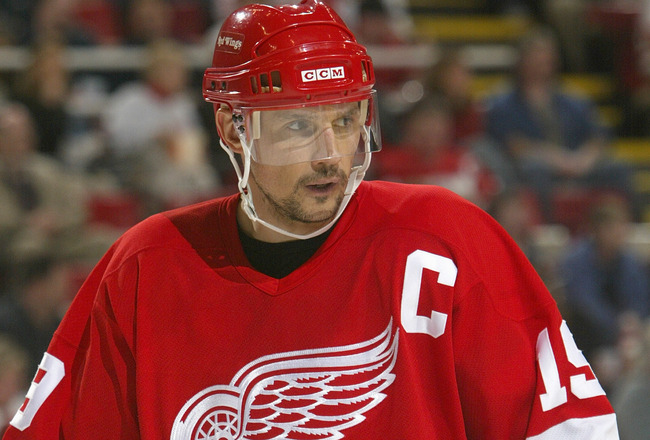 Dave Sandford/Getty Images
The Detroit Red Wings had a stretch where they didn't win the Stanley Cup for 42 years.
That is likely very difficult to imagine today with the Red Wings constantly at or near the top of the League, but the fact is, Detroit was not always as good as it is today.
In fact, not only were they not winning, but the Red Wings were actually known as the "Dead Wings" for a while, prior to current owner Mike Ilitch purchasing the team in 1982.
Ilitch's purchasing of the Red Wings turned the Red Wings franchise completely around, restoring the glory of the original six franchise to where it is today.
How did the Red Wings restore their allure?
Part one of my three-part series is on the best roster moves in the Mike Ilitch era documents how Detroit went from annual pretenders to perennial contenders.
1. Steve Yzerman 4th Overall: 1983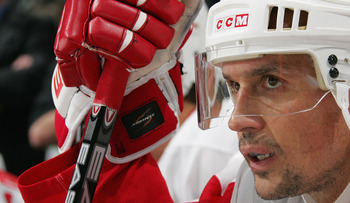 Jeff Vinnick/Getty Images
When talking about Steve Yzerman, recognize that he wasn't the biggest guy ever, at just under 6 feet tall and 160 pounds.
Not the kind of guy that you might put money on to finish sixth on the all-time NHL scoring list with 1755 points.
Detroit fans were not sure what to make of Yzerman and he almost got sent back to his minor league team the Peterborough Petes for another season.
Good thing he stayed in Detroit because in his rookie season as Yzerman put up 87 points in 80 games.
He finished his career with 10 All-Star selections, three Stanley Cups as a player and one as an executive. He also won a Conn Smythe Trophy, a Bill Masterton Memorial Trophy, and a Lester Patrick Trophy.
Yzerman began the turn around in Detroit almost immediately after he was drafted.
Starting in 1987-88, Yzerman had six straight 100 point seasons, reaching his career high of 155 points in 1988-89.
Yzerman remains the longest serving captain of one team in NHL history with 1,303 games spent as Detroit Red Wings captain.
2. Bruise Brothers: 1983
Elsa/Getty Images
The Red Wings needed some more physical presence on the ice and 1983 proved to be a good year to draft for physicality.
The Red Wings drafted tough guy Bob Probert at 46th overall in the 1983 draft, and they took fellow enforcer Joey Kocur at 88th overall in the same year.
These two formed the "Bruise Brothers" during their playing time in Detroit.
They played six seasons together in Detroit, and brought the grit back to "Mo-town."
Although they did not play their entire careers in Detroit, they brought about a change in dynamic in Detroit, bringing in a "grind line" type of play with punishing hits and dropping the gloves with opponents, keeping superstars like the already mentioned Steve Yzerman safe from other teams enforcers.
Kocur and Probert combined for 5819 penalty minutes. In case you're counting at home, that's about 97 hours spent in the penalty box between the two of them.
The Bruise Brothers brought back fan interest in hockey, because although Yzerman was putting up eye-popping numbers offensively, most fans get way more into the game when a fight breaks out, and that's exactly what the Bruise Brothers brought to the table.
Drafting Probert and Kocur was exactly what Detroit needed to re-ignite interest in hockey in what is now called "Hockeytown."
3. Nick Lidstrom, Third Round: 1989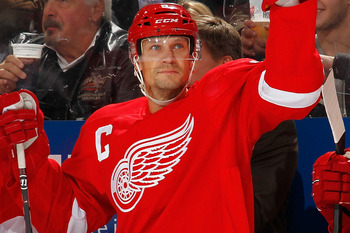 Gregory Shamus/Getty Images
Electrical engineers do not often end up as NHL hockey players.
But that was what Nicklas Lidstrom was planning on pursuing as his career path: electrical engineering.
Until the Red Wings selected him in the third round, 53rd overall in the 1989 NHL draft.
One career change and over two decades later, Lidstrom's name comes up in the "greatest defenseman of all time" argument.
Lidstrom's seven Norris Trophies as best NHL defenseman, and four Stanley Cups are certainly numbers to behold; but the real surprise comes in how Lidstrom plays his game.
The electrical engineer in him led Lidstrom to play using more "smarts" rather than strength.
That has given him the edge in becoming one of the NHL's premiere two-way defenseman, and it is likely a reason why he can still play at a high level, even at age 41. His ability to avoid making (and taking) all of those hard hits that a more physical defenseman would have made and taken has prolonged his career.
Lidstrom has now over 1500 games played, and over 1100 points in those games. Not bad for a third-round pick who wanted to be an engineer.
4. Sergei Fedorov, Fourth Round: 1989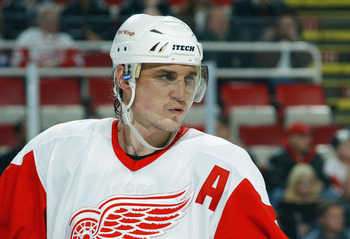 Dave Sandford/Getty Images
I hope I don't get an argument from anyone when I say that Sergei Fedorov's biggest career mistake was leaving Detroit.
I know Detroit fans dislike him because he left the team in general, but Detroit fans owe him a lot, even if he did cost a considerable amount of money during his stint with the Red Wings.
Detroit drafted the superstar forward using their next pick after Nick Lidstrom, and the young Russian did not disappoint.
Fedorov topped the 100 point plateau twice in his 13-season tenure in Detroit and finished 1993-94 with 56 goals and 120 points.
He holds other records as well, such as most goals by a Russian born player, with 483 (although Ovechkin might make a run at that sooner or later) and he is also the only player to win fastest skater and hardest shot at the same all-star game.
Fedorov came up big in the clutch as well, as he holds the record for most overtime points in his career with 27.
He was a key component in Detroit's Stanley Cup runs in 1997, 1998 and 2002, but left after the disappointing 2003 playoff season.
He was key in making Detroit a contender and taking pressure to score off of long-time captain, Steve Yzerman.
It's hard to fathom that a player with almost 1200 career points was taken so late in the NHL draft, but it seems to be a common theme with the Red Wings.
5. Vyacheslav "Slava" Kozlov, Third Round: 1990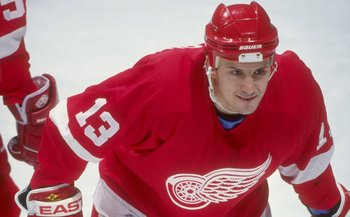 Ian Tomlinson/Getty Images
At 5 feet 10 inches and weighing just under 190 pounds, Slava Kozlov wasn't the biggest guy in the world.
But with a third-round pick, why not give him a chance?
Kozlov made his mark on the line known as the "Russian Five".
His career statistics of 356 goals and 853 points are nothing to shake a stick at, but he was more known in Detroit for being a significant contributor in the 1997 and 1998 Stanley Cup playoffs.
Kozlov put up 8 goals and 13 points in the 1997 post-season and 14 points in the 1998 post-season.
He was also part of the trade that sent Dominik Hasek (discussed in a future part of this series) to Detroit.
Kozlov's ability to fit in where he was placed was why he worked out so well in Detroit, and his ability to play well with his countrymen in Fetisov, Fedorov, Larionov and Konstantinov made him invaluable to Detroit's Stanley Cup teams.
Honorable Mention: Vladimir Konstantinov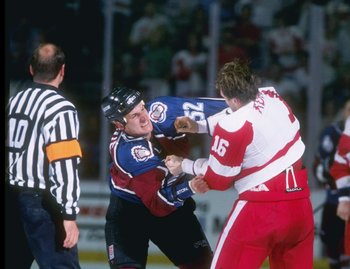 Robert Laberge/Getty Images
Konstantinov's ability to play hard physical defense was second to none in Detroit during his prime.
Although his career was ended pre-maturely by a car accident that left him paralyzed below the waist, Konstantinov won the hearts of many fans with his fights, and hard hits, mostly hip checks.
Checks like this one on Claude Lemieux made him a fan favorite.
The "believe" patch was created after his car accident, and the most memorable part of Konstantinov's post-playing career was his lifting of the 1998 Stanley Cup from his wheel chair.
Part two of the series is here, and part three of the series is here.
Follow Isaac on Twitter for more article updates.
Keep Reading

Detroit Red Wings: Like this team?