Theo Epstein: 5 Early Moves Chicago Cubs GM Needs to Make
Jonathan Daniel/Getty Images
Rather then continuing to praise Chicago Cubs owner Tom Ricketts for his hiring of Theo Epstein to be the team's president of Baseball Operations, it's time for Cubs fans to focus their attention on the early moves Epstein is capable of making to benefit this franchise.
Everybody who follows the Cubs knows there are plenty of tasks for Epstein to focus his attention on, but some may be more realistic than others.
Theo, being the baseball mind he is, should know there is plenty of work to be done with not only the big league team, but also the farm system, before the Cubs can consider themselves World Series contenders. Some guys on the Cubs' roster need to go before the Cubs can take steps forward without, in the end, taking steps back.
Free agents are a must for a big-market team like the Cubs, but patience is a virtue, and Cubs faithful must show a lot of patience before they begin to criticize Theo for his moves, or lack thereof.
Honorable Mention: Trade Carlos Zambrano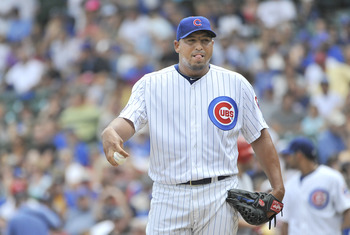 Brian Kersey/Getty Images
Trading Carlos Zambrano is a lot easier said than done.
Due to Zambrano's outbursts toward his teammates over the last couple of years, one can only expect that Zambrano will remain a Cub until his contract expires at the end of the 2012 season, when he's expected to make a hefty $18 million. He also has a vesting option for 2013 that's worth more than $19 million.
Taking into account Zambrano's attitude, production and salary, it's hard to imagine any team willing to take on Zambrano for any amount of time.
Theo Epstein trading Carlos Zambrano seems like more of a pipe dream than a reality at this point in time.
Honorable Mention: Trade Alfonso Soriano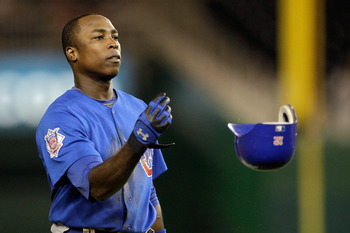 Rob Carr/Getty Images
Alfonso Soriano's situation with the Cubs is very similar to Carlos Zambrano's, except Soriano doesn't have the emotional outbursts Zambrano does.
Soriano was signed to a $136-million, eight-year contract by the Cubs prior to the 2007 season. He has yet to remain healthy for an entire season with the Cubs, and he still has four more years left on that contract.
Even when Soriano has been healthy, he has yet to live up to the hype. Sure, he has put together a nice month here and there over the span of four years, but he hasn't come close to having a season like he did for the Washington Nationals one year prior to the Cubs signing him. But that's no one's fault but former Cubs General Manager Jim Hendry.
Soriano is also a hazard in the field. I worry every time he takes a route to a fly ball, because he's been known to take a terrible route or simply drop the ball.
Unless the Cubs are going to eat a large—and I mean LARGE—portion of Soriano's contract, he's most likely going to remain on the North Side until his contract expires. Being that Soriano can't field, it would make sense for National League teams to stay away from him, so that takes away more than half of the available teams.
Fire Mike Quade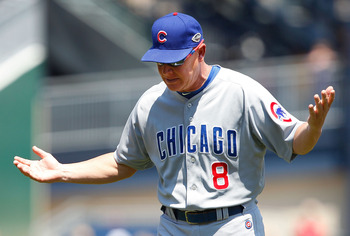 Jared Wickerham/Getty Images
As his first order of business, Theo Epstein needs to sit down with Mike Quade and interview him, just like any new president would do. Once Epstein sees Quade's aspirations as a manager, he'll have to let him go.
Quade continued to show throughout the 2011 season that he was not the right guy to manage the Chicago Cubs, and that Jim Hendry had made the wrong hire prior to the 2011 season. The team's 71-91 record, sadly, doesn't even show all of Quade's failures during 2011.
Quade's contract goes through the 2012 season, and he may have the opportunity to return as third-base coach, but that will, most likely, depend on who the club's next manager is and whether or not he wants Quade to be a part of those future plans.
Hire a New Manager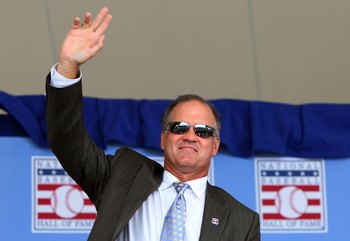 Jim McIsaac/Getty Images
Mike Quade needs to be fired. If that happens, he'll need a replacement.
No matter who it is, Theo Epstein needs to hire a manager for the Cubs prior to anything else. Without a manager, the players can't be managed, and, yes, you guessed it, that's a problem.
Many people around the city of Chicago wonder if Ryne Sandberg will be the next manager because he was considered for the job prior to 2011 season, and Epstein wanted him to coach the Boston Red Sox Triple A team.
It's only a matter of time until we find out, but one can only expect Quade to be fired and a replacement to be named shortly after.
Sign a First Baseman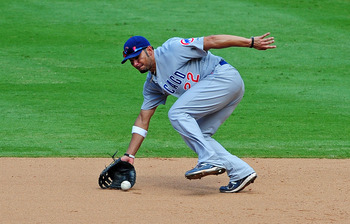 Scott Cunningham/Getty Images
Albert Pujols and Prince Fielder are the two big names in the 2012 free-agent market who have been the center of attention since the beginning of the 2011 season, and it just so happens that both of these players are first basemen in the National League Central division.
Pujols and the St. Louis Cardinals recently won the World Series, so it's hard to imagine Pujols leaving St. Louis for another team, especially in the Cardinals' division.
Fielder, on the other hand, seems like he is all but gone from Milwaukee, because the Brewers, most likely, can't afford him and Ryan Braun.
Fielder's bat would be a great addition to the Cubs' lineup, but if Epstein fails to sign him it's not the end of the world.
Epstein can retain Carlos Pena for the 2012 season. The Cubs are not going to be contenders immediately, and Pena is a great guy to have around the clubhouse. He has loads of positive energy, works his tail off on every play and seemed extremely thankful to be with the Cubs last year, even when the team was out of contention in July.
With the possibility of a young, new manager coming to the organization, Pena can be a great mentor to many young Cubs, like Starlin Castro, while he is in Chicago. Pena has already helped the young Castro in the field. If it weren't for Pena's glove at first base, Castro would have had even more errors then he already had.
Retaining Pena would save the Cubs millions of dollars in the long run that can be spent elsewhere, such as on the team's starting rotation.
Sign a Starting Pitcher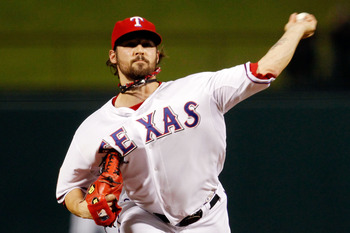 Pool/Getty Images
A team's starting rotation is as important as any other part of the roster, and the Cubs' starting rotation has been below average for far too long.
C.J. Wilson tops the free-agent list for starting pitchers, and it's no guarantee he'll be back in Arlington pitching for the Texas Rangers next season.
If the Cubs were to save money by not signing one of the two marquee first basemen available, Epstein and the Cubs could make an offer to C.J. Wilson that could drag the southpaw to the North Side for the 2012 season.
Not only have the Cubs lacked a solid starting rotation since 2003, but I can't remember the last decent left-handed starter the Cubs had in the rotation. Wilson can provide the team with a solid left-handed arm to complement Matt Garza in 2012.
You may think that Texas will not give up Wilson. But look at the young pitchers that blossomed for the Rangers in the playoffs. Colby Lewis, Alexi Ogando, Matt Harrison and Derek Holland have enough talent to the point that Texas would not have to offer Wilson as much money as, say, a team like the Chicago Cubs would.
Trade Marlon Byrd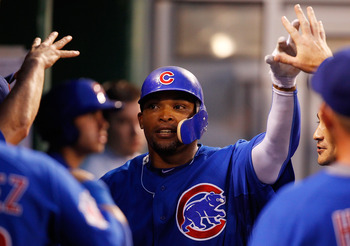 Jared Wickerham/Getty Images
It always seems like Marlon Byrd has a blast being on the baseball field, no matter how badly the Cubs may play that day, week or year. He plays to win every day, and a team in contention could really appreciate all that Byrd brings to the ballpark on a daily basis.
The Cubs are not going to be contending this year, and Byrd's contract expires at the end of the 2012 season. Epstein and the Cubs should trade Byrd for the best possible return sooner than later.
Epstein shouldn't want a major league player in return for Byrd. Theo should request minor league talent in return so the Cubs can begin rebuilding the team's farm system that is, basically, nonexistent.
No disrespect to Marlon Byrd, but his talents can certainly be utilized elsewhere at this point in time, and he could possibly be traded to a contender where he'll have more fun winning than losing in Chicago.
Keep Reading

Chicago Cubs: Like this team?