LSU-Alabama: How Offense Is the Key to Victory in SEC Showdown
October 31, 2011
Chris Graythen/Getty Images
It has been noted ever since LSU destroyed defending Pac-12 champion Oregon in the Jerry Dome in Week 1, "The LSU-Alabama game is for it all."
Widely believed to be the most sought after ticket in SEC history, this contest will likely play out as a semifinal game to see who represents one half of the national championship game.
Both teams have exceptional football teams and even better coaches. The two schools have prided themselves on a rich tradition and recent success. LSU and Alabama are extremely similar, outside of the Crimson Tide's dominance through the 1960s and 1970s.
This week, however, expect the unexpected.
There are no secrets with either team, despite efforts to keep the media at bay. Both coaches are as open as a book this week, whether they would like to be or not. Nick Saban and Les Miles will have to answer more questions than they would like, and coaches shows will be dreaded by both, no doubt.
As easy as it may be to talk about how defense wins championships and how great these two teams play it, this colossal clash will be decided by which team can successfully outwit the other on offense.
Granted, the two teams will have to shut down folks like Alabama's Trent Richardson and LSU's Spencer Ware, but what really holds the key to Saturday's game?
In a word? Quarterbacks.
Jarret Lee has substantially upgraded his passing skills—at least to his own team, he was always pretty good at throwing TDs to the defense. A.J. McCarron has yet to be tested with much pressure, credit going to the offensive line.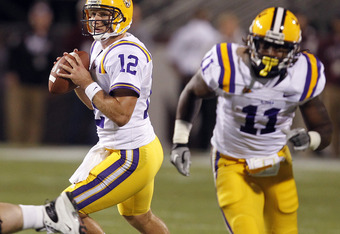 Butch Dill/Getty Images
With so much at stake, I expect Jim McElwain and Steve Kragthorpe to really test their QBs.
Lee has such a spectacular deep ball, it is hard to imagine how Alabama will be able to stop the pass, considering the two deep balls given up early vs. Florida and Ole Miss. But the Tide has given up only 13 passes of more than 20 yards this season, good enough for the second best number in the country.
Stats are useless in games like these, but breaking them down and mentioning them is a necessity.
On the flip side, McCarron has been able to really rely on his plethora of receivers, giving each of them adequate looks. But the match up most noteworthy is Tyrann Mathieu against Brad Smelley. Mathieu has explosive speed off the edge in the pass rush, and with that comes an amazing ability to deceive quarterbacks.
McCarron was forced into a pick vs. Tennessee with the same type of deception. Expect Smelley to run a lot of delay routes, as well as the running backs to the tight end side to try and trip up Mathieu and the LSU defensive backs.
Mathieu will be set up in the nickle package most of the night, because Alabama has as balanced of an offense as you'll find in the SEC.
While quarterback play will likely determine the outcome of the game, there is still no better running back in the country than Richardson.
The junior will be on his horse, carrying the load for the Crimson Tide, in hopes of securing a finalist spot for the Heisman Trophy—although, he won't mention the award.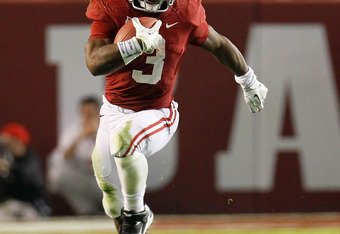 Kevin C. Cox/Getty Images
Alas, the LSU defense will be the toughest test faced by Richardson this season, although Mark Ingram was able to rush for 97 yards last season.
Expect to see Lee and Jordan Jefferson trade throughout the game, essentially keeping the Tide off balance. Don't be surprised to see Jefferson throw one deep or Lee take off around the end once or twice, either.
Ware could be the catalyst who keeps the Tigers going throughout the game, but like Richardson, Ware has yet to see the No. 1 rush defense in the country.
While debating which team will be better on offense and which will be better on defense could go on for ages, the game will end Saturday night, and one of the offenses will have made a huge statement.