Oklahoma Sooners Football: Why OU Will Play for BCS Title
October 31, 2011
Brian Bahr/Getty Images
Oklahoma's demolishing of Kansas State this past weekend is cause to celebrate for Sooner fans all over the globe; it shows that OU is back on track and in good position to make a surge to New Orleans for the National Championship. 
OU not only beat then-No. 8 undefeated KSU on the road; the Sooners obliterated Bill Snyder's bunch. A very unfortunate, season-ending ankle injury for Dominique Whaley muted the celebration somewhat, but otherwise Saturday was a glorious day for OU football.
Landry Jones shredded the Wildcats for a school record 505 yards, breaking the old record he shared with the legendary Sam Bradford. Ryan Broyles turned in another productive day at the office with 14 catches for 171 yards and a touchdown, and the OU defense stifled KSU in the second half surrendering zero points and only 32 yards. 
The statement the Sooners made was so emphatic that it's easy to forget they lost last week, which makes this rebound all the more impressive. OU's turnaround settles the question about whether this Sooner team has the makings of a champion. With resiliency like this, it definitely does. And although Bob Stoops and Co. will need a little help from other teams, the path from Norman to New Orleans is beginning to materialize. 
OU's remaining schedule is tough, but every game is winnable. Next up is a date with Texas A&M Saturday in Norman. The Aggies' stock has dropped dramatically since the start of the season, and after Missouri handed them their third loss Saturday in overtime, OU should be able to get by on its home field. 
The Crimson and Cream then travel to Waco for an intriguing contest with Robert Griffin III and the Baylor Bears. Like the Aggies, RG3 and the Bears have faded considerably, dropping their past two games to Texas A&M and Oklahoma State by a combined score of 114-52. Granted, the Bears are a threat, and OU must be motivated and aware of their potential, but if OU comes in hungry and focused, it should prevail over the Bears.
Next comes a home game against Iowa State on Thanksgiving weekend. The timing of this matchup will prove to be very helpful for the Sooners. The competition will be a slight downgrade from the tough previous matchups and will allow OU to get a breather before the apocalyptic Bedlam Game the following week in Stillwater. Iowa State turned many heads with its 41-7 thrashing of Texas Tech, but commonsense says OU will win easily in Norman as long as the Sooners aren't looking too far ahead to Oklahoma State. 
Assuming OSU wins out to this point, the Cowboys will probably be No. 2 or No. 3 in the BCS when the teams face each other, since either LSU or Alabama will drop after the teams face each other this coming Saturday (more on this later). 
Again, we must thank the BCS gods for the placement of the Bedlam Game on December 3. This game will be OU's chance to put an exclamation point on a remarkable close to the regular season and prove to the nation in prime time why it belongs in title game. 
Stoops and the senior leaders of this team, knowing this game is literally a must-win if they are to get one more crack at a national title, will have the Sooners fired up and ready to deliver OU's magnum opus of the regular season. Landry Jones will expose the suspect Cowboy defense, which is 110th nationally in yards allowed. OU's defense will be able to make a least a few stops, which should be enough for OU to come out on top in what has the makings to be another shootout. 
So that would leave OU as 11-1 and Big 12 Champions. As for the rest of the BCS, here's how OU will jump at least the four teams currently ahead of them to make it to No. 2 and secure a BCS Title bid.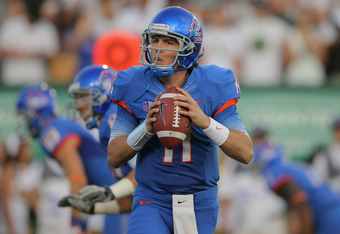 Doug Pensinger/Getty Images
No. 5 Boise State
The Broncos' weak strength of schedule means OU should clear them easily, considering OU has one of the toughest schedules for the remainder of the season. Boise State's remaining opponents have a combined record of 17-19, and if the Sooners win out, their BCS average will be comfortably ahead of Boise State's, regardless of what BSU's record is. What's more, Boise has yet to face TCU and Wyoming, two teams that could give the Broncos trouble. 
No. 4 Stanford
Despite an impressive, triple overtime victory over USC Saturday, the Cardinal showed it has weaknesses and is beatable. Obviously this is speculative (as is this entire article), but I believe Stanford will lose at least one of its remaining games, most likely to No. 8 Oregon or Notre Dame. USC is good, but not as good as either of these teams, and chances are that one of the Kelly brothers will be able to erase Andrew Luck and the Cardinal's chance at perfection. A one-loss OU team tops a one-loss Stanford team in the BCS standings; OU's schedule overall is significantly tougher.
No 3. Oklahoma State
If OU beats OSU, this will not be an issue. 
No. 2. Alabama and No. 1 LSU
Obviously, one of these teams will lose Saturday when the two teams face off in Tuscaloosa. Let's assume for argument's sake that the winner wins out and makes it to New Orleans. OU would just need to top the other team in the standings to earn a ticket to the Big Easy.
I believe human voters would favor an OU vs. Alabama/LSU championship matchup over an LSU vs. Alabama rematch for the sake of fairness and excitement. Granted, I'm no BCS expert, but it's likely the other two thirds of the BCS will go in favor of OU considering its high strength of schedule and the SEC being down this year compared to others.
Of course, many factors need to align, but if they do, and I believe they will, the Oklahoma Sooners will appear in their fifth BCS National Championship in New Orleans come January.