San Diego Chargers: 3 Players Who Will Need to Step Up Against the Chiefs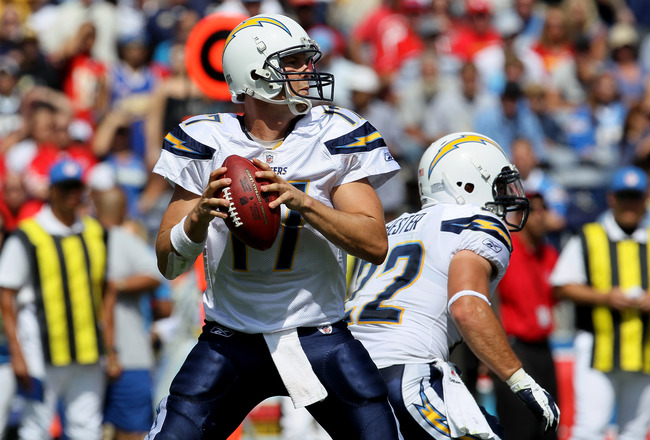 Stephen Dunn/Getty Images
The San Diego Chargers will hobble into Arrowhead Stadium tomorrow night.
Shaun Phillips and Kris Dielman will be on the sidelines during the game. Phillips, Pro Bowl OLB, has been battling a foot injury all week. San Diego just lost OLB Larry English for the season as well. This is the second straight year he has been put on the IR.
Dielman, who is another Pro Bowl player, was concussed in last weeks game against the Jets. On the plane ride home, Dielman had a seizure. He has not been medically cleared, and will not play this game and maybe not the next either. To top it all off, Mike Tolbert will probably not play either.
So when I say they're "hobbling" into this game, I'm not exaggerating. The Charger's defense has been shaky so far this season, and with three defensive starters on IR, I wouldn't doubt it. Injuries are apart of the game, and San Diego needs to get through them.
Coming off of an embarrassing loss to the Jets, the Chargers will be looking to get back into their groove and take control of the AFC West. In order to do so, here are three players that need to step up during the game.
Antoine Cason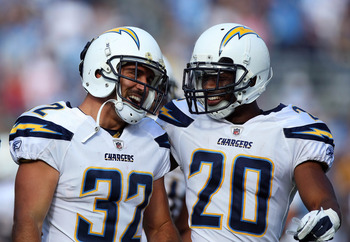 Donald Miralle/Getty Images
Antoine Cason was put on display last week against Plaxico Burress. Burress had three touchdowns on him, which helped the Jets come away with the win. On all three touchdowns, Burress just got in front of him. Did Cason really not know that Burress is 6'5''?
When Antonio Cromartie left the team, Cason was asked to step up. He did. He proved to the team that he was the more consistent cornerback, and that they made the right decision allowing him to be a starter. Well, it's starting to look like deja vu, isn't it?
San Diego now has a rookie cornerback who is ready to take on a much bigger role. Marcus Gilchrist might get the start this week over Cason, but we will still see him on the field.
If there is any player on San Diego's defense that has something to prove, it's definitely Antoine Cason. At risk of losing his starting position, watch Cason very closely in the game tomorrow night, and see what he brings to the table.
Darryl Gamble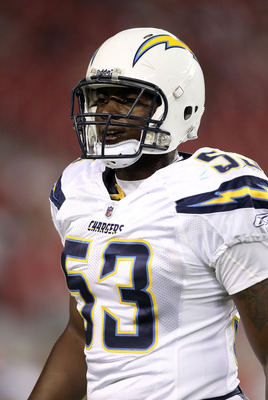 Christian Petersen/Getty Images
Unless you follow the Chargers very closely, I'm sure you don't know who this guy is. Gamble was signed as an undrafted rookie out of Georgia and did nothing but impress the coaches and fans in the preseason.
He hasn't done anything in the regular season because of an injury. It will be his first game against the Chiefs. Because of all the injuries, Gamble will be starting at OLB. San Diego needs playmakers, and Darryl Gamble needs to be one of them.
Gamble specializes in the pass game because his run defense is a little shaky. Norv Turner said despite his weakness, we will be seeing a lot of Darryl Gamble on defense Monday night.
Depending on how long Shaun Phillips will be out, Darryl Gamble needs to prove he belongs in the NFL. He'll add to the Chargers midfield pass defense, which has been horrendous. If he can play at least average in the run game, Gamble could give the Chargers the spark they need.
Philip Rivers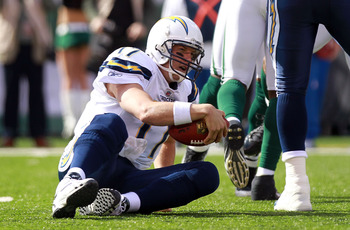 Nick Laham/Getty Images
A sub-par season is what quarterback Philip Rivers is having. He went from stud to dud from 2010 to 2011. What exactly happened? We're still trying to figure that out.
Rivers, as well as Norv Turner, have denied speculation that he is possibly dealing with an injury and that's the reason he's been playing the way he is.
If you haven't seen how badly Rivers has been playing, his stats should show you. He has 7 touchdowns and 9 interceptions. That's never good. But hey, sometimes stats don't really show what's going on in the games. Well, in this case, they do.
Philip Rivers is the heart and soul of the San Diego Chargers, but lately he has been making horrible decisions, and it's been costing games.
It's odd if you think about it. In the last four years, the Chargers have started very slow, while Rivers is on fire. This season is the exact opposite.
They've started 4-2, while Rivers has been playing terribly. Expect the unexpected in San Diego.
Hopefully, we can all expect Philip Rivers to turn it around, and get his swagger back.
Just imagine how the Chargers would be playing if Philip Rivers was at the level he was last season. They'd be tough to stop on offense.
Keep Reading

San Diego Chargers: Like this team?