2012 NHL Draft: Things to Do While Visiting Pittsburgh and Consol Energy Center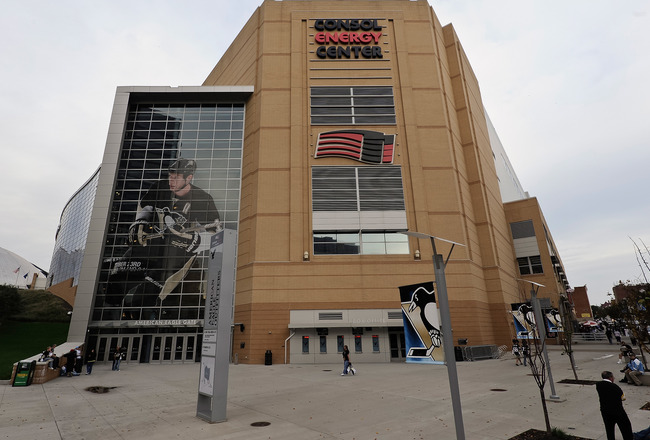 Jamie Sabau/Getty Images
Last week, the NHL announced that the 2012 entry draft would be held in Pittsburgh, Pa. at Consol Energy Center, the home of the Pittsburgh Penguins.
Consol Energy Center, or CEC, opened last year and seats over 18,000 people for hockey games. The city of Pittsburgh, meanwhile, has a population of around 300,000 people.
Aside from a great sports culture, Pittsburgh also has museums, parks, great places to eat and other tourist attractions worth visiting while you're in town.
If you're thinking about traveling to Western Pennsylvania for the draft next June, put these attractions on your to-do list. I've come up with things to do in both the arena and around Pittsburgh.
And if any of you native Pittsburghers are reading this (or should I say yinz?), please let me know what else visitors should see while they're in the Steel City.
Pens All-Time Team Exhibit (Inside Consol Energy Center)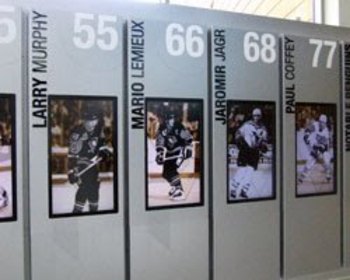 The Penguins All-Time Team exhibit is located inside the lobby of Consol Energy Center and is accessible through the arena's Trib Total Media gate.
Prior to the arena's opening, fans selected some of the best players in Penguins history to make up this exhibit. Each player has a section where visitors can view statistics and photos from his time with the Penguins.
The area also has a digital camera where fans can take pictures and a video screen to watch highlights from the Penguins' Stanley Cup playoff appearances. It is a great way for new Pens fans, as well as fans of other teams, to learn about some of the best Penguins players in nearly 45 years of hockey in the Steel City.
Mario Mosaic (Inside Consol Energy Center)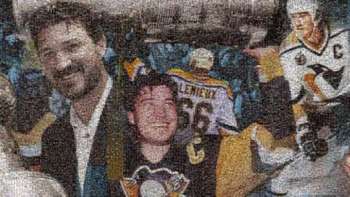 The Mario Mosaic is also located in the lobby of Consol Energy Center once visitors enter through the Trib Total Media gate.
The mosaic is made up of images from Mario Lemieux's historic career in Pittsburgh. It came together through fan-submitted photos, and all fans gave a donation to the Mario Lemieux Foundation to purchase a spot on the mosaic.
If you are one of the fans who submitted a photo, there are stations in the arena lobbies where you can locate your picture on the mosaic.
The idea was so popular that last season, fans got another chance to submit photos for the mosaic, and the updated version was unveiled earlier this month. Even if you didn't get your picture in, it's still a sight to behold.
Pens Gear (Inside Consol Energy Center)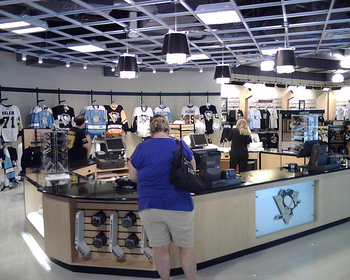 When you're at an NHL arena, it's really hard to resist the urge to go shopping for some souvenirs. That's where Pens Gear comes in.
Pens Gear was the official team store at the old Mellon Arena, and it came over to the CEC. It was upgraded with brighter lighting and more room for fans to move around and browse merchandise. It offers a selection of Penguins jerseys, player t-shirts, hats, jewelry and more. They even sell pucks autographed by Penguins players.
Although the main location is in the main lobby, there are smaller stores located in the building, including a women's store.
PNC Park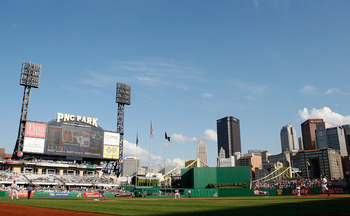 Jared Wickerham/Getty Images
OK, yes, the Pittsburgh Pirates are arguably the biggest laughingstock of Major League Baseball. However, they play in one of the nicest parks in the league, PNC Park in Pittsburgh.
The 10-year-old stadium seats about 38,000 fans and is situated along the Allegheny River and the Pittsburgh skyline.
In its short history, it has played host to the 2006 MLB All-Star Game. In fact, during the Home Run Derby, fans sitting in a boat along the river caught a ball that was hit out of the park.
Fans can get to the park via car, public transit or the Gateway Clipper shuttle. Some of the park's features include a play area for kids, famous Pittsburgh food such as Primanti's and Quaker Steak and Lube and the Home Run Signatures program.
In my research, I found the Home Run Signatures program to be a unique perk that I hadn't heard of at other stadiums. If you catch a home run ball hit by a Pirates player, you are offered the choice of either keeping the ball or giving it up in exchange for an autographed baseball signed by the player who hit the home run. Not a bad deal, huh?
During the week of the draft, the Pirates have home games against the Minnesota Twins and ALCS runners-up Detroit Tigers. However, if you can't get tickets or would rather see the park outside of game action, stadium tours are offered at various days and times. There's currently no tour information for 2012 on the Pirates website, but that should be updated as the season draws closer.
Tour Heinz Field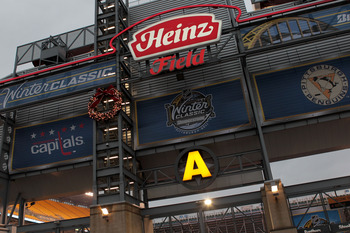 Jamie Squire/Getty Images
The NFL won't be in session when the NHL draft is held, but if you're interested in seeing the home of the Pittsburgh Steelers, Heinz Field will be open for tours.
In addition to hosting the Steelers, Heinz Field is the home stadium for the University of Pittsburgh Panthers football team. It also holds concerts and other special events and was host to the 2011 Winter Classic between the Penguins and the Washington Capitals.
The 65,000 seat stadium, which also opened in 2001, holds 90-minute tours at various days and times. The tour takes visitors through club seating and luxury suites, as well as the stadium press box. Admission is $6.50 for adults and $4 for students and kids. Tours can be booked for groups in advance, or visitors can join a walk-up tour during their visit. No reservations are required for walk-up tours.
While tours are not yet scheduled for 2012, you can get general information about your visit by going to the Steelers website.
Western Pennsylvania Sports Museum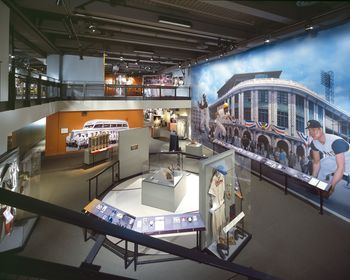 The Western Pennsylvania Sports Museum is located inside the Heinz History Center. It contains artifacts from each of the city's three sports teams and pays tribute to athletes from all sports who hail from Pittsburgh.
The museum also includes interactive exhibits for both kids and adults. Visitors can listen to archived play-by-play broadcasts and check out audio-visual programs. There is also a Champions Wall, which is filled with autographs of star athletes from several sports.
The History Center's store sells sports memorabilia such as books, t-shirts and other novelties. There is also a cafe called Mixsters.
To learn more about the Western Pennsylvania Sports Museum, just go to the designated section of the Heniz History Center website.
Hometowne Sports

While the picture is kind of boring (I couldn't find any decent images), I can assure you that the Hometowne Sports store is anything but bland and uninteresting.
Hometowne Sports has three locations throughout Pittsburgh, the most notable one being in Station Square. They sell Penguins, Steelers and Pirates merchandise in addition to souvenirs related to the city of Pittsburgh. The store also markets to the college crowd, with gear representing West Virginia University, Penn State and the University of Pittsburgh.
The Station Square location also offers separate stores for women and kids. The other stores are located in the Tanger Outlets in Washington, Pa. and the Century III Mall in West Mifflin, Pa.
Can't make it in person? You can also shop online.
Burgatory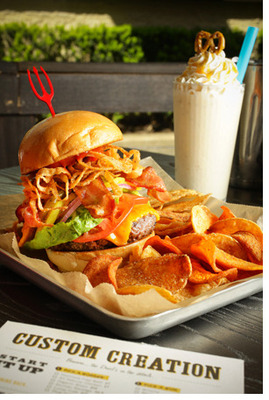 Burgatory is a (very) small chain in the Pittsburgh area. They currently have locations in the Waterworks Mall and on the 200 level at the Consol Energy Center, and their website mentions that a top secret third location will be coming soon.
The restaurant is famous for its burgers with catchy names such as Snooki's Situation and the Buffaloed Bison. You can also create your own burger from your choice of buns, patties, sauces, cheeses and other toppings.
If you're not in the mood for a burger, Burgatory also offers chicken sandwiches, salad, chili and milkshakes.
If this sounds good to you and all, but you're really in the mood for Pittsburgh's finest cuisine, keep reading. We're now going over to...
Primanti's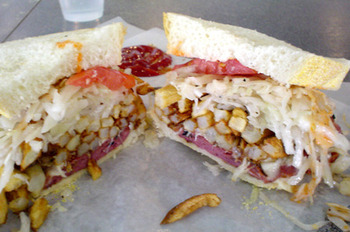 Primanti's has five locations in the city of Pittsburgh as well as nine stores in the suburbs of the city.
It started up in the 1930s, and the famous sandwiches really took off when a customer asked for french fries on his sandwich. This led to the sandwich Pittsburghers and visitors love today. All of the choices come topped with fries, cole slaw and tomatoes.
In addition to the restaurants in the city and suburbs, Primanti's can be found at Consol Energy Center and PNC Park.
If you're brave enough to eat one of these sandwiches, I suggest a lot of napkins and maybe a fork. However, it will be one of the most satisfying meal experiences you ever had.
This was my only concession of choice when I went to the CEC last year.
Did you know that Primanti's was featured on the Travel Channel show Man vs. Food? You can watch the video with the show's host, Adam Richman, telling viewers about this must-visit restaurant.
Rivers Casino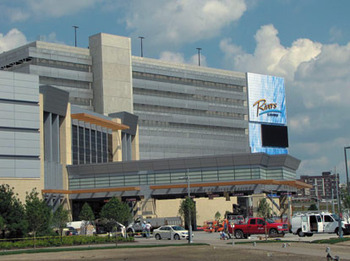 For those of you over 21 years of age (sorry to any of you young ones reading this), the Rivers Casino on the North Shore is one of Pittsburgh's newest hotspots. Visitors can access it via shuttle from local hotels and by driving or catching a taxi cab.
The casino has 3,000 slot machines and 86 table games in addition to a wide range of dining and entertainment options. Rivers has five restaurants, ranging from the Wheelhouse Bar and Grill to catch sporting events to the more upscale Andrew's Steak and Seafood.
There are also four bars to choose from. The Spiral Bar offers video poker games, while the Drum Bar is round shaped and overlooks the Allegheny River and the casino amphitheater.
*Please gamble and drink responsibly.
Andy Warhol Museum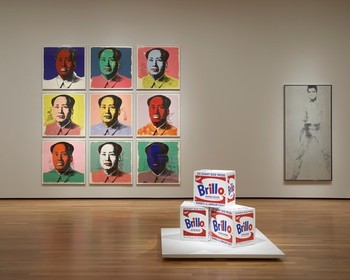 I'm not much interested in art, but if you are or have a travel companion who is, put the Andy Warhol Museum on your to-do list.
The museum is located on Sandusky St. near downtown Pittsburgh and is one of the city's four Carnegie Museums. Throughout the year, they have exhibits from various artists and also host performing arts events.
However, its primary purpose is to celebrate the life and work of artist Andy Warhol. In addition to seeing some of his finest art work, visitors can also see his film and video work, shown daily starting at 12:30 p.m. Films are also shown at 3 p.m. on weekends.
There are also archives available to the public which include press clippings about Warhol, tapes of conversations, personal items and sources for art works.
Visitors can wrap up their visit by grabbing a bite to eat in the Warhol Cafe and picking up souvenirs in the museum shop.
If you would like to learn more about the Andy Warhol Museum and plan your visit, you can check out their website, which lists hours and admission costs.
Pittsburgh Zoo and Aquarium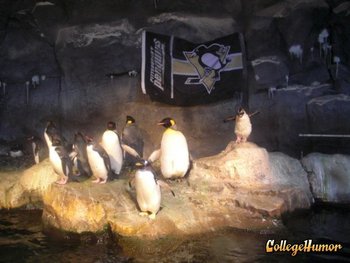 The Pittsburgh Zoo and Aquarium has exhibits with themes from a tropical rain forest to an African savanna. Visitors can get up close with all kinds of animals, from elephants to tigers to polar bears, and of course, penguins.
If you have kids with you, you can take them to the petting zoo and the Kids Kingdom, which features camels, sea lions and goats, among other animals.
The zoo is open all year except for Thanksgiving and Christmas. Admission is $14 for adults and $12 for kids.
To learn more about the exhibits at the zoo and aquarium, check out their website and start planning your visit.
Kennywood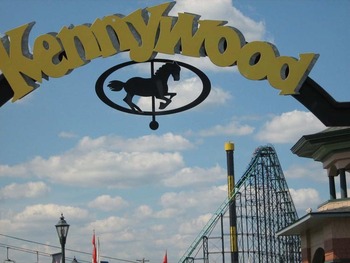 Kennywood has been a Pittsburgh staple since the late 19th century. Among its popular rides are two roller coasters, Jack Rabbit and the Racer, which have been in the park since the 1920s.
The park also offers 14 kids rides, nine thrill rides and three water rides, among other classic rides such as the Merry-Go-Round and dark rides. There are various theme shows performed throughout the season as well.
In addition, there are more than 30 refreshment stands throughout the park serving popular foods such as sausage sandwiches, funnel cakes and potato French fies.
Regular-priced admission is $36.99 for adults and $23.99 for kids ages three and older. There is also night admission offered for $21.99.
Learn more about Kennywood's attractions and plan your visit here.
Ride the Inclines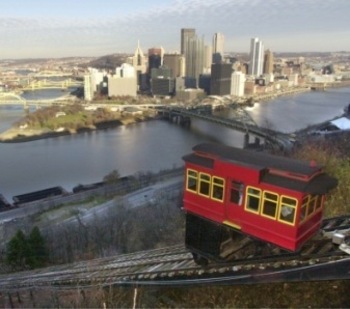 If you're not afraid of heights, you will definitely want to ride one of Pittsburgh's two inclines, the Duquesne or the Monongahela.
The Duquesne Incline is more popular among tourists, while the Monongahela Incline is commonly used by residents of Pittsburgh. However, you can go on whichever one you'd like.
Both inclines have cars that are powered by a cable going up and down the hill. On your way up, you get great views of the city of Pittsburgh. For example, while on the Monongahela Incline, you can see Station Square down below.
Once at the top, visitors love to take pictures with the skyline in the background and explore the surrounding neighborhood.
You have to pay a fare to get both up and down the incline, but it's inexpensive and worth every cent.
Station Square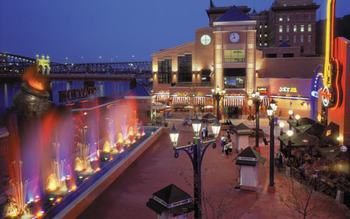 We conclude our tour of Pittsburgh with a stop at Station Square, an entertainment complex that used to be a Pittsburgh train station.
Station Square offers a wide variety of dining and shopping options. If you're looking for something to eat, you can stop at the well-known Bar Louie or Hard Rock Cafe. Other popular stops include Houlihan's or the Steelhouse Sports Bar.
The Freight House Shops are a great way to spend your free afternoon or evening. In addition to a food court offering burgers and pizza, the Freight House also has Hometowne Sports stores (see previous slide), a coffee shop, an independent book store and a candy shop. There is also a wine store where you can get customized wine labels and sample some of the beverages available.
The only drawback of Station Square that I see is that, according to one of my Pittsburgh-area friends, the complex was hit hard by the economy. For that reason, it can be made to be a bigger deal than it is. I don't suggest spending several hours here, but I wouldn't avoid it altogether. You would be missing a Pittsburgh staple if you crossed this off your list.
Keep Reading

Pittsburgh Penguins: Like this team?