UFC: 5 Reasons Nick Diaz vs Georges St-Pierre Could Be the UFC's Biggest PPV
Nick Diaz beat former UFC champion BJ Penn at UFC 137, and his next fight will be against Georges St-Pierre for the UFC welterweight title. Diaz called out GSP after the fight—saying that GSP didn't have an injury and is scared to fight. St.Pierre vs Diaz will be a huge fight.
I think that this fight will be one of the biggest fights of the year, and it has all the makings of a massive pay-per-view.
Begin Slideshow

»
I don't think that there's an MMA fan anywhere who doesn't like GSP. He has huge marketability, and everyone respects him.
When St.Pierre is on a fight card, fans line up at bars and open their wallets to see him fight.
He's one of the most physically gifted fighters around, and is a true mixed martial artist. He will go down as a UFC legend, and fans can't get enough.
Floyd Mayweather is the current pay-per-view king, and he sells fights better than anyone. He does it with his entertaining personality, and his non-stop trash-talk.
Nick Diaz will provide plenty of commentary leading up to the fight, which will hype it up even more. I personally can't wait for him to start dishing it out.
If Diaz decides the press conferences are important enough, they will be nothing short of epic.
I'm also interested to see if Diaz can get under GSP's skin, and get him to lose his composure. There is no way Georges doesn't want to tell diaz to "f*** off" at the very least.
East vs. West. North vs. South. Biggie vs. Pac. St.Pierre vs. Diaz. This is a big fight because both fighters represent complete opposites.
GSP is straight edge, and the face of the organization. Diaz is perhaps the biggest rebel in all of MMA.
This will not only be a fight between fighters, but also between fans. Not many people will have affiliation with both guys. Fans will pick sides, and arguments will get vicious.
The event hasn't been announced yet, but the UFC knows that this card will be big. They won't mess around with a weak undercard of boring fights.
Dana White and company will hype this one up big, and load it with other big name fighters in important contests.
I wouldn't be surprised if the UFC threw another title fight on the card.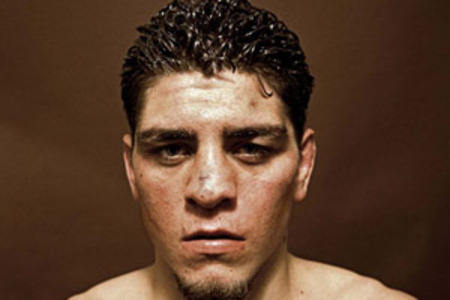 GSP is a huge favorite in almost all of his fights. The media comes up with reasons why the other guy could win, but they're only hyping it up. While GSP is a big favorite in this one as he always is, I don't think it should be by that much.
Nick Diaz presents many compelling advantages that GSP hasn't seen before. He hasn't fought anyone with better cardio. He hasn't fought a guy with a great guard that's the same size as him.
Matchups make fights, and Diaz has good skills to combat what St.Pierre brings to the table. Nick Diaz could finally be the guy to take down GSP.