2012 MLB Free Agents: CC Sabathia to Make Easy Choice by Opting out of Contract
October 30, 2011
Chris Trotman/Getty Images
No matter what happens, CC Sabathia is going to be a rich man for years to come. However, there's always more money to be made, and indications are that Sabathia aims to make as much as possible.
As we all know, Sabathia has the option to bow out of his current deal with the New York Yankees this offseason. SI.com's Jon Heyman claims Sabathia is planning on doing just that: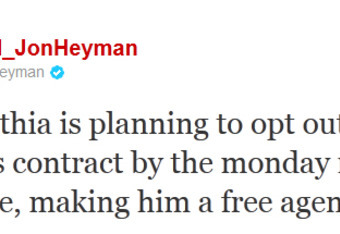 So just like that, a starting pitching market that would otherwise have been very thin is about to get a huge puzzle piece added to it. If you thought Sabathia was making a lot of money before, just wait until he signs a new deal.
In all likelihood, Sabathia's new deal could be for as much as $30 million per year. He made over $24 million in 2011, and that is going to be the starting point. If he can start a bidding war, his price is going to keep climbing.
And according to Heyman, there could very well be a bidding war: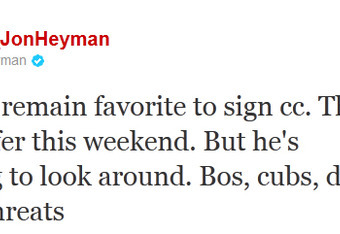 That the Yankees are the favorites to end up signing Sabathia after he opts out isn't exactly a surprise. They have the cash to sign him to a brand new mega-deal, and I'm going to assume that they know how much they need him. Without Sabathia, the Yanks' starting rotation just isn't very good.
Still, it wouldn't be a shock so see Sabathia end up in another uniform. The Red Sox need starting pitching help, and the same is very much true of the Cubs. There was a report out from ESPNNewYork.com not too long ago that claimed the Rangers were going to make a run at Sabathia to replace C.J. Wilson, who is a free agent, and now the idea seems pretty legit.
Either way, Sabathia is due to make a killing. You can gripe all you want about him being overly greedy, but the fact of the matter is that he is making an easy choice. His contract with the Yanks presented an opportunity for him to make more money, and he's going to take it.
We would all do the same thing in his shoes. If only we were so lucky...