Vancouver Canucks: Putting a Horrible October into Perspective
October 30, 2011
Rich Lam/Getty Images
I originally predicted the Canucks would go 5-4-2 in October. It turns out I was a little optimistic, as they actually ended the month with a 5-5-1 record. 
In my October preview article, I discussed all the reasons why I thought the Canucks would have a forgettable first month of the season, and they pretty much all came true. 
What was more frightening to fans than the 5-5-1 record was how badly the Canucks played in some of those losses. The Canucks were shutout three times in October. In the 2010-11 season, they were shutout five times total. 
Now to be fair, Henrik Lundquivst did put on a 40-save performance that illustrated succinctly why he usually leads the NHL in shutouts, and the Red Wings are the gold standard for the NHL, so those shutout losses can be rationalized to a degree. 
But being shutout by the St Louis Blues was downright embarrassing for the defending President's Trophy winners. Especially at home.
The Canucks had a players only meeting after the debacle against the Blues, and then came out and smacked the Washington Capitals around to the tune of a 7-4 victory on nationally televised Hockey Night in Canada game to close out October 2011. 
Hopefully, the Canucks can use that win against one of the hottest teams in the NHL as a building block, and not fall back into their bad habits.
Three Stars for October
1. Daniel and Henrik Sedin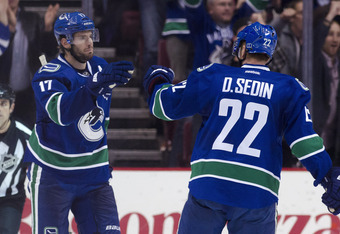 Rich Lam/Getty Images
It is hard to separate these two, especially when they have identical production. With four goals and nine assists each, the twins are on pace for 97-point seasons.
They'll have to pick up the pace a bit to challenge for the scoring title again down the stretch, but if the Sedins are anything, it is consistent. Can we say the same about the current scoring leaders? (Does anyone realistically think Kessel or Vanek will be in the top 10 scorers come April?) 
2. Chris Higgins
Higgins was one of the better depth forwards for the Canucks in the playoffs last spring, coming up with a team-leading three game-winning goals despite playing on a broken foot.
This season Higgins is healthy, and has shifted back and forth between the second and third line while accumulating a team-leading five goals.
3. Maxim Lapierre
I'd really like to nominate the entire fourth line, but I'll stick with their center. Lapierre is the best fourth-line center the Canucks have had in the last decade. He hustles and agitates on every shift, and has three goals and 24 hits to show for it.
Lappy is also playing 11:32 a night and winning 50 percent of his faceoffs, thereby taking pressure off Manny Malhotra and Ryan Kesler, both of whom are still getting back into game shape after offseason surgery.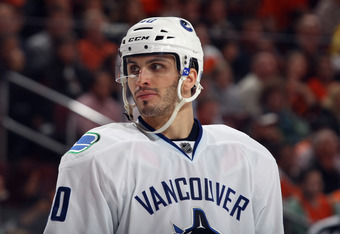 Bruce Bennett/Getty Images
Honorable Mention
Cody Hodgson - Two goals and one assist while bouncing up and down the lineup and playing out of position on the wing isn't bad for a rookie.
Sami Salo - The ageless Finn has avoided injury (knock on wood) while racking up three goals and five assists.
Mike Gillis - Turning a productive (when healthy) veteran in Mikael Samuelsson and a free-agent bust in Marco Sturm into a speedy top-six forward who is a decade younger in David Booth? That trade is an absolute steal that could help put Gillis into the running to win the GM of the Year award for the second year in a row. 
Now those were the highlights, but there certainly are some players that stand out in their need to get back into their 2010-11 form. Not a surprise that they are key players as well.
1. Kevin Bieksa and Dan Hamhuis
The potent shutdown pairing from last year is a combined minus-nine on the year. They showed signs of progress in the Capitals game, and hopefully they can build on that. 
Lou isn't a good October goalie. That isn't a surprise to anyone who looks at his stats. He has had some shaky outings in the first month of the season, including being pulled in a game against the Oilers.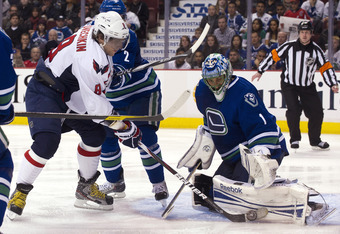 Rich Lam/Getty Images
But to be fair, when his defence are in disarray, and the two centers (Kesler and Malhotra) who normally run the PK and shutdown opposing stars are also struggling, it is hard to blame it solely on the goalie.
Also a key stat that Luongo haters like to ignore when calling into Vancouver radio is that two of his losses came when his skaters got shutout by the opposing goalie. Kind of hard to win if the Canucks can't put at least one goal on the board themselves. 
For the team as a whole, the Canucks are clearly off their pace from last year.
Goals For: 2.82 in 2011-12 vs 3.15 in 2010-11 
Goals Against: 2.91 in 2011-12 vs 2.20 in 2010-11 
Power Play: 21.2 percent in 2011-12 vs 24.3 percent in 2010-11 
Penalty Kill: 85.1 percent in 2011-12 vs 85.6 percent in 2010-11 
Luckily for Canucks fans, we can look at historical trends and the benchmark victory over the Capitals, and realistically expect that the Canucks will be much better in November. 
And hey, at least the Canucks aren't doing as bad as the Bruins. They are also suffering after such a short summer, and with a 3-7 record are dead last in the Eastern Conference. If they don't shape up soon, they won't have a chance to defend the Stanley Cup, because they'll be golfing in April.