UFC 137 Results: Grades for Every Main Card Fighter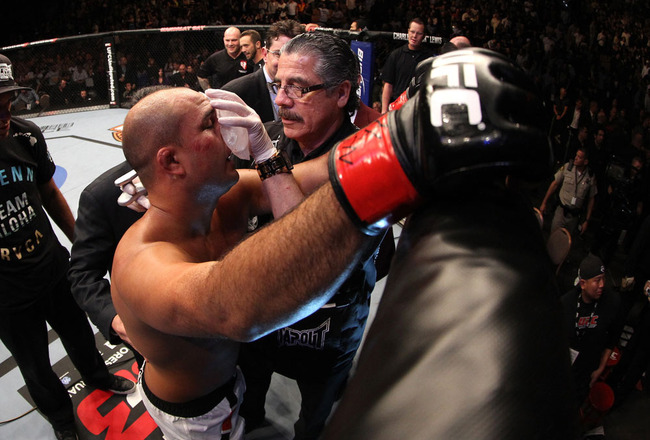 Props: UFC.com

While in some ways UFC 137 will go down as a lackluster event, it will also be remembered as the last time we may have seen two legends of the sport in action.
After losing their respective bouts against Roy Nelson and Nick Diaz, Mirko Cro Cop and BJ Penn both announced that they were retiring from mixed martial arts.
Mirko Cro Cop suffered yet another TKO loss in the third round of his bout against Nelson. After the bout, he announced that win or lose, he had already decided to walk away from the cage.
Penn, on the other hand, was very effective early in his bout against Diaz, only to fade as the rounds went on. Diaz would go on to put a beating on Penn en route of winning via unanimous decision.
Following the bout, Penn stated "I can't let my children see me like this," and said that he was done with the sport (via SB Nation).
In other action, Cheick Kongo derailed another heavyweight's rise to the top as he handed Matt Mitrione his first professional defeat. Hatsu Hioki made a lackluster UFC debut by winning a split decision over George Roop, and Scott Jorgensen denied Jeff Curran his first UFC victory by taking a unanimous decision.
But regardless if they won or loss, how did each fighter perform? It's time once again to hand out grades to all the main card fighters.
Nick Diaz: B+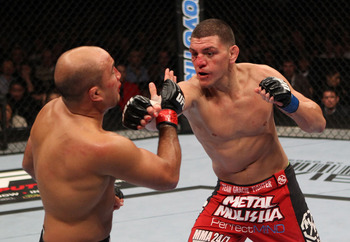 Props: UFC.com
There were many people who believed that Nick Diaz was more hype than substance. At UFC 137, Diaz proved his haters wrong as he beat up BJ Penn worse than anyone had ever done before.
Diaz survived the first round, which saw Penn schooling Diaz in the striking department. But in the second and third rounds, Diaz found his range and ended the fight, out-landing Penn at nearly a 4-1 clip.
After winning a unanimous decision, and having a few choice words for welterweight champion George St-Pierre, Dana White announced that Diaz would be getting a shot at the title on Super Bowl Saturday.
Mirko Cro Cop: C-
Props: UFC.com
It goes without saying that any fighter would love to go out on top, but it was not to be for Mirko Cro Cop.
Against Roy Nelson, Cro Cop was stopped in his third consecutive fight. Cro Cop had a little success early, but the heart and determination of Nelson proved too much for the former Pride superstar to handle.
After the bout, Cro Cop announced that his bout against Nelson would be his last. Cro Cop ended his career with a record of 27-10-2.
BJ Penn: C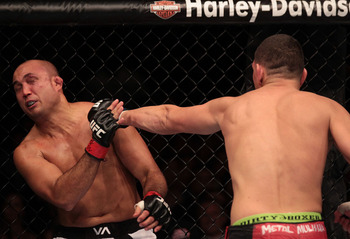 Props: UFC.com
Many people believed that Nick Diaz got a much easier bout when he was put in against BJ Penn instead of George St-Pierre.
Early in their bout, it appeared that wasn't the case. Penn was able to get inside the longer punches of Diaz and land some great punches.
But at the end of the day, Penn could not handle the sheer volume of punches coming his way, and was out-landed nearly 4-1. By the end of the bout, Penn was exhausted and his face was a bloody and swollen mess.
After losing a unanimous decision, Penn announced that he was retiring from MMA. Being the competitor he is, don't be surprised if Penn called his retirement a bit prematurely.
Roy Nelson: B+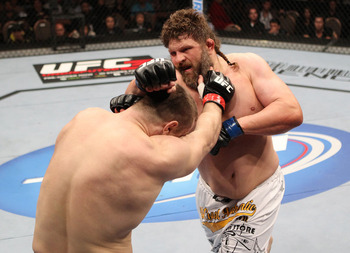 Props: UFC.com
Given the fact that Roy Nelson never appeared to be on Dana White's good side, most saw his bout against Mirko Cro Cop as a "must-win" in order to keep his job with the UFC.
Nelson had a few hairy moments inside the cage against Cro Cop, but the iron-chinned Nelson was able to survive and score a TKO victory early in the third round.
Jeff Curran: D+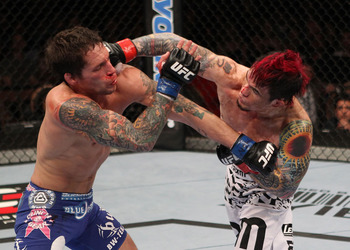 Props: UFC.com
Jeff Curran was again unable to get the victory inside the UFC Octagon that he has been seeking his whole career when he lost a unanimous decision against Scott Jorgensen.
During the bout, Curran showed great defensive jiu-jitsu. However, defense does not win fights.
It remains unknown if Curran will get another chance to get a UFC victory, but don't be surprised if the "Big Frog" gets one more chance inside the Octagon.
George Roop: B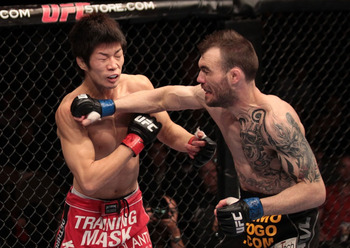 Props: UFC.com
By now, people should know to expect the unexpected when George Roop enters the Octagon.
Although he is only 1-3 in the UFC, Roop always comes to fight, and has only been stopped by former featherweight title challenger Mark Hominick.
Throughout his fight against the highly touted Hatsu Hioki, Roop was able to get the better of the stand-up, and hold his own on the ground.
But at the end of the day, Roop found himself on the wrong end of a split decision.
Cheick Kongo: B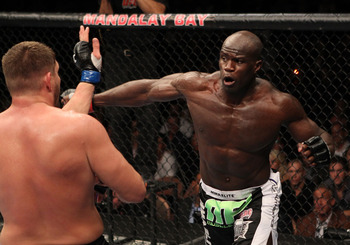 Props: UFC.com
Once again, perennial gatekeeper Cheick Kongo halted the rise of another up-and-coming heavyweight prospect.
Many believed that Kongo was nothing more than a stepping stone for Matt Mitrione on his way to the top of the heavyweight division.
In what turned out to be a very lackluster bout, Kongo was able to get the better of Kongo over three rounds, and was awarded a unanimous decision for his efforts.
Hatsu Hioki: B
Props: UFC.com
Hatsu Hioki came in to his UFC debut touted at a Top-Three ranked featherweight. After all, he was the reigning Shooto 143 lb. champion and the last SRC featherweight champion.
But in his Octagon debut, Hioki looked nothing like a top ranked featherweight. Over the course of three rounds, he saw most of his ground game nullified and appeared to be out-gunned on the feet.
When everything was said and done, two judges saw the bout going his way, and he was awarded a split decision victory over George Roop. After this performance, it is difficult to see Hioki being a threat to reigning UFC featherweight champion Jose Aldo.
Scott Jorgensen: B+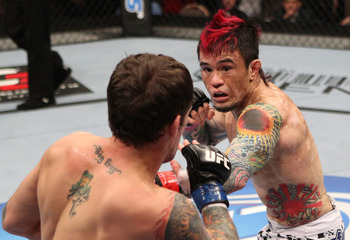 Props: UFC.com
While it wasn't exactly what most would consider to be a entertaining fight, former WEC title challenger Scott Jorgensen did what he needed to do to earn a decision victory over veteran Jeff Curran.
Over three rounds, Jorgensen kept Curran on the defensive, nullified Curran's superior jiu-jitsu, and landed enough to make it clear that he was the better fighter Saturday night.
Matt Mitrione: D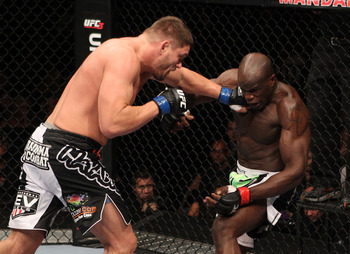 Props: UFC.com
What happened to Matt Mitrione?
After looking impressive in his earlier UFC bouts, Mitrione looked flat, at best, against Cheick Kongo.
Mitrione looked as if he wasn't taking Kongo as seriously as he should have. Early in the bout, Mitrione had his hands down low, didn't throw many punches and left his chin hanging in the air like he was asking to get hit.
A win could have propelled Mitrione to the top of the heavyweight. Now, he finds himself on the outside looking in.
Keep Reading