BCS Rankings: Oklahoma Back in Title Hunt After Big Win over Kansas State
October 30, 2011
Ed Zurga/Getty Images
When today's BCS Rankings are revealed, the Oklahoma Sooners should find themselves in a much better position than anyone would have dreamed of after last week's 41-38 loss at home to Texas Tech.
The BCS likes teams that win on the road against Top 10 teams. That's exactly what Oklahoma was able to do on Saturday with a 58-17 win over No. 8 Kansas State in Manhattan, Kan. With that win the Sooners proved to America that they may still have a say in the national championship race.
Bob Stoops and his Sooners got a little help from Georgia Tech. The Yellow Jackets were able to pull off a big upset over previously unbeaten Clemson.
USC came close to giving Oklahoma even more help, but fell to No. 6 Stanford in a classic triple overtime game.
With LSU and Alabama playing next week and a Bedlam matchup with Oklahoma State still ahead, the Sooners will likely need a Stanford loss to either Oregon or Arizona State in the Pac-12 title game, plus a favorable boost from the polls to push them ahead of an undefeated Boise State and a one-loss LSU or Alabama.
A one-loss Oregon team could also pose a threat to the Sooner title hopes, but an Oklahoma win over what would likely be a No. 2 Oklahoma State on the road should give the Sooners the edge over the Ducks and a Boise State team who will be without a marquee win.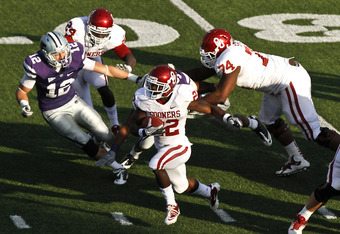 Ed Zurga/Getty Images
Oklahoma fans have to feel better about their Sooners after watching Landry Jones pass for a school record 505 yards. Jones added five touchdowns and passed Sam Bradford as the school's career touchdown leader.
The Sooners will have to play the rest of the season without their leading rusher, Dominique Whaley, who went down with a broken ankle Saturday on the games first play. Sophomore Roy Finch filled in nicely with 73 yards rushing and 69 yards receiving.
Even without Whaley, the Sooners feature one of the best offenses in the country. It's a more consistent effort from a Travis Lewis led defense that will be the key down the stretch.
Like Lewis said in the locker room after Saturday's big win, "Ya'll better jump back on the bandwagon baby!"
The Sooners could still use some help, but things look much better than a week ago. And, thanks to a big game looming in Stillwater along with some big wins away from home, Oklahoma fans can start scoreboard watching again.