2011-2012 New York Islanders: What They Need to Do to Be Playoff Contenders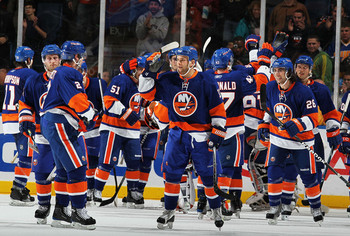 The New York Islanders are beginning to show signs that they have come around—they're showing that they have what it takes to be contenders once again. One reason is that they have locked in some young players who are the key to their future.
With young players like John Tavares, Kyle Okposo, Michael Grabner, Travis Hamonic and the soon-to-be-seen Nino Niederreiter, the team is showing they have the talent to contend.
They have also added veteran leadership, which will add tremendously to the young players' abilities.
With an extremely positive offensive and defensive growth for the Islanders, all that's left is to sort out their goaltending woes and Long Island will once again be on the map.
Keep Growing Offensively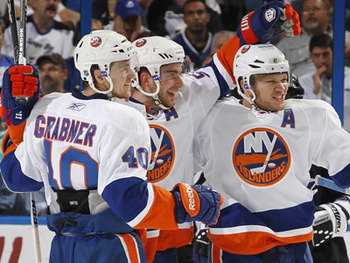 So far this season, the Islanders have proven how strong their first line really is. But just their first line scoring isn't going to get them enough wins to get into the playoffs. The first line shouldn't stop doing what it's doing, but other lines need to step up.
The second and third lines can contribute much more than what they have shown so far in the first nine games of the season. With players like Michael Grabner, Kyle Okposo, Blake Comeau and Josh Bailey, we should be seeing more than just five goals from the second line and a whopping zero from the third line.
Grabner last year posted 34 goals and showed that he can produce. With just three goals so far this season, he has a lot more potential than what he is showing. With line mates Nielsen and Okposo, the whole line, let alone Grabner, should be producing much more.
Last season Bailey and Comeau combined for 35 goals, a number they should top this season if they pick up their game.
The Islanders have the young, talented players to go far, but they need to start producing.
The Veteran Leaders Need to Lead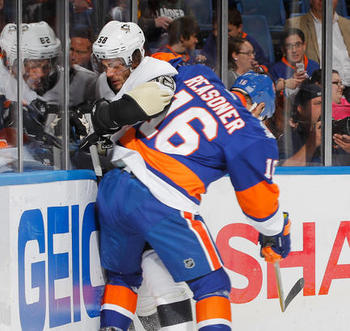 The key component the Islanders needed to add this offseason were veterans who can lead this extremely young team to grow and develop. With additions like Marty Reasoner, Jay Pandolfo, Brian Rolston and Steve Staios, they did just that. Playing along with Mark Streit, these guys are the ones who will lead this team to bigger and better things.
The Islanders needed experience, something they were lacking last season. The majority of their team was young players. And as much as it still is now, the veterans add a new outlook on the game and a new sense of stability, and they provide a model from which the young core can learn.
Along with the veteran leaders, there are also young, soon-to-be leaders. Frans Nielsen, John Tavares and Kyle Okposo are the future leaders of this team. The team's current leaders need to leave footprints for emerging leaders to follow.
These vets will help Okposo, Tavares, Grabner, Bailey, Matt Moulson and the other youngsters grow into better, stronger players with more sense, experience and leadership.
Stability Along the Blue Line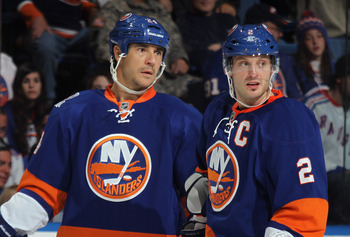 With Captain Streit (who ironically looks like a pirate) leading this team not only along the blue line, but also the team as a whole, we should be able to expect great things. With his newly acquired veteran line mate (and first mate), Steve Staios, the blue line looks a whole lot more blue.
Streit and Staios have already proven themselves as top defensemen, and with players like Milan Jurcina, Mark Eaton, Mike Mottau, along with youngsters Andrew MacDonald and Travis Hamonic, the stability at defense is constantly increasing.
So far this season, the defense, along with the goaltending, has been able to keep goals off of the scoreboard. The defense has also been putting up solid points, with two goals and 10 assists so far and much more scoring to come.
If the defense keeps doing what it has been doing and the offense starts producing more, there isn't much more Islanders fans can ask for. Except for a Stanley Cup, of course.
Keeping Up Two-Way Play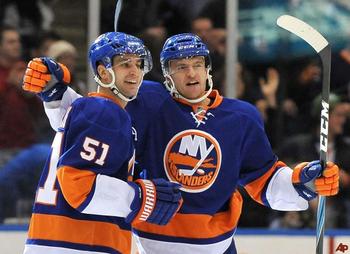 Last season the league's top two leaders in short-handed goals were none other than Frans Nielsen (seven) and Michael Grabner (six). Nielsen is one of the league's top two-way forwards, who surprisingly hasn't been awarded the Frank J. Selke Trophy.
With the veteran additions of Pandolfo and Reasoner, the two-way play just stepped up to a whole new level, something that was much needed and something that brings this team to another level.
John Tavares spent a large portion of his offseason and preseason working on his two-way game, and that has already shown in his game and will likely continue to improve.
The Islanders' lines have shown us so far how much stronger the two-way play is getting with each game. The only thing left for them to do is rack up more points.
Sort out the Goalie Situation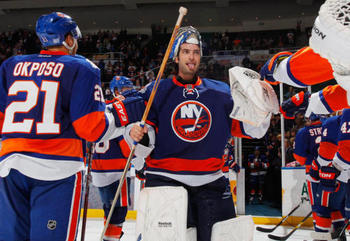 The Islanders currently have their hands on three very capable netminders: Al Montoya, Evgeni Nabokov and Rick DiPietro.
Montoya received the home opener start and proved he wanted the position. He's played four games this season and is currently 2-2-0 with a .930 save percentage and a 2.02 GAA.
Montoya proved himself more than capable last year after playing a majority of the season in place of the injury-prone DiPietro. Montoya is still young and may still have a little more developing to do, but he is a very solid goalie and can most definitely get the job done.
Nabokov actually decided to play with the team this season after refusing to play last season after being picked up off of waivers. He is also having a very strong start to the season with a .927 save percentage and a 2.23 GAA.
Nabakov is 1-2-0 and was taken out of his last start before a shootout due to a "lower body injury." He is currently day-to-day. At the start of the season I tabbed Nabokov as the starting goaltender, and I still believe he will be once he is fully healthy.
Last but not least (or maybe least), Rick DiPietro, the injury-prone 15-year man. DiPietro had a very solid start last night but had a very unlucky break in overtime when the ref called a penalty on Travis Hamonic, basically giving the Sharks the win.
DiPietro still finished the game with a .900 save percentage. Last season I lost all of my faith in Dipietro, but his preseason and his game last night are changing my mind. The guy is very talented, but he is an injury-prone athlete and that's going to haunt him for a long while.
All three of these goalies have incredible talent. Whether head coach Jack Capuano picks Nabokov, Montoya or DiPietro as his main starter, the Islanders should have success regardless. I think right now the ribbon belongs to Montoya because he is a young goaltender who's out to prove himself (as if he already hasn't).
But each of these goalies has something to bring to the table, and once the coaching staff and front office figure out which is best, things will go smoothly. But for the time being, things are a bit up in the air.
Conclusion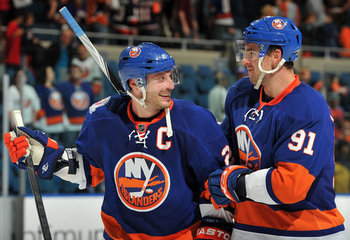 The New York Islanders are on their merry little way to becoming a true contender again. With young talent, veterans and strong leadership, the team is going to grow tremendously over the next few seasons and emerge as one of the best teams in the league.
But for the time being, they need to focus on developing. The young talent has been there for a few years now, but now is the time to show that they've developed into a playoff team.
I highly doubt the Islanders are going to be bringing the Cup to Long Island this season, but there is still playoff hope. And that is something the organization and the fans need.
The Islanders are turning into a real team, and people are noticing. Now it's time for Long Island to shine.
Keep Reading

New York Islanders: Like this team?