UFC 137 Results: What We Learned from Brandon Vera vs. Eliot Marshall
October 30, 2011
At UFC 137, Brandon Vera again was trying not to be a disappointment in the UFC in what could have been his third loss against Eliot Marshall.
Vera prevailed, though, overcoming two moments where he was hurt—possibly breaking his arm—after not tapping when Marshall caught him in an armbar.
Vera did enough to steal a decision victory in the end, coming out on top to possibly save his job in the UFC.
What We'll Remember About This Fight
Vera and the armbar. Not only that, but Vera did show tremendous heart in surviving a barrage of punches when Marshall rocked him a second time and was pounding away at him on the ground.
What We Learned About Brandon Vera
He has heart. A lot of heart. Most of it was probably him trying not to be cut and trying to stick in there to avoid the dreaded three-straight losses. But what he did in there, normal men couldn't take. There were a few moments where Marshall could have finished him.
What We Learned About Eliot Marshall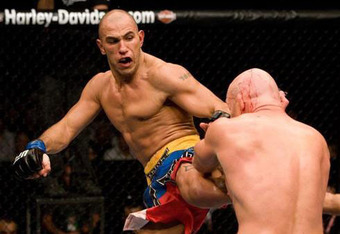 That he has to learn how to close out fights. Yeah, Vera did most likely break his arm in an attempt to avoid being cut, but when Marshall rocked him, Marshall didn't finish.
What's Next for Brandon Vera?
Probably a mid-tier light heavyweight to rebuild his stock as he is still 1-2-1 in his last four fights. I don't know who it could be, but the UFC might try and rebuild Vera up.
What's next for Eliot Marshall?
Marshall suffered his second straight loss in his first two fights back in the UFC. I wouldn't be shocked to hear he was cut after tonight, as he hasn't been awesome in his second stint in the UFC.