Edmonton Oilers: Why You Should Start Believing in the Young Team
October 29, 2011
Dale MacMillan/Getty Images
The Edmonton Oilers are very similar to the Toronto Maple Leafs. They both enjoy very notable histories in the NHL and have each won their share of Stanley Cups. 
In recent years, while both teams have been less than stellar in the league standings, Edmonton lost its similarity with the Original Six Leafs in that they have clung to the deep bottom of the NHL's basement. 
Since the 2000 season, there have only been seven playoff appearances between the two teams, but they could not be further apart in terms of draft placement. While Toronto has had nine first-round draft picks since the 2000 draft, Edmonton has had 15, including two first-overall picks. 
The Oilers have made some excellent choices with those high picks and are sitting-pretty right now atop the Western Conference. 
While I don't think Edmonton will continue their torrid pace, I do think it's time to start taking them seriously. With the right combination of young guns and suddenly-impressive veterans, the Oilers are sharing the wealth and winning games.
Nugent-Hopkins, the goal-scoring rookie; Eberle, the finally-coming-into-his-own center; Hall, the impressive sophomore, and Smyth, the star of his very own version of "The Return of the King." 
These four guys are the fulcrum of the Edmonton offense after having put up 34 points between them, including four game winning goals—one apiece. 
While this group has been performing better than expected, 39-year-old goaltender Nikolai Khabibulin is the star of the show.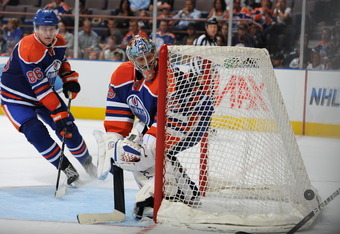 Dale MacMillan/Getty Images
After posting a 4-0-2 record so far this season, the Bulin Wall is stronger than ever and a major factor in Edmonton's surprising start. 
The fact that Edmonton has a 16-year veteran as their all-star goalie and a 19-year-old rookie who's tearing up the league is a situation they could only hope for and couldn't even imagine in recent years. 
With a decent schedule set up for them in November, Edmonton is in a good place right now. What makes their impressive start that much more impressive is not blowout victories or shutouts, but rather grinding out one-goal and shootout wins. 
The Oilers are a resilient young team with a strong drive to win after several years of sub-par play. I think they might just be the surprise team of the year; but then again, once the playoffs roll around, I don't anyone will be surprised anymore.