World Series 2011: So, This Is What It Feels Like
October 29, 2011
Dilip Vishwanat/Getty Images
This is what it feels like. This is something that no amount of NyQuil will fix through the night. Waking up, still feeling hollow inside from the two previous games, knowing you were one strike away from winning your first World Series, twice.
Rangers fans, and I can speak on their behalf, are picking their shattered hearts off the ground, and with a stick of glue, are trying to mend them. This is no easy task, and it will take until our next World Series to piece together what broke.
This article is going to be subjective, as it is happening to me. I can relate to what every Rangers fan is feeling this very moment.
Game 6 was in our hands. We had them beat, twice, and let it go. We're now in the same exclusive club as the Red Sox and Cubs.
The Red Sox, for a very brief period, left the club, but they'll be back. Only this time they'll be bringing back beer and chicken for us to enjoy while we sit to the side, idly watching as everyone else plays.
The Cubs, well, you know that story.
Welcome to the club Rangers! You've nailed down a historic Game 6 defeat when it was handed to you, twice, and then completely forgot to show up to Game 7.
After seeing Tony La Russa out "La Russa" himself in Games 2 and 4, you matched him step-for-step in the last two games of the season, and out "Wash'd" yourself.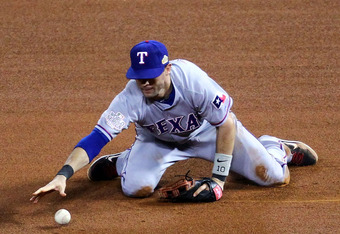 Dilip Vishwanat/Getty Images
There is an absolutely huge laundry list of questions I want to ask and I know I'll never get an answer, which is the most frustrating part about this entire ordeal.
Why was Colby Lewis hitting with two outs and runners in scoring position in the top of the fourth inning in Game 6?
Why was Neftali Feliz taken out in the 10th inning? Could he not have tried to record three more outs? And why Darren Oliver?
Why was Cruz beaten by that fly ball in the 9th inning? He was playing deep, in a no-doubles defense, and still couldn't make the play.
It's such a letdown. Last year we felt happy and joyful after losing because hey, we got there. After 39 years of frustration and torment, we were the American League Champions.
We were OK with the Giants winning the championship. We got there, through the strikeout of Alex Rodriguez, and it was spectacular. We knew we would be back soon and with a better team.
That happened—we were a better team. But it was the same result.
We just flat out got beaten. And it stings. It's a feeling that won't leave for a very, very long time. Ask any Red Sox or Cubs fan.
So what do we have to look forward to?
Finally, Michael Young will be traded once an actual first baseman in signed.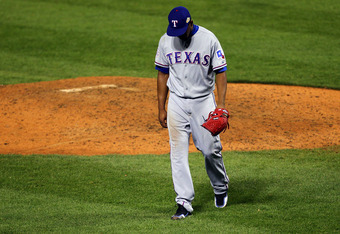 Dilip Vishwanat/Getty Images
CJ Wilson will leave, and the Rangers will follow tradition by having awful starting pitching again.
Josh Hamilton will spend another offseason being mended from all of the injuries suffered in the season.
Feliz will become a starter and throw only 90-93 miles per hour.
It's just not going to be a fun offseason. That was our moment of opportunity. It was our time to shine, and we failed miserably, twice.
Welcome to the club, Rangers.