David Freese: Was His Postseason Performance a Fluke or a Sign of Future Things?
October 29, 2011
Jamie Squire/Getty Images
David Freese just completed one of the great postseason runs in the history of baseball, becoming just the sixth player to win both the LCS MVP and the World Series MVP. In fact, you can argue that it was the single greatest postseason by a hitter. 
How great was it? He set or tied the single-season postseason record for total bases (50), runs batted in (21), hits (25) and doubles (8). He also now ranks as the second highest OPS in postseason history (1.258), the second highest slugging percentage (.794) and the eighth highest batting average (.397). 
It wasn't just hitting, though—it was timely hitting. He became one of only two hitters to have an RBI to either tie or go ahead in three consecutive World Series at bats (the other was teammate Allen Craig). 
His Win Probability Added in Game 6 was far and away the highest of any player in a single game in postseason history at .969. 
Of his 21 RBI, 12 came on hits that either tied or won the game for the Red Birds. It is not an exaggeration or just being in "in the moment" to suggest that Freese's postseason was the greatest ever. 
If you need to know anything else, know this: He outshone Albert Pujols. That's enough evidence all by itself to say how big his postseason was. 
And the cherry to top it all off is the fact that Freese wasn't just the home team hero, he was the home town hero. There's a movie to be made here. 
Now the question that people have is what to make of it? Did Freese just have a monumental postseason or did he have a breakout postseason?
Part of the problem with Freese is that every time he starts getting going, he gets injured, and when he plays injured, he does not play well. For example, take this season.
In April/May he had some tidy slash numbers hitting .365/.396/.482. Then he broke his hand and had to sit out for a while. When he came back, it took a bit for him to get back into the "swing" of things, as he hit just .268/.348/.293.
Then he started to find his swing again, and from July 10-August 16 he started hitting like an All-Star again, hitting .323/.365/.531 over the span. Then he injured his ankle, bruising the bone, and it really affected his swing. 
From August 17 to Sep 10, when he got a shot for it, Freese hit just .197/.232/.318. Watching the game it was painful to see. Freese just had no ability to turn on the ball and drive through his swing. 
After he finally got treatment, Freese started to hit again. He was .302/.400/.512 for the rest of the season, representative of Freese's entire career. Every time he starts to show what he can do he gets hurt, and his numbers take a hit. If you just look at his totals, you will get a misleading representation of him. He's not the "average" of good Freese and bad Freese—he's either the healthy Freese or the injured Freese. 
If Freese can stay healthy, which, being completely honest, he has never been able to do, he has some very nice potential. He certainly has the ability to be an All-Star player, though an MVP-type player might be a bit of a reach.
His power just isn't quite enough to get him a lot of home runs, but he does have good double power. As you may have seen in the postseason, he does spread the ball around well. His spray zone shows a nice distribution, with 43 percent of his balls in play going left, 21 percent going up the middle and 37 percent going up the middle (I know that comes out to 101, but I'm assuming there is rounding involved). About 60 percent go into the outfield.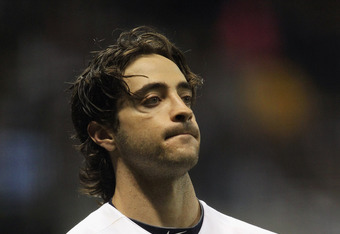 Jonathan Daniel/Getty Images
Freese hits fastballs (.309) and curveballs (.425) well, but he's a little susceptible to the slider (.266), though he hits the right handed slider (.295) a lot better than the left handed slider (.167). He also hits most of the plate well. His average with the high fastball in the zone is .500, down the middle it's .481, and at the knees it's .444. Anything over the heart of the plate and he is going to make you pay. 
He also covers the outside of the plate well, working outside up to down he hits .300/.509/.244. Inside he struggles high (.182) and low (.143), but in the middle he hits well (.321).
Based on his spray zone and plate protection he has the potential to hit Ryan Braun-type numbers at most, which is hardly something to scoff at. It's doubtful he could get to the 30 home runs playing in Busch Stadium, though. Still, a .320/.400/.550-type season is not completely unfathomable. For those who prefer to see things in conventional triple crown numbers, he, at best, would be around a .320 hitters with 20-25 home runs and 100 RBI. 
Remember, of course, that this is with the qualifier that he stays healthy, which he has never been able to do. The south end of those projections would be about .280/.350/.450  or .280 with 15 home runs and 80 RBI. If he could stay healthy, those numbers would be well within reach. 
Bear in mind that Freese would have two more things working in his favor. First, there is tremendous help on that team to help him navigate stardom. With the likes of Albert Pujols (who will be back), Lance Berkman, Matt Holliday and even Yadier Molina, there is no shortage of players who can give advice and mentor him. 
The other half of that equation is that they also will provide protection in the lineup. Fellow up-and- comer Allen Criag is thrown into that mix as well. Having a deep lineup ensures two things. First, not as much pressure will be on Freese (though pressure might be what makes him click), and second, he will get pitches to hit. 
Realistically, a .300 average with 20 home runs and 100 RBI are reasonable projections for the new found star next year. Don't be surprised if he makes the All-Star game. Freese is a good player, but maybe not quite that good. If he can learn to hit the inside pitch, though, a batting crown could be in his future.