Everton vs. Manchester United: What Toffees Must Do to Beat Red Devils
October 29, 2011
Clive Rose/Getty Images
Everton's record against teams in the top of the table has been very good in the last few seasons. They always have quality performances against the teams in the best form.
The mentality around the locker room is that they can beat anyone at any time.
Manchester United is coming off a terrible showing in their last league match. They got dismantled 6-1 against inner city rivals Manchester City last weekend and are trying to correct themselves after a display such as that.
Everton, on the other hand, have one of the smallest squads in the Premier League and played a match in the Carling Cup on Wednesday against Chelsea where they brought out a very strong squad. Manchester United rested a lot of their players for their Carling Cup match.
The fatigue would be thought to be a factor, but here are three keys to success for Everton in today's matchup against Manchester United.
Do Not Get Discouraged with a Goal Down
A goal down is something that Everton has been a few times this season against big clubs.
A draw is a great result against Manchester United and playing for one is not what the Toffees should do early in the game, but late in the game if they find themselves a goal down they should rush the gates try to get it back and then sit in a bit of a defensive shell.
A goal down is a place that Everton are likely to be but they finally have Louis Saha scoring goals and many capable midfielders as offensive weapons to try to get it back so it certainly is not a panic situation especially if it is early.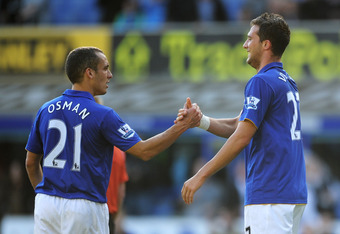 Chris Brunskill/Getty Images
Utilize Ross Barkley or Apostolos Vellios as a Second-Half Sub
Ross Barkley and Apostolos Vellios both have been breaths for fresh air in the Everton squad this season.
The two youngsters have been putting in performances that show that they are very threatening offensive players that are willing to challenge defenders and try to create out of nothing.
When fatigue is starting to set in with the starting XI, fresh legs that also inject new creative outlets will be needed against the eager, fit and young Manchester United side.
Capitalize on Goodison Park
The Goodison faithful is one of the loudest and most intimidating fan bases in the Premier League.
Everton needs to feed off of the energy of the crowd and try to attack the reigning champions.
The Blues have to play and go out looking for goals early on. If the result looks like a draw is what is obtainable, then and only then should they bog down and look for the draw.
Until that point though, keep the fans cheering and being a life force in the game. Forward runs from Leighton Baines and positive play from the linking of Morouane Fellaini and Jack Rodwell should produce offensive chances to get the crowd on their feet.