October 28, 2011
It's Friday once again, and that means it's time to look back at another week of Wilkes-Barre/Scranton Penguins hockey.
Inside today's edition, find out how the Penguins have stayed perfect on the road and mark your calendar for their return to Mohegan Sun Arena in Wilkes-Barre. Also, find out which Penguins defenseman will get off the injured reserve and on to the ice.  
Ready?
Road Warriors
The Penguins kept their perfect road record intact with wins over the Springfield Falcons and Hershey Bears last weekend.
Last Friday, the team traveled to Springfield looking for revenge on the Falcons from Springfield's 7-4 victory back in Wilkes-Barre on Oct. 14. The Penguins got what they came for, as they skated away with a 3-0 shutout victory.
Bryan Lerg had a goal and an assist in the win, while Eric Tangradi and Geoff Walker added markers of their own. Brad Thiessen made 26 saves in the win, while veteran goalie Manny Legace was also solid in defeat. Legace stopped 20 out of 22 shots.
On Saturday night in Hershey, the Penguins defeated their intrastate rivals, the Bears, who had yet to win in the Giant Center to start the 2011-12 season (Hershey got their first home win of the season the next night against the Syracuse Crunch).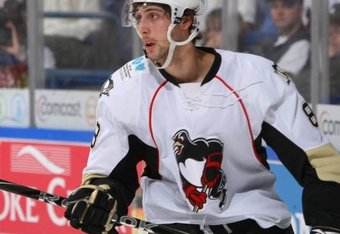 WBS Penguins defenseman Robert Bortuzzo will make his season debut this weekend.
Thiessen kept his shutout streak going until 16:41 of the third, when Boyd Kane of Hershey scored on the power play. But by that time, the Penguins were already up 3-0 on goals from Brian Gibbons, Simon Despres and Lerg. Lerg had a goal and an assist once again, while Colin McDonald picked up two helpers.
Tangradi Avoids Second Concussion
Eric Tangradi had a brush with injury troubles in last Saturday's game when he got hit in the head by Sean Collins of the Bears.
Tangradi was taken to a quiet room in the Giant Center per the league's concussion protocol, where he was evaluated. After being cleared, he went back on the ice with just a cut on his forehead. Collins was not penalized on the play, and the AHL did not deem his actions worthy of a suspension.
The scare came a little over eight months after Tangradi suffered a concussion while up with Pittsburgh. He was hit by Trevor Gillies of the New York Islanders and missed the rest of the regular season and the postseason.
Bortuzzo to Make Season Debut This Weekend
Third-year defenseman Robert Bortuzzo will play for the first time this season, after sustaining a knee injury in the rookie tournament in September.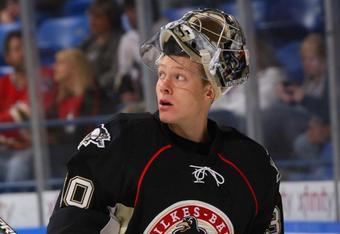 Brad Thiessen played over 70 minutes of shutout hockey in last weekend's games.
A 2011 AHL All-Star, Bortuzzo had 26 points in 2010-11 and also posted a plus-28 rating, which led the Penguins. Both totals were an improvement over his 2009-10 campaign, when he had 12 points and a plus-13.
Injury Update
The Penguins' injury update is looking up now that Bortuzzo and forward Jason Williams have made their season debuts. Here is who is still left on the sidelines for the Penguins:
Ryan Craig (knee)
Brian Day (groin)
Matt Rust (hand)
Keven Veilleux (knee)
Jonathan Bombulie of The Citizens Voice reports that Rust hasn't been cleared to play, but is beginning to take part in practice.
Penguins Unveil New Website Design
On Friday morning, the Baby Penguins unrolled their new website design. The design keeps the theme celebrating the team's 13th season and has a cleaner look, with new graphics keeping fans up to date on promotional giveaways and player appearances in the community.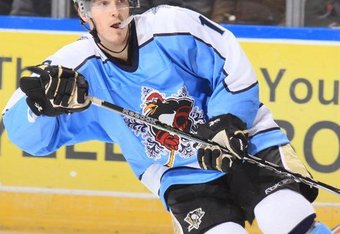 Bryan Lerg had a pair of two-point games last weekend and currently leads the WBS Penguins with 10 points.
The website, designed by 360 Interactive Media, also has several new information tabs, such as an FAQ section for group tickets and a page for mobile device backgrounds. The re-design was well received by fans on the Wilkes-Barre/Scranton Penguins' Facebook page.
If you would like to check out the new website, just click here. 
Check out Chillin' With the Penguins
This season, the Penguins started filming a new TV show called Chillin' with the Penguins. This replaces the Penguins Report and Radio Show, which was previously held at local restaurants in the Wilkes-Barre area.
The show is hosted by radio announcer Tom Grace and color commentator Mike O'Brien. Each episode, Grace and O'Brien talk with two Penguins players or coaches about the schedule and other behind the scenes information, and there is a question and answer portion where fans in the audience can ask the players anything they want to know.
While the show will only air locally, fans from anywhere can view it at the WBS Penguins website by clicking on the Media Center tab. The first episode features forwards Zach Sill and Colin McDonald.
Current Record and Upcoming Schedule
The Penguins currently have a record of 3-2-1-1 with eight points, good for fourth place in the AHL's East Division.
Their next five games are as follows:
Friday, Oct. 28: at Syracuse Crunch, 7:30 p.m.
Saturday, Oct. 29: at Manchester Monarchs, 7 p.m.
Friday, Nov. 4: home vs. Hershey: 7:05 p.m.
Saturday, Nov. 5: at Binghamton Senators, 7:05 p.m.
Wednesday, Nov. 9: at Norfolk Admirals, 7:15 p.m.
Fans can find the games on 102 the Mountain, the Penguins' flagship radio station. Tom Grace will call the action, and Mike O'Brien will act as color commentator.
The games can also be viewed on AHL Live. The cost is $6 per game, and a variety of season packages are also available.
Like the new article format? Send us feedback!