Miami Dolphins vs. New York Giants: Live Score, Highlights and Analysis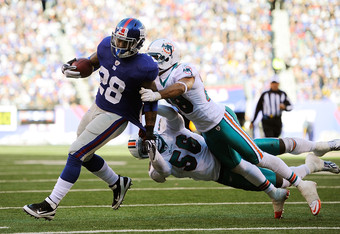 Patrick McDermott/Getty Images
The last time the Miami Dolphins and New York Giants met on the football field, the Dolphins were winless, faced with quarterback problems and devoid of hope. The Giants were well on their way to a playoff run that culminated in a victory at Super Bowl XLII.
That was the situation going into their 2007 London matchup. My how the times have changed.
Today, the Dolphins are winless, faced with quarterback problems and devoid of hope.
Meanwhile, the Giants look to be well on their way to a playoff run that Giants fans hope culminates in a victory at Super Bowl XLVI.
So not much has changed really, except this time around the game will be played in the Meadowlands and not in foggy London town.
Will the Giants pick on the Dolphins secondary like every other decent team in the NFL?
Will I even want to continue watching this game after halftime?
Those questions, plus more, will be answered today from MetLife Stadium in the Meadowlands. Keep in mind, Miami's head coach Tony Sparano is 3-1 all-time in his home state of New Jersey.
Too bad for the Dolphins that all of those games came against the Jets.
Let's see how they do against New York's superior football team.
Updated Score: New York Giants 20 Miami 17, Final.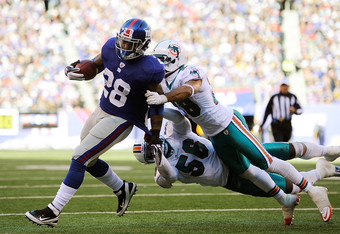 Now that some time has passed, time for a final wrap up.
Miami played hard and led for the majority of the game. However many of the problems that they've had all year manifested itself in a fourth quarter.
Let's start with the fourth quarter, again Miami had problems shutting down their opponent in the final quarter of the game.
In the final quarter, the Giants gained 111 yards and scored the final 10 points of the game.
The Dolphins gained only 18 yards, however 35 of those 18 yards were gained on their final drive.
Yes, that statement makes sense. Other than that final drive, Miami managed to be in the negative yards for the fourth quarter (-17).
Bad decision making also doomed the Dolphins again.
At the end of the third quarter Mario Manningham made a catch that should've been ruled incomplete as he hit the ground without being able to hold onto the ball.
However, the referees ruled it a catch. As soon as the fourth quarter began, the Giants lined up and ran a quick play which wound up being a pass to Victor Cruz up the middle for 27 yards and the first down on third down and nine.
Had Miami challenged the play (which they should've since they had the break in between the end of the third quarter and the start of the fourth quarter), New York would've been faced with third down and 15.
Miami has a lot they can take from this game and build on. They had a team that leads its division on the ropes on the road and very nearly closed out the game.
But it wasn't meant to be this week.
Next week the Dolphins could find themselves in the same position as they travel to Kansas City to take on the 3-3 Kansas City Chiefs, who with a win tomorrow night over San Diego could be in first place in their division.
How Miami can beat them remains to be seen. Kansas City isn't as good as the Giants and in fact has already played some terrible games at the beginning of the season against Buffalo and Detroit.
But based off their performance in the first three quarters this afternoon, a win in KC is a very possible thing.
Thank you for reading, final score again is New York Giants 20, Miami Dolphins 17. Be sure to follow me on twitter (@thomasgalicia), and Like me on Facebook. Also check out my archive at www.thomasgalicia.com
Now if you'll excuse me, I have last night's USC vs. Stanford game to re-watch. Dolphins fans should check this game out too since it wasn't shown in South Florida. Here's the link to it (via ESPN3).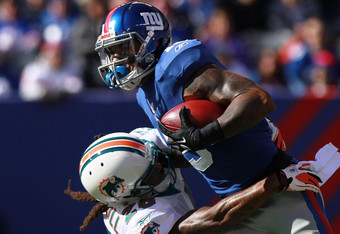 So that ends it.
I'll give credit to the Miami Dolphins today: they played a good 45 minutes against a good team and led for the majority of the game.
I'd give my game balls to Matt Moore and Reggie Bush. Both players played their best games of the season, however it was not enough.
What it came down to was the better team, with the better coach, and a better situation wound up winning.
And after watching today's game, anyone who thinks that this team is tanking really has to watch more football.
Because I didn't see a Dolphins team that was attempting to lose on purpose, I saw a Dolphins team that lost because they're a bad team.
A bad team that played their hearts out today, but it wasn't enough.
Miami's offense has regressed to what we have seen all year, as they went three and out.
Meanwhile the Giants managed to fail to run some time off the clock so now Miami's offense will have more than three minutes to go.
Lucky for the Giants (and for the Dolphins fans hoping for Suck For Luck to come to fruition), the Dolphins will have to travel 85 yards to do it, with no timeouts remaining for the 'Phins.
The drive starts off with a fantastic catch by Davone Bess, however on the very next play Osi Umenyiora sacked Matt Moore, something he's failed to do all day.
Next play its Kiwanuka who comes in with the sack.
In two plays the Dolphins managed to lose 20 yards, and from what it looks like, the game.
Now Miami has the two minute warning, but also fourth down.
Smart thing for them to do is go for it, it really won't make a difference if they punt it or not because if they can't convert here, they won't win the game.
Fourth down and 23 at their own 27. This is for the game.
Intercepted by Corey Webster.
Game over.
Well, the inevitable has happened.
The Giants have pulled ahead 20-17 with 5:58 left in the game.
New York was able to drive down the field thanks in part to the return of Ahmad Bradshaw.
But the drive would end with a 25 yard Eli Manning to Victor Cruz connection.
The Dolphins now have less than six minutes to respond, the question is can they, or was that touchdown the death knell to this game?
Why didn't Sparano challenge that Manningham catch?
That's a good question to ask going forward, especially since the Dolphins were able to see the replay and had a break in between the third and fourth quarter to review it.
The Giants meanwhile are now driving it down the field.
Uh-oh!
That's been the story of these Miami Dolphins this year though, missed opportunities and bone-head coaching moves.
Every one of those missed Dolphins opportunities and bone-headed coaching decisions has come back to haunt Miami. Every game has been winnable for the Dolphins, which has what has really made this season so frustrating.
So now the Giants after their drive has a decision to make: kick the field goal or go for it on fourth down?
Coughlin and the Giants will go for the field goal. So far the Dolphins weren't punished too bad for not challenging that Manningham completion, but it did get the Giants three points closer to the Dolphins, as the lead is now down to 17-13.
Keep your eye on that play, it could still turn out to be a pivotal moment in this game.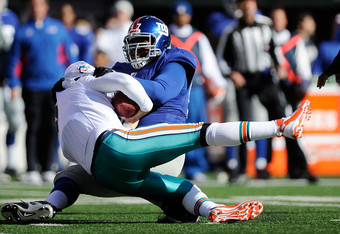 Giants fans are starting to get restless, and rightfully so.
There is no reason what so ever for New York to be losing to the Dolphins, none.
I know Reggie thus far is having a career day against the Giants (note of trivia, Reggie is on pace for only his second 100 yard game in his career, his first also came against the Giants in the Meadowlands in 2006).
On top of that, Ahmad Bradshaw has been knocked out of the game, his return right now is questionable.
One quarter to go, Miami ahead by a touchdown, but based off of how the Giants have played so far, it feels like they're ahead by much more.
According to the Sun-Sentinel's Omar Kelly:
"It appears Jake Long just hurt his right knee on that failed third down, which led to Dan Carpenter's 40-yard field goal."
Kelly would then slightly backtrack while providing who would back Long up stating:
For those wondering, Jake Long's hurt knee is his left knee. Don't know who would fill in for him at LT. Assume it's Garner, Carey or Cook.
However after a punt by the Giants, Miami has the ball again, this time from their own five. Long is back in the game.
But Long's injury is one to watch.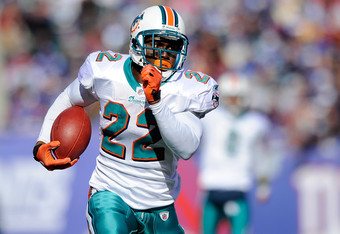 That trade might just pay off...
Really, who is this Bush guy and where has he been all season?
He might wind up being worth a Supreme Pizza if he keeps this up!
Reggie Bush has more rushing yards than the New York Giants offense.
And he's doing it between the tackles.
Really, what's going on here?
Bush has 87 yards, and the 41 yards on the ground that Bush gained on the ground lead to a Dolphins field goal.
Miami now leads 17-10.
Miami will get the ball coming out of the break.
If Matt Moore can keep it going, I honestly see the Dolphins coming out of here with a victory.
Crazy for me to say that but its true.
However New York has some momentum coming out of their last second score.
Miami will start from their own 20 after that touchback.
And now, a "Suck For Luck" update!
With Miami leading the Giants 14-10, St. Louis is pulling off an impressive upset from how it looks, as they lead the Saints 17-0.
If the Rams beat the Saints, hell, if it at least stays close, it should prove one thing:
The Colts are the only team actively tanking for Andrew Luck. Everything is indicating that thus far.
As for those Colts, they trail Tennessee, a team they should be able to at least keep it close against, 13-0.
After a Dolphins drive that looked like a return to their 2011 form, the Giants are now driving down the field with two minutes left in the first half.
The Giants' offense still can't run the ball, but Eli is now doing a fine job finding his targets and exploiting the many weaknesses of the Dolphins' secondary.
New York's final drive of the first half ends with Manning hooking up with Mario Manningham for a touchdown after a 13 play 84 yard drive.
Going into halftime, the Dolphins now lead 14-10, still 30 minutes of football left, and from the looks of it, this game will come down to the wire.
Thus far, Matt Moore has gone 8 of 11 for 71 yards, while Reggie Bush has run the ball six times for 46 yards.
Meanwhile Eli Manning is 18 of 26 for 186 yards and a touchdown, while the Giants have only rushed for 33 yards, all from Ahmad Bradshaw.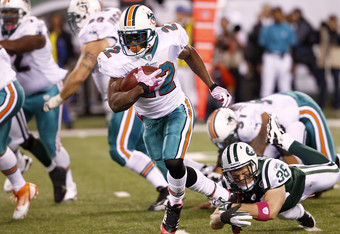 Again, I know its early, but it's beginning to look like it's going to be one of those games for the Giants where everything that can go wrong does.
How does Osi not get a sack on that play?
And who are these guys playing in the white today? They don't look like the Dolphins so far.
It has been the Giants who are having problems in the red zone.
This game could come down to the wire, and now I'm expecting the Dolphins to somehow pull out the win.
(And yes, I'm prepared to be kicked in the stomach).
Thanks to a Reggie Bush run, followed by a stupid unsportsmanlike penalty by Antrelle Rolle, the Dolphins now face first and goal at the Giants' four.
Welp, the momentum will come to an end here. Three straight red zone attempts, and nothing, Carpenter will come on for the field go-
Miami is going for it?
A bootleg by Matt Moore?
TOUCHDOWN MIAMI!?
AWW-RITE MIAMI!
Yup, its now 14-3 Miami in the second quarter. The Giants are playing in one of those games.
(Miami will find some way to blow it though, I'm sure of it. But let's get excited over this for now Dolphins fans.)
New York's penalties kept them from scoring a touchdown, I'm fully convinced of that.
Lawrence Tynes did wind up hitting the field goal, thus making the score Dolphins 7, Giants 3 at the end of the first quarter.
For the Giants I'm sure this is a first quarter they'd rather forget, while for the Dolphins they've built up some momentum that they hope to keep up.
So far the Giants are playing very sloppy.
I don't want to jinx anything for the Dolphins, but if the Giants are playing with such little discipline today, Miami might come out of this game with the victory.
Already the Giants have four penalties called against them, with two of them helping the 'Phins on their last touchdown drive.
The Giants are still driving, but two key penalties has made the drive go on longer than it should.
Let's see if they finish the drive off.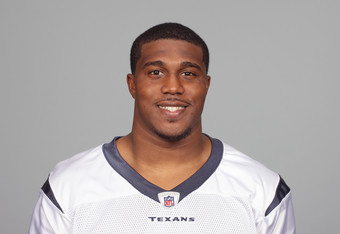 New York's first drive was a decent 51 yard drive that ended with a failed fourth down conversion from the Miami 34.
However it again highlighted the Giants' problems as New York managed only nine yards rushing and was faced with third and long.
Their failed fourth down conversion was on a fourth and long. I applaud the Giants' boldness in that situation, however the play call wasn't the most prudent. The Giants should've just gone for the nine yards needed as Miami had the middle of the field wide open on that play.
Meanwhile Miami has gotten off to a good start with their first drive.
Reggie Bush was used early and often, rushing the ball three times for four yards, however as a receiver out of the backfield (Bush's true calling), he had two catches for three yards.
Meanwhile Moore did an excellent job driving the Dolphins down the field going 4 of 4 for 34 yards, rushing for 16 as well.
The Dolphins then managed to do something they've had difficulty doing all season long: a red zone TD.
Getting into the red zone was the easy part as a Giants pass interference penalty lead to the Dolphins getting the ball at the New York one yard line.
Then as Steve Slaton attempted to run the ball in the first time, the Giants were called for an unnecessary roughness penalty, thus giving Miami another shot at the end zone.
Slaton ran it in, and now the Dolphins lead 7-0.
And we are ready to begin from MetLife Stadium in the Meadowlands.
The Dolphins have won the toss and chose to defer, with the Giants electing to receive the kickoff to start the game.
And away we go.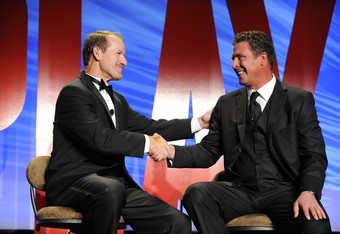 Bill Cowher just announced on The NFL Today that he has not been contacted by any team and that he will not be coaching anywhere in 2012.
Here were his statements:
"I do not plan on coaching next year. I love where I work and I enjoy the people I'm working with, I like what I'm doing here and I plan to be back in the same seat."
Cowher would later add:
"I have not been contacted directly, or indirectly by anyone from the Miami Dolphins."
Cowher stated that all of the speculation "affected too many people's lives in this profession" which could be seen as a statement directed towards everything going on in Miami with Tony Sparano.
Does this mean that Cowher is playing this close to the vest and giving the politically correct answer, or is he sincere?
Based off of his facial expression, along with this report from profootballtalk.com that stated that Miami might not go with a big name coach after all, I believe Cowher to be sincere.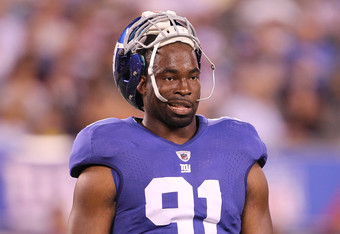 Here's a look at the inactive players for today's Miami Dolphins vs. New York Giants game (as of 12:12pm ET).
Dolphins: RB Daniel Thomas, WR Edmond Gates, CB Vontae Davis, OL Richie Incognito, OL Will Barker, DE Phillip Merling, TE Will Yeatman
Giants: CB Prince Amukamara, T Stacy Andrews, T James Brewer, OL Mitch Petrus, DT Dwayne Hendricks, RB Henry Hynoski, RB De'Rel Scott
With Miami Thomas' absence will hurt as he would be the best weapon to attack the Giants' porous running defense. This will mean expect a lot of Reggie Bush and possibly even Lex Hilliard. Also hurting the Dolphins running game will be the absence of lineman Richie Incognito.
I'm sure you won't notice that Phillip Merling isn't playing. Even if he did suit up for the game, I'd still list him as inactive because that's the best way to describe his play.
Nolan Carroll and Davone Bess will handle the returning duties for the Dolphins in Gates' absence, while Nate Garner will start in place of Richie Incognito. Rookie Jimmy Wilson will start in place of Vontae Davis at cornerback. Tyrone Culver will start at free safety, even though both Chris Clemons and Reshad Jones is active.
Meanwhile on the Giants' side, for the first time all season all four of their pass rushers will be active for the season with Justin Tuck coming back. Miami could possibly see JP Losman in the game against those pass rushers with Matt Moore nursing a
Running back Brandon Jacobs and guard Chris Snee will also play today for the Giants.
This article is
What is the duplicate article?
Why is this article offensive?
Where is this article plagiarized from?
Why is this article poorly edited?

Miami Dolphins: Like this team?