Chicago Bears: 5 Guys Who Need To Step Up for Bears To Make the Playoffs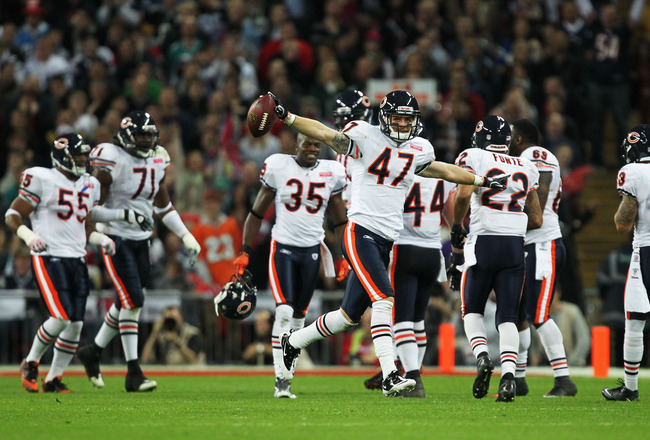 Streeter Lecka/Getty Images
Just like last year, the Bears have reached the bye week with a 4-3 record.
However, unlike last year, this year the Bears come into the bye week on a two-game winning streak as opposed to a two-game losing streak. That's not bad considering the schedule they have played, but if they want to remain in the playoff hunt, they will have to get better in the second half of the season.
The struggles of the offense have been well documented, but they have looked better over the past couple of weeks.
The patchwork offensive line that looked miserable against Detroit on Monday Night Football has played decently in the last two games, but let's not overlook the fact that Mike Martz has finally made adjustments, such as using shorter drops for Jay Cutler and keeping more guys in to max protect on passing plays. These adjustments have definitely made a difference, but nevertheless the line has looked better recently.
However, it's not just the offensive line that has had its struggles—the Bears receiving corps has been less than stellar, to put it nicely. When your starting running back is the leading receiver on the team and has 17 more receptions than any receiver, it may be time to reevaluate the situation. Matt Forte is having an outstanding season, but he's going to need some help in the second half of the season from his receivers.
The defense doesn't get a pass on this either.
The safety position has been a big concern in the first half of the season, and if the Bears want to have any chance at all to make the playoffs, they must get consistent play from both safety positions.
If they can get better production in these areas, the Bears may be able to make some noise in the second half of the season and push for a wild-card berth.
The following are the guys who I feel need to step up in order for that to happen.
Gabe Carimi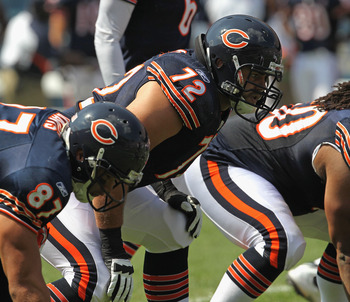 Jonathan Daniel/Getty Images
Carimi appeared in only two games this season before sustaining a dislocated kneecap, but it's already obvious that the Bears need this guy at right tackle.
The Bears drafted Carimi with the idea that he would start at one of the tackle positions immediately, which he did. Now the hope is that he can return to full strength sooner than later in order to help stabilize the currently shaky line.
If Carimi can come back and play well, they should be able to move Lance Louis back to his right guard position, which then makes this line at least average.
It appears that Carimi is on track to return after the by week, although he may not start against the Eagles on Monday night because the coaching staff wants to ease him back in.
Earl Bennett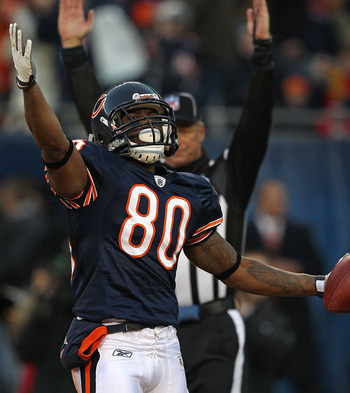 Jonathan Daniel/Getty Images
Forget Roy Williams, Devin Hester and Johnny Knox—Earl Bennett is the best receiver on this Bears team, and it's not really close.
Yes, he's only played in two games this year, but I've seen enough from Bennett in the past to confidently say that he's the team's best receiver. Now, that may not be saying much considering the Bears corps of receivers, but Bennett may just be better than many give him credit for.
He hasn't put up huge numbers in his short career, but he has the best hands of any Bears receiver and, more importantly, he is Cutler's go-to-guy. Cutler has a comfort level with Bennett dating back to their playing days at Vanderbilt and it's hard to stress just how important that is.
Bennett just seems to always make the catch no matter where the ball is thrown, and he isn't bad after the catch either.
If Cutler and the offense want to take a step forward after the bye week, look for Bennett to be a big part of it.
Roy Williams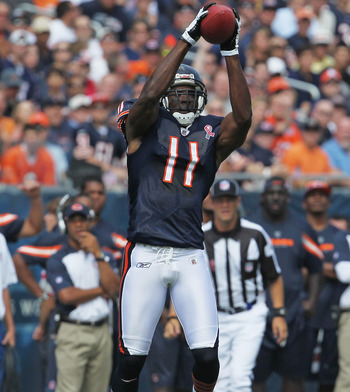 Jonathan Daniel/Getty Images
Roy Williams simply has to be more productive.
Even with Bennett coming back, the Bears are still going to need more from their group of receivers and thus far Williams hasn't done much.
He has just 13 catches so far this season with one touchdown, but has been a little more productive as of late.
Williams was brought in to give the Bears a "big" receiver that would complement their group of smaller guys, and he needs to start playing that way. He caught his first touchdown pass of the season last week against Tampa Bay and it seems that he is starting to click with Jay Cutler.
Let's hope that continues after the bye week.
Chris Conte
Streeter Lecka/Getty Images
When the Brandon Meriweather experiment didn't work out at free safety, the Bears decided to give the rookie Conte a shot and so far he has been pretty solid.
Conte, now known as "Birdman" thanks to teammate Henry Melton, made his first career interception last week against Tampa Bay and is hoping there are more to come. With the revolving door at the safety position over the past few years, the Bears coaching staff is hoping that Conte can just play consistently in order to solidify the position.
As a rookie, he is going to make some mistakes, but hopefully the good will outweigh the bad because the Bears are going to need solid play at the safety position in order to reach the playoffs.
Major Wright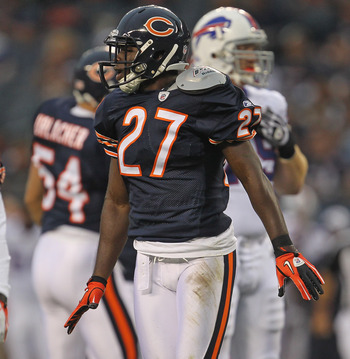 Jonathan Daniel/Getty Images
With the recent release of veteran strong safety Chris Harris, it appears that second-year man Major Wright will be firmly entrenched as the new starter.
Wright, who has had injury problems in each of his first two seasons, is a hard-hitting, athletic safety who has plenty of upside but needs to cut down on his mental mistakes.
With Wright at strong safety and rookie Chris Conte at free safety, there is not a ton of experience back there, so there is going to be a lot of pressure on those guys. With that being said, the Bears defense is counting on them to do their jobs. The front seven has been pretty solid all year with the likes of Julius Peppers, Brian Urlacher and Lance Briggs, but the secondary has been suspect at times.
If the Bears defense wants to get back to being the Bears defense of old and if the team wants to reach the playoffs, they are going to need both of the young safeties to play well.
Keep Reading

Chicago Bears: Like this team?